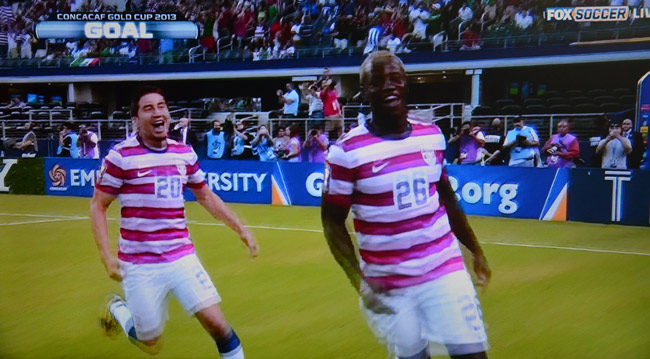 Live Wire Quick Links


US House Fails to Rein In NSA Spying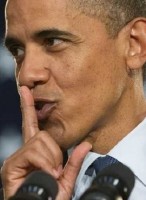 From The Times: "A deeply divided House defeated legislation Wednesday that would have blocked the National Security Agency from collecting vast amounts of phone records, handing the Obama administration a hard-fought victory in the first Congressional showdown over the N.S.A.'s surveillance activities since Edward J. Snowden's security breaches last month. The 205-to-217 vote was far closer than expected and came after a brief but impassioned debate over citizens' right to privacy and the steps the government must take to protect national security. It was a rare instance in which a classified intelligence program was openly discussed on the House floor, and disagreements over the program led to some unusual coalitions. Conservative Republicans leery of what they see as Obama administration abuses of power teamed up with liberal Democrats long opposed to intrusive intelligence programs. The Obama administration made common cause with the House Republican leadership to try to block it. […] The amendment to the annual Defense Department spending bill, written by Representatives Justin Amash, a libertarian Republican from Western Michigan, and John Conyers Jr., a veteran liberal Democrat from Detroit, turned Democrat against Democrat and Republican against Republican. It would have limited N.S.A. phone surveillance to specific targets of law enforcement investigations, not broad dragnets. It was only one of a series of proposals — including restricting funds for Syrian rebels and adding Congressional oversight to foreign aid to Egypt — intended to check President Obama's foreign and intelligence policies." The full story.
See Also:

Willie Reed, Black Man Who Testified at Emmett Till's Murder Trial, Is Dead
From the Washington Post: "Willie Reed did not know Emmett Till, the young black man whose murder in the Mississippi Delta became one of the most infamous lynchings in the history of the Jim Crow South. Mr. Reed saw him only once — on Aug. 28, 1955, during the last hours of Till's life — in the back of a green and white Chevrolet pickup truck. Mr. Reed, an African American sharecropper, risked his life at 18 to appear as a surprise witness in the prosecution of the white men accused of the crime. He became the momentary hero of the Till trial, an event that helped spur the civil rights movement but left a moral stain on the American legal system. Mr. Reed died July 18 at a hospital in Oak Lawn, Ill. He was 76, and he had lived in Chicago under a different name — first in secrecy and later in relative obscurity — since fleeing Mississippi for his safety nearly 60 years ago. For decades, he had worked as a hospital orderly. Till, who would have turned 72 on Thursday, was, in 1955, a Chicago teenager unacquainted with the strain of racism prevalent in the South. Accused of whistling at or otherwise affronting a white woman, he was abducted from his relatives' home near the hamlet called Money, then beaten and executed. His body, tethered with barbed wire to a cotton gin fan, surfaced in the Tallahatchie River three days later. His assailants had crushed part of his head and gouged out one of his eyes. He was missing an ear. […] By the time the trial opened in September 1955, images of Till's disfigured corpse had circulated throughout the nation, horrifying Americans of all races and helping to galvanize the building movement for civil rights. Tens of thousands of mourners paid their respects at his open coffin in Chicago. "There was no way I could describe what was in that box," his mother, Mamie Till Mobley, later told an interviewer. "No way. And I just wanted the world to see." […] Despite the overwhelming incriminating evidence — including testimony by Till's great-uncle — the all-white jury acquitted the defendants after little more than an hour of deliberation. One of the jurors said they would have rendered a verdict more speedily if they had not "stopped to drink pop." […] As quickly as he was pushed into the national spotlight, Mr. Reed left it. To protect himself after the Till trial, he reverted to the birth name he had never used. He worked as a surgical orderly in Chicago area hospitals until 2006." The full story.
Watch the story of Emmett Till:
See Also:

Eddie Johnson Powers US Team to Gold Cup Finals
Bunnell's Eddie Johnson scored 15 seconds after being subbed in last Sunday, in a 5-1 rout of El Salvador in the Gold Cup quarterfinal. Wednesday (July 25), it took him 12 minutes, but he found the net again, and launched Team USA to the Gold Cup final against Panama–who beat Mexico 2-1 Wednesday–on Sunday. From the Seattle Times: "The U.S. has won a team-record 10 straight games. The U.S. struck first when Donovan found Eddie Johnson of Sounders FC running through the middle of the Honduran defense. Johnson took a dribble and powered a shot past goalkeeper Donis Escober, giving the U.S. a lead 11 minutes into the game. In the 27th minute, Johnson started another scoring sequence with a pass to midfielder Alejandro Bedoya. Donovan received Bedoya's short chip off his chest in the middle of the goal box and poked a shot past Escober."
Watch:
See Also:

Oldest Manatee in Captivity Now of Medicare Age
Snooty the manatee, the oldest living manatee in captivity, celebrated his 65th birthday Sunday, July 25. From CBS News: "Snooty the manatee was born when Harry S. Truman was president, Columbia records had just released its 33 1/3 LP format, and people were still talking about how the NBC television network had broadcast Beethoven's Ninth Symphony in its entirety. Life in America, of course, has changed. But Snooty is still around, entertaining visitors, munching on lettuce and swimming silently in his tank at the South Florida Museum in Bradenton. […] He's the oldest manatee in captivity and possibly one of the oldest ever, experts say. […] Snooty, who is in good health, eats about 80 pounds of lettuce and vegetables every day to sustain his 1,000-pound body. He shares a tank with two smaller manatees that are being rehabilitated for cold stress. […] [A]mong the wild manatee carcasses found in Florida, research showed the oldest was 53 — yet the average manatee only lives to be about 13 due to man-made threats and environmental stressors, such as cold weather. Although Snooty is the longest lived manatee in captivity, it's entirely possible that they could live just as long in the wild if they didn't face threats like boat propellers."
See Also:

Florida's Manatee and Dolphin Fooleries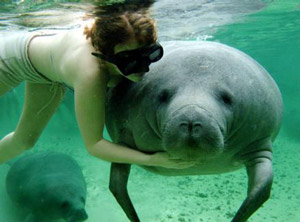 From Slate: "Florida's animal population is part of what makes it so special. We've got animals found no place else. But a lot of people in Florida—tourists and residents alike—can't just watch a wild animal being wild. They want to be more than passive observers. They have to put themselves into the picture, make themselves the star of this nature show. Hey, it's a baby manatee! Put the kids on its back and post the photos to Facebook! Yeeeee-haw! All around the Florida coast are well-meaning waterfront homeowners who stand on their docks and use a hose to spray water into the mouths of manatees. They think they are doing something nice for the manatees. Hey kids, come see this wonderful thing! These folks never consider whether it's wise to get manatees in the habit of congregating around docks where they might be clobbered and killed by boats, the leading human-related cause of death among sea cows. […] The most misunderstood animals in Florida are the dolphins. People see that famous dolphin smile and think the dolphin is always friendly, always eager to please a human. That's not good for either the dolphins or the humans. Last year, Sarasota County marine patrol deputies found the carcass of Florida's most famous dolphin since Flipper stopped chirping for the TV cameras. The dead dolphin's name was Beggar, and for 20 years that was his claim to fame. All you had to do is rap on the side of your boat and Beggar would swim up and thrust a smiling snout out of the water to beg for food. Pictures and videos of Beggar circulated widely on the Internet—jumping, snatching a tossed fish from the air, shooting through the water in hot pursuit of a speeding boat. People fed him more than just fish—they tossed him potato chips, macadamia nuts, oranges, apples. The dead dolphin's digestive tract contained fish hooks and squid beaks—neither the normal diet for a bottlenose. Beggar was underweight and dehydrated. Biologists are convinced Beggar was killed by all the people who claimed to be fans. He was loved to death. Beggar was not an isolated case." The full story.
Click On:

"The Drowning Room," a Metaphor for Global Warming
From The Economist: "A short film called "The Drowning Room" features a seemingly ordinary family dining together. The scene is mundane, silent but for the sharp tick-tock of a clock. But there is something eerie about the way it looks. As air bubbles escape from their lips, it becomes clear: they are under water. Created by Reynold Reynolds and Patrick Jolley, "The Drowning Room" is haunting. These people don't seem to know that they are drowning. "The film is a good metaphor for climate change," says Klaus Biesenbach, director of MoMA PS1, the contemporary wing of New York's Museum of Modern Art. He included it in a summer-long arts festival that attempts to address the ecological challenges of the 21st century. Among the other provocative works in this show, called "Expo 1: New York" and sprawled across several city venues, is an installation by Olafur Eliasson, a Danish-Icelandic artist, called "Your Waste of Time". This is a frigid gallery filled with 800-year-old chunks of ice that had fallen from Iceland's largest glacier; when the show ends they will be left to melt. Another installation called "Rain Room" by Random International, a London-based group, lets visitors "control the weather"—that is, walk through a room of falling water and stay dry (see picture). The most moving exhibit, however, may be a group of large photographs of the American frontier by Ansel Adams, which blaze as beautiful visions of untainted land. […] The Lisbon earthquake of 1755, which struck when most people were in church on November 1st, All Saints' Day, is often seen as the beginning of modernity. Its terrifying destruction inspired a fundamental rethink of humanity's place in the world (and moved Voltaire to write his God-snubbing "Candide"). Some see climate change as forcing a similar moment. "That a massive sheet of sea ice might be melted because of decisions about how we make and use stuff is tremendous," says Joe Smith, a lecturer in geography at the Open University. It is also terrifying. Art is increasingly becoming a way to cope." The full story.
Watch "The Drowning Room" in full:
The Drowning Room from Artstudio Reynolds on Vimeo.
See Also:

Ted Nugent Calls 'Soulless' Stevie Wonder's Florida Boycott 'Brain-Dead'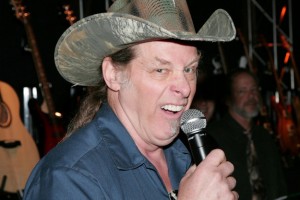 From CBS in Detroit: "During an impassioned tirade, [Ted] Nugent accused Wonder of focusing on the shooting death of Florida teen Trayvon Martin while ignoring black-on-black violence. "So 700 black people, mostly young children and young people were slaughtered in Chicago last year by black people, and not a peep out of Stevie Wonder. Are you kidding me? What is this, 'One Flew Over the Cuckoo's Nest,'" Nugent said. "How brain-dead do you have to be? How strangled by denial, how dishonest, how cheap do you have to be to focus on a clear-cut case where all the evidence, from the DOJ, from the FBI, from the army of investigative specialists in Florida determined that George Zimmerman acted in self-defense against a life-threatening attack by hoodlum, dope-smoking Trayvon Martin," he continued. […] "I will pray for Stevie Wonder and all these other numb-nuts who think that Trayvon Martin is more important than the tens of thousands of slaughtered blacks at the hands of blacks," he said."
See Also: