Monday Briefing: Early Voting Begins, Judy Wormeck, 2016 Artist of the Year, Slow Death for Impact Fees in Bunnell
FlaglerLive | October 24, 2016
Today: Mostly sunny in the morning then becoming partly cloudy. Highs in the upper 70s. Northeast winds 5 to 10 mph. Tonight: Clear. Lows in the lower 50s inland…in the mid 50s coast. Northeast winds 5 mph shifting to the northwest after midnight.. Details here.
Drought Index is at 160.
Today's tides: at the beaches, at the Intracoastal Waterway.
Today's document from the National Archives.
The OED's Word of the Day: pentimento, n..
The Live Community Calendar
Today's jail bookings.
Today's Briefing: Quick Links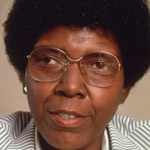 "Earlier today we heard the beginning of the preamble to the constitution of the United States. "We, the people…" It is a very eloquent beginning. But when the document was completed on the 17th of September in 1787 I was not included in that 'We the people.' I felt somehow for many years that George Washington and Alexander Hamilton just left the house by mistake. But through the process of amendments, interpretation, and court decision I have finally been included in 'We the people.' Today, I am in inquisitor. My faith in the Constitution is whole, it is complete, it is total. I am not going to sit here and be an idol spectator to the diminution, the subversion, the destruction of the Constitution."
–U.S. Rep. Barbara Jordan, at the beginning of the Watergate hearings, July 24, 1974.
Note: all government meetings noticed below are free and open to the public unless otherwise indicated. Many can be heard or seen live through each agency's website.
Early voting begins in Flagler County and runs through Nov. 5, with polls open from 10 a.m. to 6 p.m. at three locations: The Flagler County Supervisor of Elections office in Bunnell (in the Government Services Building), at the Flagler County Public Library on Palm Coast Parkway, and at the Palm Coast Community Center on Palm Coast Parkway, off of Clubhouse Drive. Voting by mail has been under way since mid-October. Keep up with the number of ballots cast in Flagler here.
In court: Contractor fraud: Jeffrey Belmonte, a 28-year-old New Smyrna Beach reisdent, is sentenced on a felony count of grand theft and a misdemeanor count of impersonating himself as a contractor. The sentencing before Circuit Judge Matthew Foxman is at 11:30 a.m. in Courtroom 401 at the Flagler County Courthouse. Read his arrest report here.
The Bunnell City Commission meets at at 7 p.m. at Bunnell's City Commission Chambers, 201 West Moody Boulevard. The commission will consider extending indefinitely the moratorium on Police, Fire, Parks and Recreation, and Transportation Impact Fees.
The Flagler County Centennial Committee meets at 1:30 p.m., third Floor Financial Services Conference Room at the Government Services Building in Bunnell.
The latest on A1A repairs
, according to Flagler Beach City Commissioner Rick Belhumeur: The washout at the north end of town has been repaired by reinforcing the the dunes along the area with sand and topping it with an erosion barrier. They are making the same repairs at the south end between South 9th and South 12th streets along with the area between S. 19th street and S. 22nd street. These areas will be open to traffic sometime next week on the original roadbed. That leaves the area between S. 12th street and S.19 th street. Along that stretch the road will be shifted to the west using the sidewalk area to build another lane so that the road can open with two way traffic while more permanent repairs are made to the dunes and roadway. A temporary roadway along the last section should be open to traffic within 45 days if not even sooner.
Watch every presidential debate since 1960.



Updated jail bookings and day and night shift incident summary reports are available here.

Flagler County Agrees to Bail Out Ag Museum Despite $150,000 Deficit and Barnful of Unanswered Questions

Fully-Loaded Car Carrier Overturns on Old Kings Road, 3 People Involved, None Hurt

Flagler and Palm Coast Commercial Construction News

Myra Middleton-Valentine, Flagler County School Board Candidate: The Live Interview

George Hanns, Flagler County Commission Candidate: The Live Interview

Mark Lane: Lane: Deceptive solar proposal, medical pot do-over on ballot

Daytona says goodbye to civil rights icon Huger

Holland Park to reopen in 60-90 days, after the city of Palm Coast takes over construction

Possible fixes for St. Johns County's north beaches include more sand, long seawall

Citing Secular Protocol, Florida Athletic Association Rejects Schools' Claim That Prayer Was Muzzled

Your Election Will Not Be "Rigged": Flagler Elections Supervisor Kaiti Lenhart Explains

Gov. Scott Orders State Transportation Department to Expedite A1A Reopening in Flagler Beach

The Best and Worst Presidents on Taxes


In Florida and in State Government:
Note: Some proceedings below can be followed live on the Florida Channel.

Pollution notices: The Florida Department of Environmental Protection will continue a series of meetings on a proposal that would create new requirements for notifying the public when pollution occurs. The proposal comes after high-profile pollution incidents. (9 a.m., Northwest District Office, 160 West Government St., Pensacola.)
Edible marijuana: Leaders of the Florida Sheriffs Association, the Drug Free America Foundation and Florida's Poison Control Centers will hold a news conference to discuss issues about children ingesting edible marijuana products. The news conference comes amid a debate about a proposed constitutional amendment that would broadly legalize medical marijuana in Florida. (11 a.m., Children's Safety Village, 910 Fairvilla Road, Orlando.)
Republican presidential nominee Donald Trump is scheduled to hold a rally in Tampa. (Monday, 7 p.m., MidFlorida Credit Union Amphitheatre, 4802 U.S. 301, Tampa.)
KAINE CAMPAIGNS IN MIAMI-DADE, PALM BEACH COUNTIES: Democratic vice-presidential candidate Tim Kaine is expected to take part in early-voting rallies Monday in Miami-Dade and Palm Beach counties. (Full details had not been released Friday morning.)
EARLY VOTING STARTS: Early voting will start Monday in most counties. The state requires early voting from Oct. 29 to Nov. 5, but counties have the option of starting as early as Monday.
–Compiled by the News Service of Florida and FlaglerLive


In Coming Days in Palm Coast, Flagler and the Occasional Beyond:
♦ Oct. 25: Entrepreneur Night at Channel Side in Palm Coast, 5:30 to 7 p.m., 1 Yacht Club Dr. At the event, you will enjoy free appetizers along with a cash bar. As always, you can expect to make many new connections and have meaningful conversations with Entrepreneurs, Investors, and folks who provide support and services to entrepreneurs. Free. RSVP here.
♦ Oct. 26: Open house for the public to learn about the State Road A1A re-construction project in Flagler Beach, hosted from 2:30 to 7:30 p.m. by the Florida Department of Transportation, at the Flagler Beach City Hall. Meeting participants may attend any time during the scheduled hours to learn more. Project information will be available for review, and FDOT representatives will be available to discuss the project, answer questions, and receive comments.
♦ Oct. 27: the Flagler County Chamber will host "Meet the City Managers" with Dan Davis of Bunnell, Jim Landon of Palm Coast and Larry Newsom of Flagler Beach. Each manager will provide a short update of what's happening in their city and be available to answer questions. 8 to 9:30 a.m., Hilton Garden Inn, 55 Town Center Blvd., Palm Coast, Registration at 7:45 a.m., $20.00 for members in advance with payment. Contact Tiffany Edwards for more information, tiffany@flaglerchamber.org.


♦ Nov. 1: Stetson Sounds New XII: First Glimpse, World premieres by Stetson composers, 7:30 p.m. Lee Chapel in Elizabeth Hall, 421 N. Woodland Blvd, DeLand, call 386-822-8950. Complimentary Admission.
♦ Nov. 2: Stetson Guitar Ensemble, Stephen Robinson, director, Featuring students of the studio of Stephen Robinson performing in various ensembles with guitar, 7:30 p.m. Lee Chapel in Elizabeth Hall, 421 N. Woodland Blvd, DeLand. Call 386-822-8950. Complimentary Admission.
♦ Nov. 3: Stetson Guest Recital, Denise Gainey, clarinet and Yakov Kasman, piano. Yakov Kasman is a Van Cliburn silver medalist, and Denise Gainey is a Backun Artist and student of Kalman Opperman. Both are faculty members at the University of Alabama, Birmingham. 7:30 p.m. Lee Chapel in Elizabeth Hall, 421 N. Woodland Blvd, DeLand. Call 386-822-8950. Complimentary Admission.

♦ Nov. 4-5: The Florida Agricultural Museum will host the seventh annual Pellicer Creek Raid on Saturday and Sunday, from 10 a.m. to 4 p.m. The program will involve a number of living history groups from around the southeastern United States. Approximately 150 infantry, artillery, and cavalry troops will be demonstrating military life in Florida circa 1864. Parades will take place at noon and battles at 1 p.m. on both days of the event. During the rest of the program, the re-enactors' historic camps will be open to the public. Admission is $5 per person. For more information, please contact the Florida Agricultural Museum at (386) 446-7630 or info@floridaagmuseum.org. The museum is located at 7900 Old Kings Road North, Palm Coast.
♦ Nov. 4: Stetson's 27th Undergraduate Annual Juried Arts Exhibition, with Reception and awards ceremony 6-8 p.m. at the Homer and Dolly Hand Art Center, 139 E. Michigan Ave., DeLand, 32723 (call 386/822-7270).
♦ Nov. 4-5: Stetson Homecoming Concert, Featuring Stetson's Concert Choir, University Symphonic Band, and Chamber Orchestra, 7:30 p.m. Lee Chapel in Elizabeth Hall, 421 N. Woodland Blvd, DeLand, 386-822-8950, Complimentary Admission.
♦ Nov. 5-6: Tommy Tant Memorial Surf Contest and Food Festival in Flagler Beach. (Cancelled.)
♦ Nov. 5: Flagler Fun Coast Bed Race, with Nov. 6 as rain date, In Flagler Beach. (Cancelled.)
♦ Nov. 6: Reflections Salon, Inc, a local family owned business, will be offering $10 haircuts from 9 a.m. to 1 p.m. and donating all proceeds to stage 4 cancer survivor and Hurricane Matthew victim Kevin Kosinski. The salon, which opened in 2014, is at 25 Pine Cone Dr, Ste 3, Palm Coast. Call (386) 225-4503 for information.
♦ Nov. 6: Stetson Faculty Chamber Ensemble, Featuring Brahms' Trio for Piano, Clarinet, and Cello, Lynn Musco, clarinet, David Bjella, cello, Michael Rickman, piano, 3 p.m. Lee Chapel in Elizabeth Hall, 421 N. Woodland Blvd, DeLand. Call 386-822-8950. Complimentary Admission.
♦ Nov. 8: Election Day.
♦ Nov. 8: Stetson Chamber Orchestra, Anthony Hose, conductor: A rare opportunity to hear Roberto Molinelli's Twin Legends, featuring David Bjella, cello. 7:30 p.m. Lee Chapel in Elizabeth Hall 421 N. Woodland Blvd, DeLand, 386-822-8950. Tickets: $10 adult, $8 senior, $5 youth and student, no charge for 12 and younger. Tickets available at the door or at www.stetson.edu/music-tickets.
♦ Nov. 14: The St. Augustine Jewish Historical Society presents Marcia Fine, award-winning author of seven novels, who will speak about a "Sephardic Journey" at 7 p.m. in the Flagler Room of the Old Ponce de Leon Hotel, 74 King Street at Cordova Street on the Flagler College Campus in St. Augustine. Fine's historical fiction, "The Blind Eye," has been chosen by the State Library of Arizona ONEBOOKAZ, a celebration of quality literature. The program is free, all are welcome, no advance arrangements are necessary. Please call (904) 829-6481 for best directions.
♦ Nov. 29: A hearing is scheduled before Circuit Judge Scott DuPont in the case of Dunn v. Flagler County Schools, the case involving an allegation that two children were bullied and one of them was sexually assaulted by other children at a voluntary pre-kindergarten at Old Kings Elementary school in 2015. See the background story here. 1:45 p.m., Courtroom 402, Flagler County Courthouse.
♦ Feb. 6: The great violinist Itzhak Perlman opens the 2017 season of the Amelia Island Chamber Music Festival with a 7:30 p.m. performance at First Baptist Church, 1600 South 8th Street in Fernandina Beach. Tickets here.


Drone-shot scenes of destruction in Aleppo's Sukari neighbourhood, from a video shared by a local opposition media group pic.twitter.com/7Wrj3v5DHq

— The Telegraph (@Telegraph) October 23, 2016
The wisest strategy for retaking Mosul is to leave IS an exit, eastward to Syria, to avoid a situation like Ramadi https://t.co/ByaXh2OXBx pic.twitter.com/SpKYEAvShs

— The Economist (@TheEconomist) October 23, 2016
#SMH: A memorial sign for Emmett Till in Mississippi is riddled with bullet holeshttps://t.co/S4NgNcWZhN pic.twitter.com/aqyxkyzqFh

— The Root (@TheRoot) October 23, 2016
How the international media is reacting to the 2016 election https://t.co/BdejNsyNwV

— Salon (@Salon) October 23, 2016
A rare NYT "bravo" to evangelical Christians denouncing Trump, and a warning against liberal intolerance. My column https://t.co/HPfe87EJDt pic.twitter.com/coQUOeOc0J

— Nicholas Kristof (@NickKristof) October 23, 2016
Iraqi parliament passes bill banning alcohol https://t.co/Ky7tDkvKoR

— The Daily Star (@DailyStarLeb) October 23, 2016
83% of registered voters think it's media's responsibility to fact-check candidates, campaigns https://t.co/oI7KTCo1Xu pic.twitter.com/8Lhj0KJMqi

— PewResearch Journo (@pewjournalism) October 23, 2016


Fact-Checking the Knaves:



Palm Coast Construction and Development Progress Reports
The following is an update of ongoing permitting, construction and development projects in Palm Coast, through Oct. 21 (the city administration's full week in review is here):
<![if !IE]><![endif]>


Road and Interstate Construction:


Josquin des Prez: La déploration sur la mort de Johannes Ockeghem, Performed by Vox Luminis
Previous Codas: