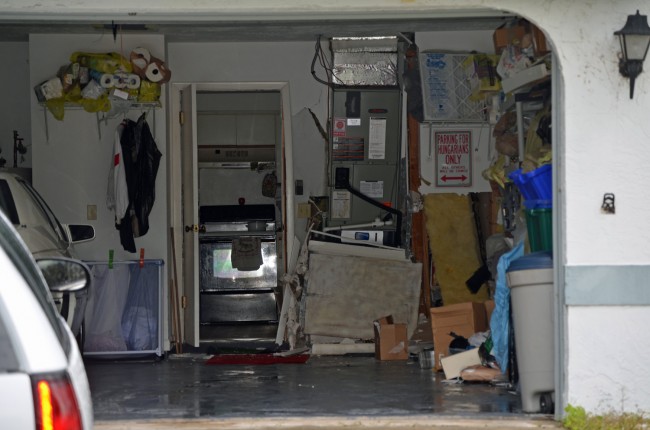 A Chevrolet station wagon driven by one of the homeowners at 14 Blackthorn Court, a house in Palm Coast's Wooodlands, ran through the property's two-car garage and into the utility room, damaging the garage and a load-bearing wall.
No one was hurt. The house is a 1,500-square-foot one-level structure built in the late 1980s and owned since 1989 by Ella Rose and Gal Iuliu, an elderly couple who, somewhat shaken, awaited the arrival of a building inspector after the wreck, which took place around 3 p.m. A Cadillac Northstar was parked on the left side in the garage, and appeared intact.
The Palm Coast Fire Department, Flagler County Fire Rescue and Flagler County Sheriff's deputies responded to the incident in a cul-de-sac at the edge of the quiet Woodlands, but no one was hospitalized. The damage in the garage was limited to one wall and various items along it, and to the entrance to the utility room, from the garage, which appeared considerably damaged.
The homeowners have a caustic sense of humor. A "Parking for Hungarians Only" sign hangs in their garage, as does a bumper sticker on the station wagons making a suggestion to drivers: "Unless you're a hemorrhoid, stay off my ass!"
For Palm Coast, it was the fourth incident in six months involving a vehicle driving into a residential or commercial property. In April, a 17-year-old girl drove her Ford through the bedroom of a Cochise Court house, where a woman was asleep. The women was not injured. The same month, an elderly driver drove her car through the Publix on Belle Terre Parkway near Palm Coast Parkway, causing extensive damage and hurting 10 people, some severely. The 76-year-old woman was found guilty of careless driving. Last month, a nurse's aid who was having medical issues drove her SUV across a ditch on Belle Terre Parkway and through the yard of a house there, smashing through a fence and flipping the SUV.