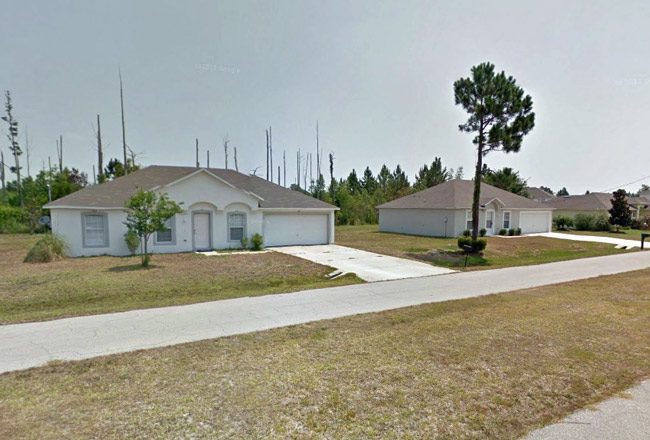 The 29-year-old resident at 35 Leidel Drive in Palm Coast reported to sheriff's deputies that as she was getting to drive out from her house, two men walked up to her car and robbed her at gunpoint late Saturday night (Aug. 5). Her 2-year-old son was in the backseat during the incident.
The woman had just strapped her son in the back seat of her Honda SUV and was preparing to drive to her mother's house to pick up her daughter. She told deputies that two men walked up, opened the back door of the vehicle, and stuck their arms in, according to a sheriff's incident report. (Notes from the sheriff's dispatch center state the men actually got in the car.) One of the two men pointed a silver gun at her and asked for her purse. She said she handed him her wallet. The man then asked her for her "money bag," in the man's words.
The woman said she did not know what that meant and hesitated. "You don't want to be killed in front of your kid, do you?" the man with the gun allegedly told her. She then handed him her purse, assuming that's what he was asking for. She said she was robbed of $300 in cash, some credit cards, and her driver's license, plus some toys for her children. The toys were in the purse.
The sheriff's incident report censors what either of the two men look like, other than that they were wearing dark clothes.
The woman did not call the sheriff's office until 10 minutes after the incident, and did so on the sheriff's administrative line at 10:35 p.m. Saturday. She told the dispatcher that she called a friend before calling police—her friend lives in the same area—and that she was driving around, too scared to stop, and worried that the men had gone into her house. She said she was waiting for her friend to show up.
By 10:41 p.m., deputies had deployed units at Lakeview and Laramie drives, Leidel and Lee Drives, and Lee and London drives, and brought in a K-9 unit. They checked on the house: the alleged suspects had not gone there. At 10:44, the woman made contact with deputies. A few minutes later deputies tried to get Air One, Volusia County's emergency helicopter, to fly in for assistance, but bad weather stretching from St. Johns County to Port Orange did not permit it.
At 11:12 p.m., deputies broke down the perimeter they'd established in some places and maintained it in others. But a canvas of the L Section proved fruitless. "During the canvas, " the report states, "deputies did make contact with several neighbors who relayed that there is a lot of activity in and out of [the alleged victim's] residence during all hours of the day and night."
The victim meanwhile could not provide details on her alleged assailants. When deputies asked her if she'd had a recent falling out with anyone, she cited two roommates whom she'd asked to leave. "She explained that they were troublesome and that she did not want the added stress in her life," according to the incident report. She could not provide their last names, knowing them only by their first names, though she knew that they'd both recently been arrested, and that they were in their early 20s.
The alleged victim herself has had her share of run-ins with the law, with a conviction for retail theft, a conviction for possession of a small amount of pot, charges of disorderly conduct, criminal mischief and obstruction that led to pre-trial intervention and withheld adjudications, and a charge of burglary with assault and battery (in 2014) that was dropped.