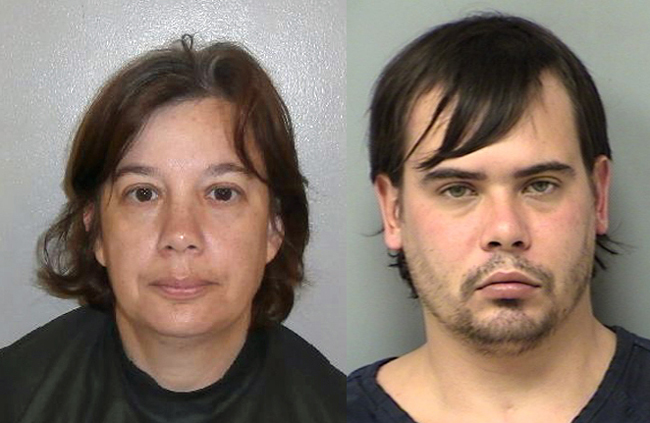 Rhonda Lynn Wilkerson, a 49-year-old resident of 2008 South Daytona Avenue in Flagler Beach, and William C. Dillow, a 27-year-old resident of 3710 Pacetti Road in St. Augustine, were booked into the Flagler and St. Johns County jail Tuesday evening on capital charges of raping girls younger than 12.
According to the two individuals' arrest reports, two girls, possibly more, came forward Monday to inform staff at their school in Flagler County that they had been victims of sexual abuse allegedly carried out by Wilkerson and Dillow. The abuse, the arrest reports state, allegedly took place "multiple times" between August and February.
Authorities, including Flagler School Superintendent Jacob Oliva, are not disclosing the name of the school where the alleged incidents were reported. Oliva said in a brief interview Tuesday evening that the allegations don't involve any staff or Flagler schools beyond the fact that the children themselves reported the incident to staff, who followed protocol by immediately contacting the Department of Children and Families. (The elementary school zoned for Flagler Beach is Old Kings Elementary.)
The incidents did not take place at the school, but in St. Johns County, which led the warrants to be issued there. A news release by the St. Johns County Sheriff's Office Tuesday incorrectly noted that both suspects were booked at the St. Johns jail. In fact, Dillow was booked there, but Wilkerson, because she is a Flagler Beach resident, was picked up by Flagler sheriff's authorities and booked at the Flagler jail.
Detectives with the Sheriff's Office Special Victims' Unit began an investigation Monday, the St. Johns Sheriff's Office reported in a release late Tuesday afternoon.
The victims were also interviewed by Child Protection Team members at an undisclosed location on Monday. Tuesday afternoon, Sheriff's Office Deputies along with SVU Detectives served a search warrant on the Pacetti Rd. property where Dillow was residing, and took him into custody without incident.
The two suspects were booked on no bond pending a first appearance hearing Wednesday morning. Additional charges are pending further investigation.
Formally termed sexual battery on a victim younger than 12, the rape charge, if followed by conviction, carries a maximum penalty of death under Florida law (when the perpetrator is an adult). For now, Dillow faces two such charges. Wilkerson faces one charge. But the Supreme Court ruled in 2008 that the death penalty was limited to crimes that resulted in the death of one or more victims, and to crimes against the state, making individuals convicted of raping young children eligible at most for life in prison. (The article initially and incorrectly noted that conviction could lead to the death penalty.)
Wilkerson's only prior involvement with the judicial system in Flagler County, aside from a traffic infraction, is a December petition for child support, which was ordered. Dillow has no record in Flagler County, but he's a convicted felon following an aggravated assault incident in 2005. His supervised release, or parole, doesn't end until 2015. He was also charged with four counts of parole violation.
"It's unfortunate that an incident like this can impact the innocence of our children and that their lives can be violated," Oliva said. "This is any parent's nightmare."