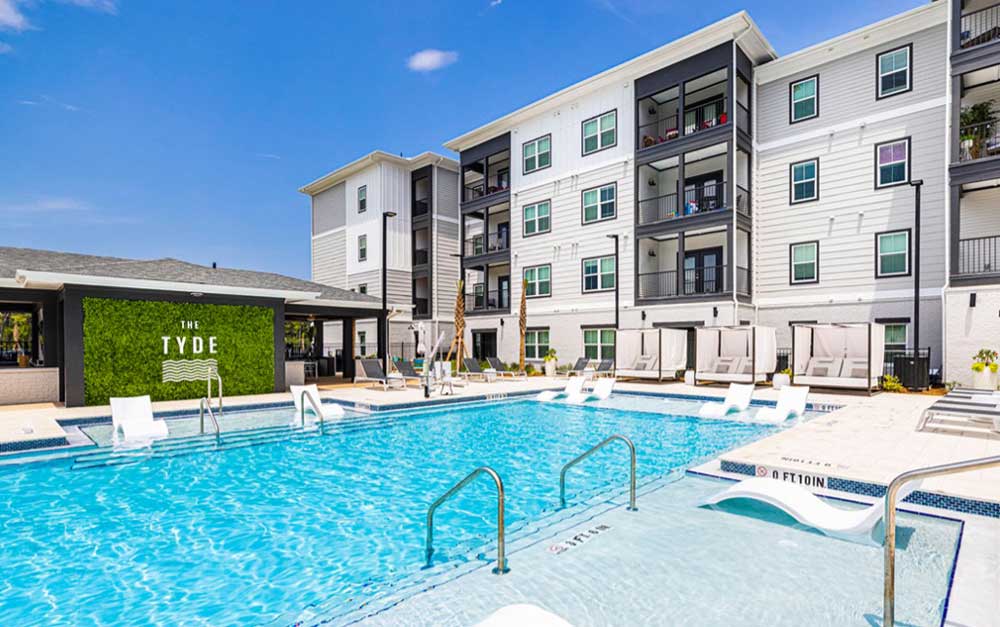 The Palm Coast Planning Board last week recommended approval of a 316-unit gated apartment complex on nearly 19 vacant acres on the West side of White Mill Drive and the north side of Whiteview Parkway, in the W-Section's last remaining vast expanse of fallow land. The acreage is part of a 116-acre area zoned for master-planned development.




KB Home is already building a subdivision of 205 single family homes on another part of the acreage, which will also include a city park that has yet to be built. The neighborhood includes churches, duplexes and single family homes.
The apartment complex would consist of 10 three-story buildings, each with 30 apartments, and four two-story buildings with four apartments each. The buildings will be oriented in a pentagonal shape, with parking ringing the development. There would be 1.66 spaces per apartment, for a total of 544 spaces, including the clubhouse. Some 106 garage spaces will be built. The complex would have a clubhouse, a pool and a dog park, and would have its main access point on what will be Wisteria Hill Drive, which will intersect with White Mill Drive.
The apartments will consist of 120 one-bedroom units of between 707 and 800 square feet, 166 two-bedroom units of between 1,164 to 1,338 square feet, and 33 three bedroom apartments of 1,248 square feet. Rent costs have not been set, but the complex would be considered luxury apartments.




City planners reviewed the development for its "logic of design" and impact on neighboring sites, among other criteria. It found that with the site's internal planned ring road, the development's residents will be able to walk and bike with minimal interference from traffic. The site will be largely buffered from neighboring properties. "Staff found it's very compatible with the neighborhood," Planner Bill Hoover said.
Alliant Engineering of Jacksonville will be developing the site for Mesa Capital Partners, which has been building complexes since 2010. It has a current portfolio of half a billion dollars, with more than 3,000 units under development. "They've been doing this for a while and they know what they're doing, and they really like to do a high end product," Curt Wimpée, Alliant's vice president for the southeast region, told the planning board.
The developer focuses on rapidly developing areas. In this case, it's tying the development to the AdventHealth hospital opening later this year on nearby Palm Coast Parkway. "The expansion of the Adventhealth hospital in Palm Coast will bring a significant number of medical jobs to this area. Whiteview will now offer these employees fantastic living options with the high level amenities," Wimpée said, reading from a company document.
A planning board member was concerned about the sufficiency of parking."Because nobody has one car," the board member said. The developer is basing parking calculations on an analysis of numerous apartment complexes in the state. "We have more parking than actually most of the multifamily developers in the multifamily agencies in the nation think is needed," Wimpée told the planning board.




"I think we need to be careful about sales pitch for a project versus reality of a project and sales pitch," Planning Board member Larry Gross, who would end up being the lone dissenting vote, said. "It sounds great that you have 1.66 parking spaces, but as you drive around Palm Coast and you see rental homes, you see three or four cars. I took a drive around the W section today, and I saw four and five cars. People are parking in the streets and as a citizen of Palm Coast and someone living here, parking is a big deal when you build these projects. It's not something to be ignored."
Sandra Shank, the vice chair of the planning board–who chaired the meeting last week–noted that the Palm Coast development's parking needs should not be confused with calculations from cities where public transportation lessens the need for cars.
"They're spending millions and millions of dollars in this complex, they do not want to have not enough parking," Wimpée said. "That's detrimental to their business."
Wimpée did not know whether the apartment complex's construction was funded. That raised another question: while the city needs more rental apartments, a board member said, luxury rentals are not necessarily what's needed in that part of Palm Coast. "I've lived here in Palm Coast," Gross said. "If you don't work for the city, or if you don't work for Boston Whaler, or you don't work for the school system, you're driving a long way to be making good money here. You're driving a very long way, you know, Orlando, Jacksonville. So I don't know if Palm Coast can support expensive apartments. That's the other side of the coin."
At that point Ray Tyner, the city's planning director, gently reminded the board members that they could be getting beyond the purview of their responsibilities: it's not the board's place to get into the developer's business model. "Our our staff's job and our role is to make sure that it complies with our land development code regulations," Tyner said. "So when it comes to discussions like, Oh, high end, we can't support this, there's no criteria or basis for that in our land development code for us to make a decision on this."




On the other hand, Tyner said, parking is in the planning board's–and the city's–purview. But in that case, the city administration reviewed the developer's numbers, and found them sound. "You don't want a whole pavement of asphalt that's wasted, but you don't want to under-parking either," Tyner said. "So it's a study that these engineers do and transportation planners do based on engineering standards and technical information on parking. Our professional staff agrees with the parking flexibility."
The city at this late stage does not have "a ton of discretion" to request more planning, another planner said. But board members were not raising the questions with changes in mind, so much as at cautions. "Just if we [] build 316 beautiful, luxury apartments, and then have half of them empty, and the developer selling the project off to somebody else, because we're at a loss," Shank said, describing her concern "more as food for thought."
The proposal drew no public comments. The planning board approved recommending the project on a 5-1 vote. That sends it to the Palm Coast City Council for approval. Even then, it won't be the end of the regulatory road: the complex's site plan, with actual architectural renderings, would have to go before the planning board and the council for approval.