The first time Flagler Beach residents had a chance to hear of the "wetlands restoration" project in their backyards, fishing grounds and recreation areas was on Aug. 21, just three weeks before the project was to be approved and excavators soon unleashed on the marshes, uprooting mangroves and re-engineering marshes to mutate them into a scientifically more idealized version of wetlands.
As the St. Johns River Water Management District had lined up the project last month, it was going to approve a $516,000 contract at its Sept. 11 meeting and let loose the heavy equipment on 113 acres of marshes at the south end of Flagler Beach to "restore" them to pre-1960s approximations. The acreage stretches especially across from Gamble Rogers State Recreation Area, north and south. Homeowners and businesses were barely notified.
Then two things happened. First, a mass of Flagler residents and business owners mobilized and trekked to the district's September meeting in Palatka–so much so that District Board Chairman John Miklos said no such project ever got that sort of attention in the past. He was not familiar with Flagler's rich, activist recent history. Second, it became apparent through that two-hour meeting segment on the project that the district had approached the project in a rather haphazard way, its science lined up better than its procedural method, especially the district's half-measured efforts to involve the public. It didn't even have a project design, or a clear idea where it would dig and rebuild.
A couple of district board members hinted that the public was to blame for not being engaged, rather than the district not doing its part to educate the public. But in the end, Flagler's residents had their way, up to a point: the district board voted unanimously to approve the contract, but not the project. Not yet. That will depend on what takes place in the weeks and months ahead. The board's directive to the district is to set up public meetings, conduct a proper education campaign about the project, and genuinely hear residents' and businesses' concerns, incorporating those concerns in the yet-to-be-approved design. In other words, to do what it had not properly done to date.
District Board Chairman John Miklos asked for several meetings with the "stakeholders" and "whatever we need to do to make sure that we're looking at all the issues brought up today," he said. "I don't want to rush the outcome on any of this for sure." He didn't want to have a deadline either, nor "rush to something that isn't a good final product or puts somebody in an uncomfortable position." He asked for monthly updates for the district board before another vote to decide whether the work may begin.
---
"I just don't understand why we're going to bulldoze 70-year-old mangrove trees and put soil on top of it when you already have an established environment."
---
That's what the educational meeting the water management district is hosting Thursday at 5:30 p.m. at Flagler Beach City Hall is all about, the first of two such meetings. The second is on Nov. 7. None others have been scheduled, and it isn't yet clear how the district will further engage with residents and businesses to ensure that their voices are heard and concerns respected beyond the mere holding of meetings.
The district's scientists appeared before the Flagler County Commission to present the project on Sept. 17. That workshop had been scheduled before the district's vote, but it had been the only scheduled meeting with a local government until then. There too, public opposition to the project was rife, as it was again Monday (Oct. 1) before the county commission, and both times commissioners found themselves imploring residents to understand that the county has no vote in the matter–no say. It's a water management-led and executed project.
The science appears straightforward. But because of the history and the intersection of government agencies with Florida's coastline, even that science is mired in quicksands: the science that once demolished the same wetlands seemed straightforward, too, when it was applied in the the middle of the last century. Yet here's the district trying to convince residents that this time, it has it right.
"I just don't understand why we're going to bulldoze 70-year-old mangrove trees and put soil on top of it when you already have an established environment for juvenile fish to thrive," Brandon Risley, a resident of Flagler Beach for more than 20 years and a fisherman who wades those same waters, told the district board. He was critical of what he perceived as the dearth of research and science to show the actual conditions of the marshes before moving ahead with the project. "It ain't broke, don't fix it. We all love the environment. That's why I'm here. I'm all for restoration, preservation, but when you have something and it's going to be taken away, it was created, damaged by man, man's going to go back here and damage it again, and there's no guarantees that it's going to come back. You can't show me that."
The district hadn't banked on opponents like Risley and many others, including Elizabeth Hathaway, who did much to mobilize the opposition. "I'm not opposed to the intentions or efforts being made to try to restore Florida's wetlands," Hathaway told the district board. "In the past I have gone before governmental boards and I have fought to protect and to conserve the wetlands. So I don't take these efforts being made lightly. I totally respect it and I agree with it. But what I'm asking here is that you grant us more time so the community as a whole can be informed and to allow for a study of our exact estuary to be done, and to prove to us that this particular area is in fact in need of restoration, because like everybody said, we don't see that when we look out there every day." She spoke of–and has been circulating–a list of unanswered questions.
Here's what what had led to that point and the surrounding controversy.
In the 1950s and 60s, government officials thought they were doing their residents a favor when they dug deep, wide and innumerable ditches along the Florida coast from Cape Canaveral to Jacksonville, through Flagler, to control the mosquito population.
They were in fact redrawing the coastline by digging ditches and building so-called spoil piles, or massive sand berms, purposefully demolishing wetlands, marshes and estuaries' natural ecology as they did so. It was the same thinking, initiated by the U.S. Department of Agriculture, that in the 1940s had thought DDT was the answer to mosquito suppression. When that didn't work, demolishing wetlands was next.
It was costly, laborious, ultimately ineffective: the very dredged material thought to suppress mosquitos turned into new nurseries beloved by larva, and the approach was abandoned by the end of the 1960s. But the damage was done. In some areas of coastal Florida, up to 80 percent of wetlands were demolished.
"We've created artificial uplands and deepwater habitats" through dragline ditching, says Jeff Beal of the Marine/Estuarine Subsection of the Florida Fish and Wildlife Commission. "We see this replicated pretty much from Cape Canaveral to Jacksonville." That in turn affecting estuaries and making it difficult for smaller fish to ward off bigger ones, the habitat being more deepwater than marshy.
Estuaries are important drivers of the local economy, its way of life and its ecology, says Erich Marzolf, the St. Johns Water Management District's division of water and land resources. The estuaries are threatened, in part because of the loss of wetlands, which are "critical breadbaskets" for the estuaries.
Dragline ditching alone isn't the culprit in the demolition of wetlands. Pollution from fertilizing and agriculture, sewage, overexploitation of fisheries, the diversion of freshwater sources (that means pulling water from streams and rivers so you can drink and water your lawn, an approach long sanctified by the district), and sea level rise are all contributing to the degradation of saltmarshes since the 1950s, says Chuck Jacoby, a scientist at the district. The alteration of the coastline only exacerbated the accumulation of problems, which are causing yet more unintended consequences in the age of cataclysmic storms and storm surges, as Flagler County found out with Hurricane Matthew and Hurricane Irma in the past two years: Marshes are natural resistant to storm surges. Lose the marsh, and the shore loses a critical barrier that can stop up to 50 percent of a surge.
"We need to be working on multiple fronts all at the same times," Marzolf said. "One of the health threats is the loss to coastal wetlands, which are critical breadbaskets and nurseries for our estuaries. When thinking about restoring draglined-ditched wetlands we may think that this is a sin of the distant past and its effects are done and healed. Sadly," he continues, "this is incorrect, these wounds are not fully healed, and without intervention, cannot fully heal. The effect of these old ditches combined with sea level rise continue to cause the loss of wetlands to this day."
The goal is to restore wetlands so they can function sustainably and in the face of sea level rise–and to reduce the intrusion of larger fish that devour smaller creatures in the marshes. It's a seemingly worthy, arguably essential, goal.
"The restoration process is to as best we can remake what used to be there while still giving us the benefits of mosquito control," Beal says. Through restored ecology, the right plants and sealife should return, "and we have the species where they should be, so it's about getting the right species in the right place at the right time."
But if that sounds awfully close to re-engineering nature, that's because it is–just as the Department of Agriculture had done in the 1940s with DDT, just as it continued to do in the 1950s and 60s with dragline ditching.
This time, the St. Johns River Water Management District hopes to get it right. "It's very tough for me to describe in 10 minutes 70 years of research," Beal told Flagler County commissioners at last month's workshop, overstating the case somewhat by conflating "research" that led to the demolition of wetlands in earlier decades with more recent research that led to their restoration. "But these systems are very well studied, we can give you lots of reports on the production that comes out of them, on the species that come out of them."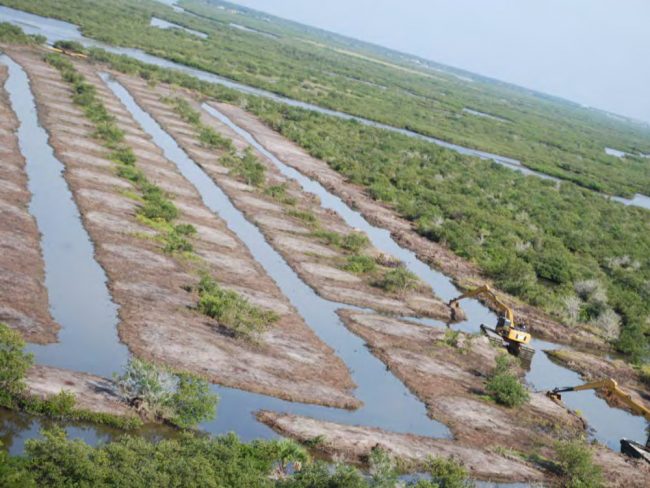 But where reengineering nature and government intersect, skepticism thrives. And the district's rather sloppy rolling out of the project and disengagement from the public at the front end all converged to trigger such the intense opposition from Flagler Beach.
By the time the team of scientists appeared before the county commission, they were all but acknowledging their mistake. "We heard from the public," Gian Basili, a Fish and Wildlife Conservation biologist said. "They definitely got us to rethink our schedule, to try to better accommodate answering their concerns to the best of our ability, and I'm also hoping they'll have an opportunity to shape our path forward with this effort."
He did not tell the commission that that "hope" was in fact a directive from the water management district, not an option. (See the full presentation before the county commission here.)
"Our team is supportive of more education on the front end and getting the stakeholders that we've heard from today to help us find optimal footprints that are good for them, that are good for the restoration, together," Ann Shortell, executive director of the district, said. " And that'll take a little bit of time on the front end."
Miklos, the district board chairman, had at one point suggested that the district had done its part even before its Sept. 11 meeting. "Everybody talks about [how] this came out of nowhere, but that's not my understanding," Miklos said, though he acknowledged that "district work" doesn't get much public notice. "I don't think we've had this type of attention given to a restoration project or some of these other projects in the past."
Ron Brockmeyer, a management district scientist, described how the Flagler project came together. Initially the district was hunting for a new location to mitigate after working on tracts in Volusia County, where the equipment eventually failed, or worked "past its serviceable life," in Brockmeyer's words. It had money left. It took since last fall and spring to locate equipment and move ahead with a new location. Flagler, in other words, was chosen in a less than systematic way. But the district still didn't know specifically how much of a footprint the Flagler restoration area would entail. Its scope went down from 211 acres to 113 acres, Brockmeyer told the board. "We didn't know whether this project was going to be 25 acres or 100 acres," he said, when the estimated cost was considered to be around $4,500 an acre. One came in lower than that, at $4,044.
"So we've had a drawn-out process on this. The public just hasn't been necessarily engaged because of the type of project it is," Miklos said, mis-characterizing what Brockmeyer had just said: the public had not been "engaged" because all but a fraction of the discussion about the project took place out of the public's purview as district staffers were figuring out what to do, where to go and how much acreage to tackle. Still, he said he understood the reaction from residents and businesses, but he wanted additional measures "to address some of these concerns."
The board seemed to lean toward ensuring that the footprint of the project, being so fluid, would stay away from homeowners' and businesses' closest horizons, and the project would limit the noise and the back and forth of equipment. But Miklos initially still wanted immediate approval. Other board members disagreed.
"At the least we owe the speakers some more time. We heard that they heard about it August 20," Allan Roberts, another member of the water management district board, said. "I think we need to continue this."
Miklos was suggesting approval followed by negotiations with residents.
"You can't go ahead and approve it , if they don't like it, well, it's already approved," Roberts said. "You've got to negotiate in good faith. You can't approve something and then go educate and inform."
"That's not what I'm proposing," Miklos said.
"How do you approve it then? Approving it is not approving it?" Roberts said.
But the mood in the room was shifting, with the staff leading the way. "I understand I was asking the people in the room to trust us, and it's a really big ask, I understand, that's not going to work, because we've never worked together," said Gian Basili, a biologist for the U.S Fish and Wildlife Service's Coastal Program. But he agreed: "We will not advance the project in any way until we've had adequate stakeholder meetings where we refine the design and try–we're not going to make everybody happy but we do a sincere effort to bring all the issues up front and try to address them, and then bring it back to you all so you can see the results of that, and then you can make the decision if it's been adequate enough to advance."
"You all know the nuances of your land, and that's important, that's what makes the best design for everyone," Ron Howse, another board member, told the audience.
After the unanimous vote to approve the contract but not the work, Fred Roberts Jr., the vice chairman of the panel, delivered an oddly patronizing coda to the audience, which had been forcefully courteous throughout: "This is your opportunity to now engage in thoughtful dialogue related to this," Roberts told the audience, seemingly dismissing the district's failure to have engaged that very group of people until then. "Obviously this is a project which those people responsible for the state of Florida believe is beneficial to the ecological system at issue. You know, be thoughtful in that dialogue. It certainly carries a lot more weight, as opposed to, not in my backyard. That's just my opinion."
Miklos was more respectful of the audience. "I did appreciate your passion for this issue," he told the audience, saying it was a first for the board. "This is something different, this is something new, I look forward to the input from the stakeholders" and the search for a middle ground.