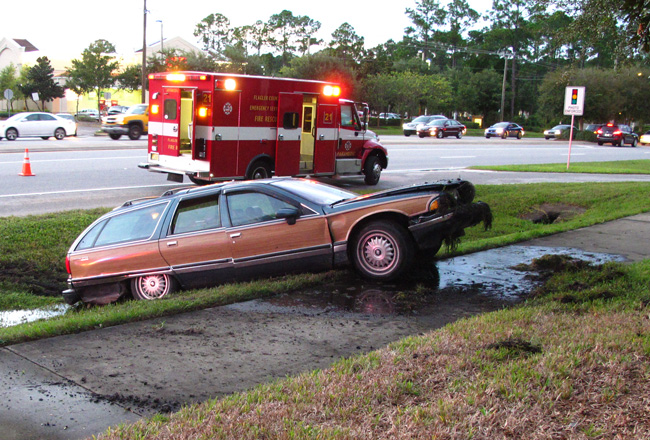 It had started as a car wreck near the Publix at Palm Coast Parkway and Belle Terre. By the time the evening was over, Richard Westervelt was in leg irons and being booked at the Flagler County jail on two charges of battery on a cop and two charges of resisting arrest.
Westervelt has had his issues. In 2009 he pleaded guilty to shoplifting. He got a deferred prosecution agreement and the charge was eventually dismissed. The same year he was charged with battery and, in a separate incident, with criminal mischief. The charges were dismissed each time. In 2010 he faced a felony charge for aggravated assault. The charge was dismissed.
In 2010 he was also charged with dealing in stolen property, cocaine possession, resisting arrest with violence and fleeing police, possessing a short-barreled shotgun and possessing a weapon while a delinquent, as well as discharging a firearm in public. He pleaded guilty to most of the charges and was sent to state prison for two years but was released after 18 months.
Westervelt, a 23-year-old resident of 56 Ryland Drive in Palm Coast, had steered clear of trouble since his release. Until Wednesday evening.
It happened just before 7 p.m. Westervelt was, according to him, a passenger in a vehicle that lost control and ended up in the swale on the east side of Belle Terre Parkway and the north side of the street-light entrance to Publix. The station wagon had swerved off of Belle Terre and slammed into the swale then back up partially onto the sidewalk, taking chunks of sod with it. Joseph Westervelt, 20, told police he'd been driving. A police report states he'd initially run from the scene and into Publix, from where a deputy brought him back to the location of the crash.
Richard Westervelt was "acting erratically," according to his arrest report. He said he never ran from the scene, though his arrest report states he did attempt to run.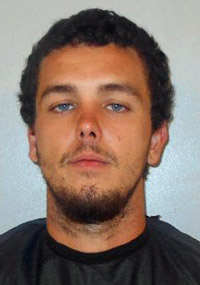 Paramedics had been trying to treat Westervelt for his injuries. But "Richard stated that he would punch anyone in the face who touched him," his arrest report states. As deputies were talking over the situation, Westervelt broke free of the person who was holding him and came towards one of the deputies, then changed his direction and attempted to run.
"I was able to grab him from behind and direct him to the ground," the deputy reports. "While I was trying to safely restrain Richard, he kicked me in my right thigh area. At this point I was now in the process of securing both of his hands behind his back for officer safety and the safety of others on the scene. As I was trying to inform Richard that he was under arrest for Battery on LEO," that is, battery on a law enforcement officer, "he continued to curse and actively resist my efforts to restrain him."
Once secured in handcuffs, paramedics approached. Because of the injury to his shoulder they recommended that the handcuffs be removed so he could be better evaluated. Paramedics took him to an ambulance, but he refused treatment. Westervelt then got out of the ambulance and ran again. The cop again caught him and forced him to the ground as onlookers watched. Westervelt was handcuffed and placed in a deputy's cruiser, where he "became extremely belligerent yelling and screaming about being injured."
The cop took him to Florida Hospital Flagler, where Westervelt remained hostile. "While the nurses were trying to tend to Richard's arm sling that he was placed in, he began cursing at the nurses," the report states. Westervelt was ordered "to sit back on the bed so he can be properly treated," the deputy reports. "At this time, Richard refused to listen to my verbal commands as well as the nurse's. One of the nurses tried to restrain Richard by his non secured hand, when he leaped up off the bed and lunged towards me with his shoulder making physical contact. I redirected Richard back to the bed and was able to secure him partially until additional units arrived with leg irons to secure him. Richard was also secured at the waist using a transport belt for safety."
The booking at the jail went more smoothly. He was booked on the four charges by 11 p.m. By this morning, Westervelt had been released, posting bail on $6,000 bond.