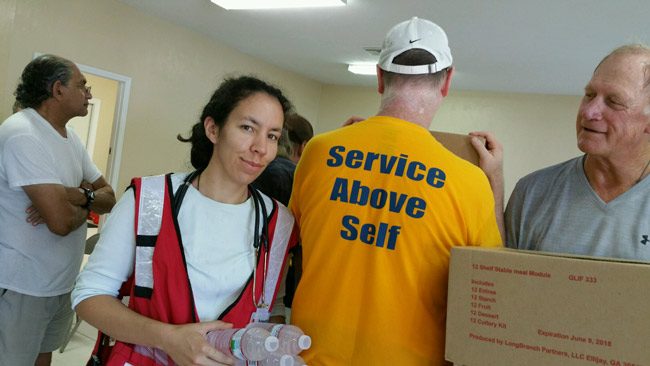 Flagler County government, fifteen agencies and many more volunteers converged on Hidden Trails Community Center in western Flagler County Saturday to offer meals, food and other necessities to several hundred households recovering from flooding and power cuts after Hurricane Irma. The event was organized in partnership with Grace Tabernacle.
A Saturday fixture at Hidden Trails, Grace Tabernacle's weekly food distribution became the nucleus around which a temporary Assistance Center grew. "Thank you to Pastor Silano of Grace Food Pantry and his volunteers for allowing Flagler County Social Services to team up with these resources on Saturday," said Janet Nickels, Flagler County Human Services Program Manager. "And thank you to all the agencies that made this joint effort in the Daytona North Community the success it was." Flagler County Transportation was provided for those interested in going to Hidden Trails.
The following was provided:
· The Grace Community Food Pantry provided food and pantry items to 167 households.
· United Health Care provided 200 backpacks filled with toiletries, hygiene products and water.
· The American Red Cross served 300 hot meals, water, and distributed cleaning supplies.
· Flagler Volunteer Services took 29 applications for tree and debris removal.
· FEMA registered 31 new applicants and met with 65 previously registered residents to address concerns.
In addition to the agencies above, Flagler County Schools, the Small Business Development Center, State Housing Initiative Partnership, St. Johns Community Partnership, United Health Care, Rotary Club, United Health Care, Serving Health Insurance Needs of Elders (SHINE), StewartMarchmanAct Behavioral Healthcare, Disabled American Veterans, Jearlyn Ministries, Virginia Disaster Recovery, and Career Source Flagler/Volusia were onsite with information and needed assistance for those still dealing with the effects of Hurricane Irma.
Dr. Stephen Bickel from Flagler Free Clinic was on hand to see patients along with Red Cross volunteers who monitored residents and volunteers for hydration & signs of physical distress.
Florida Department of Health-Flagler Administrator Bob Snyder, and Flagler County Commissioners Nate McLaughlin and Donald O'Brien were also at the event to address concerns and assist wherever needed.