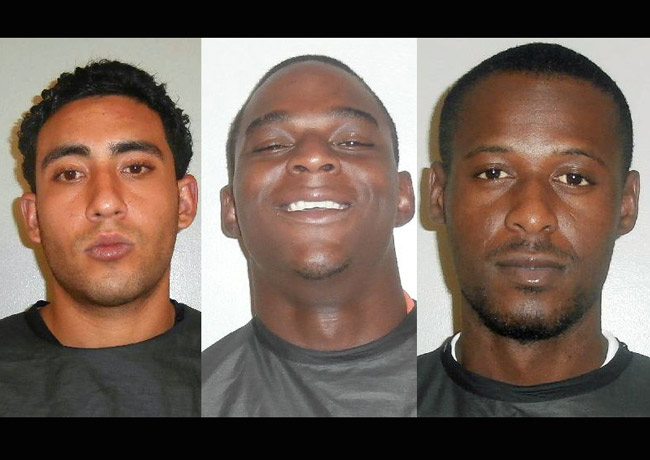 Three unrelated but violent incidents in Palm Coast capped a July 4 weekend by landing three of their alleged perpetrators at the Flagler County jail. All three arrests took place within a span of seven hours on Friday (July 5), between 6 a.m. and 1 p.m.
The previous night, a victim who lives with her child on Barkley Lane would later report to police that throughout the night she'd received insistent texts from her ex-boyfriend, Sean Goodison. One of the texts read: "If you don't answer I'm coming over." He hadn't lived there for over a year. The victim put the phone on silent and went to bed.
She was woken up at 6:30 the morning of the 5th. Goodison, 26, of 12 Weber Lane in Palm Coast, was banging on a window that faces the backyard, according to his arrest report. He was yelling at her to open the door. She refused. He then went to the sliding door, continuing to yell, and according to the report called her names and threatened to kill her.
The victim took her young child to a bedroom. At that point, according to the report, Goodison broke the kitchen window and went in the house and allegedly attacked her, throwing her on the ground and holding her down, and choking her. Goodison, according to the victim, again threatened to kill her. When the victim would manage get up, Goodison would throw her down again.
Throughout the struggle, the victim's child was nearby, witnessing the violence. This, according to a police report, went on for 45 minutes as Goodison would not allow the victim or her child to leave the house. Goodison, according to the report, repeatedly called the victim a piece of shit, slapped her, pulled her hair, flipped furniture and at one point tried to pry the child off of the victim. The victim pleaded with Goodison to leave.
The victim told police that there was a history of violence between them. In May 2012, court records show, the victim took out an injunction for protection against Goodison. In 2006, he faced a charge of assaulting a Flagler Beach police officer. In 2009, a charge against him of domestic battery was dropped. Just a week ago he was charged in Flagler Beach for driving on a suspended license.
When a Flagler County Sheriff's deputy arrived at the victim's house, Goodison's brother Lloyd Goodison was there, as she had called him for help. Lloyd told police that he believes his brother to be using drugs heavily, and that "Sean needs help before he kills someone." The victim told cops that he Sean Goodison had told her that morning that he'd already cut someone's throat the previous evening.
Cops learned that Goodison had been staying at his girlfriend's house on Weber Lane, where they found him and arrested him. He was charged with domestic battery by strangulation, false imprisonment, aggravated assault, child abuse and burglary. He posted $18,500 bond and was released.
The second incident took place three hours after the first. Three cars were struck on the east side of Royal Palms Parkway, near Belle Terre Parkway, by a four-door tan Ford registered to Jordan Marrero, 23, of 1 Woodhaven Drive in Palm Coast. The drivers at the wheels of the struck cars were able to take down the license plate number of the Ford.
The driver of a 2000 Cadillac Catera, Marcus Smothers, 27, of Palm Coast, was not injured. Juan Mallorca, 49, of Palm Coast, was at the wheel of a 2006 Trailblazer. He was taken to Florida Hospital Flagler with neck and back pain. Rebecca Hunt, 21, of Palm Coast, was also taken to Florida Hospital Flagler. She was at the wheel of a 2007 Honda.
Marrero was located at 51 Woodhaven Drive. The 2009 Ford he was allegedly driving sustained substantial front-end damage, according to his arrest report. He was not injured. He was charged with leaving the scene of an accident with injuries and taken to the county jail. He posted $1,000 bond and was released. He's been booked at the jail at least five times in the past few years, on minor drug possession charges, theft and probation violation. The address in his jail bookings is listed as 30 Russo Drive in Palm Coast.
The third incident took place around 1 p.m. the same day.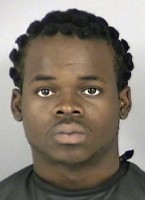 When a deputy arrived at 18B Pinehurst Lane in Palm Coast, Steeve Leveille was trying to clean the trunk of a vehicle in the driveway, even though he was soaked in blood, and a large cut on his left hand and a large gash behind his left ear.
Leveille, 24, told police that two men—Phyda Oleus, a 20-year-old resident of Renfro Lane in Palm Coast, and Roodlyn Mompremier, 29, of 85 Royal Oak Drive in Palm Coast, attacked him. As Leveille explained it, Mompremier is dating Leveille's sister. Leveille's family doesn't approve. A voodoo curse was leveled on the sister, though it's not clear how or by whom: the police report states inexplicably that Mompremier is the source of the voodoo curse.
Leveille told police that Mompremier was wielding a machete, running up to him and threatening to kill him, and striking him by making a move toward his head with the weapon. Leveille defensively raised his arm, and got cut on the hand. The weapon, he said, ricocheted off the hand and struck him on the side of the head as well. He fell to the ground. He claimed that both men then fell on top of him, with Oleus allegedly only punching him while Mompremier tried to strike him with the machete.
When a neighbor came out and yelled that she'd be calling cops, the alleged assailants fled. The neighbor told police that Leveille had been in his driveway with another man called Lonnie when a green car stopped in the middle of the road and "three black males jumped out of the vehicle and began attacking both Steeve and Lonnie with what she described as two long shiny objects which she believed to be machetes," the police report states. The witness said Lonnie fled the scene during the attack. Leveille's sister also witnessed the alleged attack.
It would be almost 24 hours before deputies located Mompremier, booking him at the county jail on two counts of aggravated assault with a deadly weapon. His mug shot shows him to have a large square bandage on the back of his head. He remains at the jail Monday, on $10,000 bond.
His record lists him as a habitual jail offender, with a previous arrest on an aggravated assault charge in 2010, and a 2009 charge of attempted murder, shooting a deadly missile and possessing a short-barrel shotgun. That case was closed in March 2011 after the attempted murder and gun-possession charges were dropped and Mompremier pleaded no contest to a charge of improper exhibition of a dangerous weapon. Then-Circuit Judge Raul Zambrano withheld adjudication.