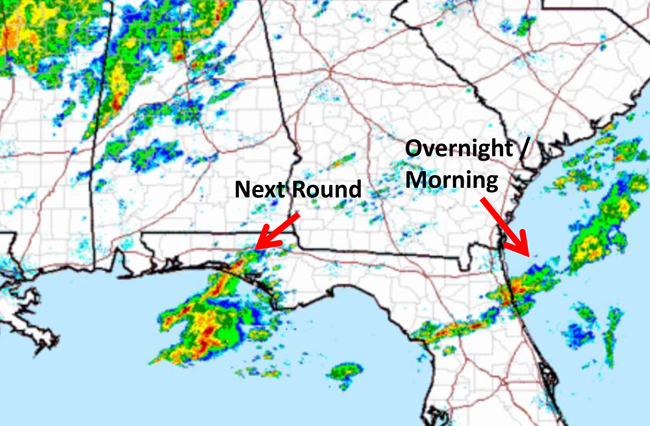 Last Updated: 3:35 p.m.
A small, brief funnel cloud touched down over the Intracoastal just north of Marineland this morning, scampered over A1A then dissolved over the ocean, says Bob Pickering, a weather specialist with Flagler County Emergency Management.
"It was very brief and it did not cause any damage," Pickering said. The funnel cloud was part of a series of multiple significant weather advisories that have accompanied a recurring band of storms moving across the region.
The Flagler-Palm Coast area was under a tornado watch until 3 p.m. That has been replaced by a severe thunderstorm watch until 11 p.m. "The Storm Prediction Center is still predicting a low risk of the odd tornado," Pickering said.
But so far today the storms have not caused serious damage. Some localized areas have received up to 2 inches of rain.
Earlier stories are below.


May 24, 10 a.m—Tornado Watch In Effect for Flagler-Palm Coast as NWS Predicts Heavy Rains and Winds
The National Weather Service's Storm Prediction Center has increased the region's severe weather threat to "enhanced," with a tornado watch in effect for areas including all of Flagler County-Palm Coast until 3 p.m. today.
Storms are expected to roil through the area through the afternoon and into evening. An enhanced threat means potential for a significant severe weather event. The Storm Prediction Center cautions that watches and warnings are likely through the evening as conditions have developed in such a way as to create numerous thunderstorms and possible some supercells.
"Conditions will be favorable for damaging winds and isolated tornadoes," the National Weather Service said in a briefing this morning.
The time of greatest threat in the area is from noon to 8 p.m. Potential threats are as follows:
• Wind gusts in excess of 60 mph are the primary threat.
• A few tornadoes likely.
• Hail up to 1 inch possible.
• Timing: Multiple Rounds of Thunderstorms through day and along front in the evening.
• Locally heavy rainfall with localized flooding and ponding on roadways.
• Storm motion: From the west southwest to the east northeast at 40 to 45 mph
• 2 to 4" of Rainfall forecast to occur with substantially higher amounts possible through tonight. Flagler County is in line for amounts closer to the 2 inch range or possibly less.
• Localized flooding may occur for portions of Northeast Florida through tonight.
Follow the latest at the National Weather Service's Jacksonville Webpage: weather.gov/jax or its Facebook page: facebook.com/US.NationalWeatherService.Jacksonville.gov
Tuesday's story is below.


Weather Service Cautions: Possibly Heavy to Severe Storms and Rainfall Late Tuesday and Wednesday
May 23–The National Weather Service cautioned this morning that the potential for heavy rainfall and severe storms was increasing for this region, starting late Tuesday night and through Wednesday. The worst of the weather currently is expected to affect regions further north, with the possibility of severe weather locally rising Wednesday.
If strong or severe storms develop, a science and operations officer at the National Weather Center's Forecast Office said this morning, "the primary threat will be strong winds and heavy rainfall though hail and isolated tornadoes will be possible with the strongest storms."
Computer models show the most activity in the Palm Coast-Flagler area Wednesday afternoon, with only scattered thunderstorms expected today between 1 and 4 p.m., and again for a couple of hours in early evening. The chance of thunderstorms or precipitations will hover at 50 percent starting at midnight and into Wednesday, and rising somewhat in early afternoon.
The closest tornado watch in effect Tuesday affects the Florida Panhandle, southwest Georgia and southeast Alabama.
The heavier storms could trigger wind gusts of 30 to 50 mph, with potentials for 2 to 4 inches of rain, possibly more in localized areas affected by more persistent activity. There is "some potential for hail or brief tornadoes with the strongest storms that occur, but considerable uncertainty on potential at this time, the National Weather Service states.
Rainfall is needed in Flagler, where the drought index has been in the 500 to 550 range, on a scale of 800, with 800 being the driest, and zero meaning the ground is saturated. The higher drought index led the county fire chief to declare a burn ban last month. It takes an inch of rain to lower the drought index by 100 points, so passing showers or thunderstorms are not enough to end drought conditions. Countywide in Flagler today, the average drought index is at 530, with the lowest readings in places at 468, and the highest readings close to 600.