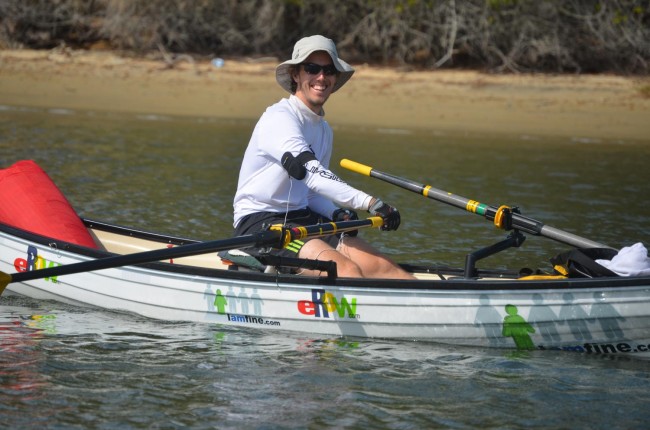 For the full story on Lewis Colam, go here.
ABOARD THE MY BOAT–There he was, rowing in on a powerful tide and looking as fit as if he'd just started: Lewis Colam was rowing fast, well past the State Road 100 bridge a little after 4 p.m., on his way to a rendez vous with a little welcoming committee at the Palm Coast Yacht Club. We're aboard George Waite's 20-foot boat, called My Boat, paralleling Colam, along with one other boat. He was due at the Yacht Club at 4:30 p.m. He was bound to make it.
And did. There, on the dock, was Palm Coast Mayor Jon Netts–an avid boater himself–and about 15 other people who watched, took pictures and video and waited patiently as Colam bobbed to a dock and rose from his 15-foot boat, a little embarrassed by the assembly waiting above.
Less than three weeks ago Colam rowed off a dock in Miami on his way to a 1,400-mile feat up the Eastern Seaboard, mostly–but not entirely–along the Intracoastal Waterway. The 24-year-old native of England is doing so with virtually no prior rowing experience and no training, but to prove that he can. And to raise $20,000 for Alzheimer's research. He's already well over 80 percent of the way there in fund-raising. He's had instant friendships along the way from supporters. Palm Coast was his latest surprise. He conceded genially that it was his best welcoming group yet.
"Do you not wear a hat?" Lee Wilman, who'd ridden in a boat with her husband Vern Metting the last three miles, asked him. Colam reassured her: it's in the boat.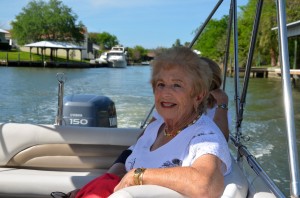 "I must say, he looks fantastic after what, 17 days?" said Isobel Karvwatt, who herself looks fantastic after what, 86 years? Colam will be staying at Karvwatt's house in Palm Coast tonight. Her son worked with Colam in London, where Colam was a management consultant: it's how he ended up with his Palm Coast connection. A few weeks back he brought his boat to Palm Coast to have it painted with its sponsorship signs, among them iamfine.com, the phone check-in service for the elderly her sons just launched. "I don't think he's lost any weight since he was here."
Karvwatt had a spaghetti and meatballs dinner planned for tonight (hot food is Colam's greatest craving) but a steak dinner for tomorrow evening. somewhere in town. After 300 miles–one-fifth of the way to New York Harbor, his destination–Colam is taking a couple of days to rest, recuperate, write.
"You have to admire this young man's dedication, fortitude," Netts, who'd been first to shake hands with Colam, said. "I don't think people fully appreciate what it means to row a thousand mile from Miami to New York. It's a huge undertaking. Certainly it's a worthwhile endeavor, raising money for a very, very worthwhile cause, but there are all kinds of fund-raisers. This is just a little different. Of course with my affinity for the water, the marina and what not, I wouldn't have missed this for all the money in the world."
A little over half an hour later, the champagne was uncorked.