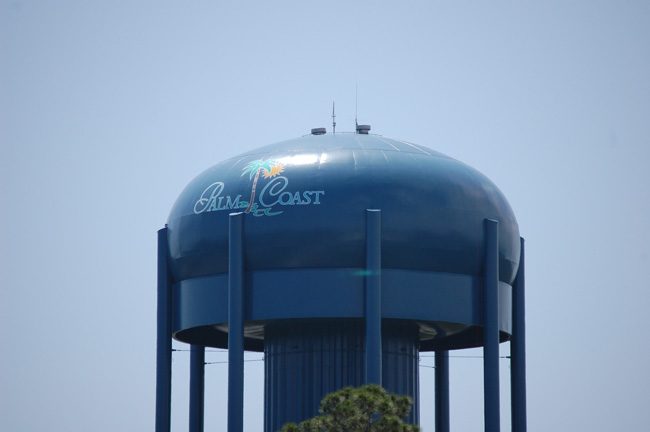 At three o'clock this afternoon Flagler County Fire Rescue and Palm Coast Fire Department personnel were in a rescue operation involving a contractor suffering an apparent heat stroke near the top of Palm Coast's 130-foot blue water tower.
The call came in to authorities around 2 p.m. that the man, a contractor working on equipment at the top of the tower, had become disoriented, a Flagler County Sheriff's spokesperson said at 3 p.m.
"He's still up there, he's alert and conscious. They gave him water and fluids," the spokesperson said. By 3 p.m., rescuers had reached the top of the tower and were working on getting the man down. There are no security concerns or issues involving the water in the tower, and no law enforcement was dispatched to the scene.
"We have a technical rescue team that does these high-angle rescues," Flagler County Fire Chief Don Petito said from his truck at the scene. "They're up there now and they're rigging up all these ropes to get him down."
"It is an employee for a company that does contract work for our utility department," Cindi Lane, a spokesperson for the city, said at 3:15 p.m. "They maintain our tank. Right now they're working on a mixer which is inside the tank, and the worker has apparently fallen ill."
Lane said she did not believe the man was actually atop the tower, but very near the top. He works for a company called Utility Services, which does numerous jobs involving the water tower, including painting it. "He's safe right now," Lane said of the contractor.
The county's state-sponsored technical rescue team has six rescuers on duty at all times "so we can do things like this when it comes about," Petito said. "Hopefully they're going to get him down because it's hot out here." It was 97 degrees outside Petito's truck, with the heat index which includes the effects of humidity, pushing the feel-like temperature into triple digits.
Petito was unclear as to what, specifically, the contractor was working on at or near the top of the tower.
Rescuers did not think the man was going to be able to use the ladders to get down, so the ropes were being prepared to ease him down that way, Petito said. But the situation was fluid, and shortly after 3 p.m. Lane said there was still some hope that the man would be able to make his way down of his own power.