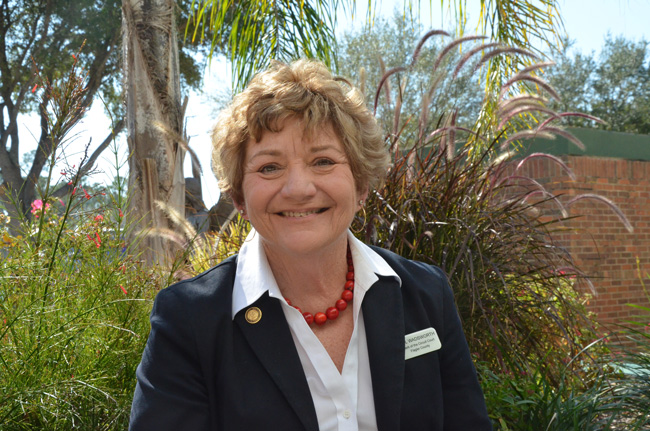 Flagler County Clerk of Court Gail Wadsworth and her deputy, Tom Bexley, said Monday they are ready to issue same-sex marriage license with open doors and open arms—either on Jan. 6 or as soon as the law enables them to do so, and the attorneys for the clerks' association gives them the go-ahead.
Wadsworth, one of Flagler County's most prominent and longes-serving Republicans, prefaced her ideas about same-sex marriage with a story that involved her personally.
"I have a young man who was with me for a period of time because he told his parents he was gay, they kicked him out," Wadsworth said. "I've known him since he was 7, so, in an odd way, I hurt for their inability to be what they are. So I will never say no to one of them. Really, if you live in this world at all, we, you and I obviously know same-sex couples. They may not be declared but they are, and they have no ability whatsoever to gain each other's Social Security benefits and other benefits, they can't stand beside a bed when somebody is dying, they can't sign off on death wishes or life wishes, and for the most part this will give them a greater ability to live an take care of each other, which they can't do today. And that's important." Wadsworth added: "I believe people should have freedom to be."
But the clerk's office is waiting for an interpretation of law from lawyers for the Florida Court Clerks and Comptrollers Association, who have cautioned so far that  "until a binding order is issued by a court of proper jurisdiction," issuing marriage licenses, even starting Jan. 6. It's still not been made clear to clerks around the state whether the federal decision that declared Florida's same-sex marriage ban applies in Washington County alone or across the state.
"It may apply only to Washington county. I hope not," Wadsworth said. "I hope they don't do something in one piece of Florida and not another, let's let the rule be uniform. But I don't know, I'm not a lawyer."
On Aug. 21, Federal District Court Judge Robert Hinkle ruled that Florida's marriage ban—passed by 62 percent of voters in a 2008 referendum—is unconstitutional. Hinkle, appointed by Bill Clinton in 1996, likened the ban to laws that forbade interracial marriage. But the ruling was stayed until Jan. 5, 2015.
Last week, the U.S. Supreme Court denied a request from Florida Attorney General Pam Bondi to extend the stay, refusing to delay the freedom to marry in Florida. The stay will now expire on Jan. 5, even as the appeal in the Florida marriage cases proceed in the 11th Circuit. An oral argument in Atlanta, where the 11th Circuit is based, is not yet scheduled.
"We all have our opinions as individuals," Tom Bexley, Wadsworth's chief deputy, said Monday. "I can tell you when it becomes legally mandated it's our intent to immediately start issuing these licenses and performing ceremonies as quickly as possible. We want to be the place where people want to come to do these ceremonies."  He added: "I think most clerk's offices in the state of Florida are going to agree with that, open the doors with open arms kind of thing." But, Bexley said, "We have an idea of what's going to happen."
To get married in Flagler County—and this will be the case for different-sex or same-sex couples—people walk into the recording department on the first floor of the courthouse, fill out the marriage-license application in front of a deputy clerk (see below), show identification, pay a $93.50 fee, and wait the required three days to be married. Three days later (or up to 60 days from the issuance of the license) they can be legally married by one of the clerk's more than three dozen deputy clerks. The marriage itself can be done in the clerk's office or at the beach, or skydiving, or anywhere else. "As of today," Bexley said, "any deputy clerk can perform a marriage ceremony anywhere in Flagler County."
When gay marriage becomes legal in Flagler County (as it inevitably will), the clerk's office says there will be a handful of applicants, but, Bexley said, "I don't all of a sudden think we'll have them lined out the door."
Meanwhile, clerks and others await the legal untangling of court decisions and their interpretations.
Florida is one of only 15 states where same-sex couples do not have the right to marry. In more than 25 amicus briefs that have been or will be submitted this week to the U.S. Court of Appeals for the 11th Circuit, scores of first responders, law enforcement officials, states, cities, faith leaders and businesses urge the court to end Florida's ban on marriage for same-sex couples. The briefs show the depth and diversity of support for the plaintiffs in the Florida cases and for the freedom of gay and lesbian couples to marry.
More than 200 first responders and law enforcement signed on to a brief, including Chief Jane Castor, Chief of Police, Tampa Police Department; Chief David Frisby, Police Chief (Ret.), Monticello Police Department; Chief Sharon Lippman, Battalion Chief (Ret.), Tallahassee Fire Department; Chief Walt McNeil, Police Chief (Ret.), Tallahassee Police; and Cindy Dick, Fire Chief (Ret.), Tallahassee Fire Department. "I have worked beside and supervised lesbian cops. They did the same job and paid the same dues as I did. They deserve the same legal rights and protections that I enjoy," said Chief Frisby.
The Florida Family Policy Council, a lobbying organization that has opposed gay marriage, argues that "the correct legal and constitutional position is that marriage is a state's rights issue and each state should have the ability to define marriage as a matter of public policy in that state.  The Equal Protection arguments are completely without any merit as courts are simply creating rights out of thin air, twisting the history and meaning of the constitution like Play Dough (sic.).  This is classic textbook judicial activism where judges are seeking to be social change agents and legislating from the bench instead of objectively interpreting the law."
The religious community is not uniformly opposed to same-sex marriage, however. Leo Frade, Bishop of the Diocese of Southeast Florida, Trinity Cathedral (Episcopalian) and Rev. Gloria Van Houten, United Church of Christ Minister and Member of The Open and Affirming Ministry Team in Sarasota, are among the more than 200 signers of a religious communities brief.  "Jesus saw fit to conduct his first miracle at a wedding at Cana in Galilee," said Bishop Frade. "As I near the end of my tenure here as Bishop of Southeast Florida, I hope my last miracle will be to marry two friends in Christ who have been prevented from doing so for far too long."
Broward County, Palm Beach County, Orange County, Alachua County, City of Coconut Creek, City of Gainesville, City of Hallandale Beach, City of Key West, City of Miami Beach, City of Orlando, City of St. Petersburg, City of South Miami, City of Tallahassee, City of Tampa, City of West Palm Beach, City of Wilton Manors and Village of Biscayne Park signed onto a brief. No Flagler government, including city governments, signed on.
"The breadth and depth of these amici briefs demonstrate the groundswell of support for the freedom to marry," said Nadine Smith, CEO of Equality Florida. "A Federal district court in Florida has now joined the 60 other state and federal courts – including four federal appellate courts – who over the past year have affirmed the freedom to marry and held the denial of marriage to be unconstitutional. We believe when the 11th Circuit justices consider this case and makes note of the diversity of support, they, too, will affirm the right of everyone to marry the person they love."