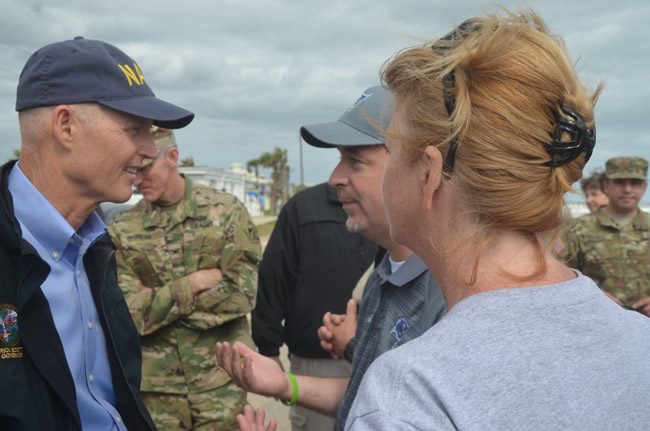 The chorus of voices calling for Gov. Rick Scott to veto a controversial education bill — and perhaps part of the state budget for public schools — grew Tuesday, even as supporters tried to push back.
Two of the state's major education organizations — the Florida School Boards Association and the Florida Association of District School Superintendents — sent letters to Scott on Tuesday asking him to nix a wide-ranging schools bill (HB 7069) unveiled on the next-to-last business day of the 2017 legislative session.
The superintendents went a step further and called on Scott to use his line-item veto to strike the Florida Education Finance Program, or FEFP, a move that would essentially force the Legislature to pass a new education budget. The FEFP comprises the majority of state and local funding that flows to public schools.
The letters from the two organizations came on top of calls from the Florida Education Association, the state's main teachers union, for Scott to take dramatic action on HB 7069, a sweeping measure covering everything from school uniforms and sunscreen to teacher bonuses and recess.
Tuesday evening, the Flagler County School Board voted 4-0 to approve a letter to Scott opposing the bill and asking the governor to veto it.
"House Bill 7069 has things in it that are not very appealing to our school district or other school districts," Flagler School Board Chairman Trevor Tucker said. "It has a lot of funding issues and it has even some educational issues in it. There are some good things in it but we feel the overall weight of it is not very good."
Board member Janet McDonald said the opposition was due to "the negative repercussions to every district in the state."
Tucker also wrote an OpEd of his own opposing the bill and distributed it to local media. He said he would be ready to write more if necessary, to oppose the measure.
The measure is perhaps best known for its inclusion of a funding program for "schools of hope," including charter schools in areas with academically struggling traditional schools, and an expansion of the "Best and Brightest" teacher bonus system.
The school boards association was particularly blistering about the way that the bill was put together in budget negotiations between the House and Senate. The legislation emerged as a "conforming bill," tied to the budget and essentially subject only to an up-or-down vote.
"Legislators took a six-page, single-subject bill, tacked on the content of two very contentious bills, and then added the camouflage of popular provisions from more than a dozen other bills to produce a 274-page behemoth. … We believe that this entire process for developing this conforming bill constitutes an abuse of the legislative process in general and the budget conference process in particular," wrote Andrea Messina, the school boards association's executive director, and Tim Harris, its president and a member of the Polk County School Board.
Meanwhile, Miami-Dade County Superintendent Alberto Carvalho appeared at a meeting of the State Board of Education to press the case from school chiefs that the bill and the budget should be vetoed. He said a 1.2 percent increase in the FEFP funding program in the budget year that begins July 1 is particularly paltry.
"That is the lowest increase outside of recessionary conditions," Carvalho said.
Critics have also pointed out that, while there is a modest per-student increase of 0.34 percent in the FEFP by one measure, the per-student amount under another measure would actually drop. About 20 school districts are expected to see their revenues for each student drop if the current budget is signed by Scott.
Some of the members of the State Board of Education, which is appointed by Scott, suggested Tuesday that they were troubled by aspects of the budget, which defenders say sets aside an all-time high in overall spending on education. Because of enrollment growth and spending outside of the FEFP, the total funding for K-12 education would be at an all-time high even as per-student spending rises only slightly.
"What concerns me (is), if this is a record budget and most of our rural counties are losing money, I'm scared to death of what may happen if we ever have a down year," said Andy Tuck, vice chairman of the board.
Carvalho suggested that if Scott were to veto both HB 7069 and the FEFP, lawmakers could more broadly spread nearly $419 million that was tucked into the conforming bill. Those funds are now earmarked for a variety of causes including charter schools, persistently failing public schools and teacher bonuses.
But supporters have begun mounting a counterattack. Earlier in the state board's meeting, House Education Chairman Michael Bileca, R-Miami, defended the conforming legislation, which sprung largely from House ideas on charter schools and teacher bonuses.
"Our approach has been, how do we create this transformative approach to closing the achievement gap, to help really transform these persistently failing schools as well as the areas of the highest poverty in our state," Bileca said.
Meanwhile, the Florida chapter of PublicSchoolOptions.org, which advocates for public school options like charter and magnet schools, issued a statement calling on Scott to sign the conforming bill.
"HB 7069 is a win for parents because it gives us more options for our children's education and it entrusts us, not bureaucrats, to make these decisions for our children," said Carmen Potter, a leader of the group in Florida. "After all, we know them best."
It is not clear when Scott will have to make a final decision on the bill, which passed before the annual legislative session ended May 8. The governor has 15 days to sign or veto a bill after the Legislature sends it to him, but lawmakers have not done that with the budget or HB 7069.
–Brandon Larrabee, News Service of Florida