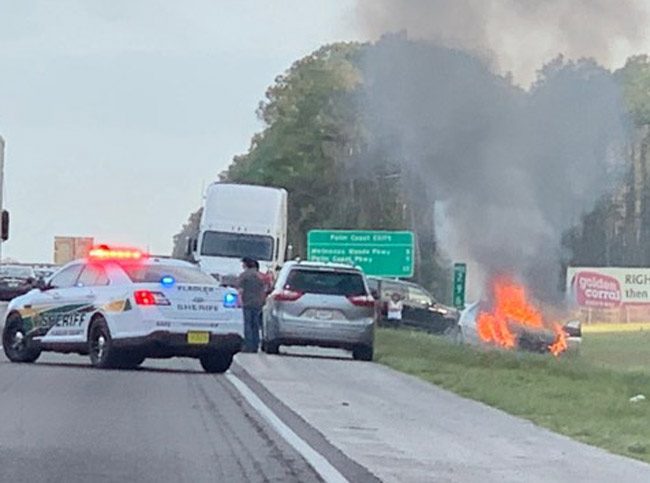 A crash between a sedan and a semi truck just after 6 p.m. Sunday shut down I-95 southbound south of the Flagler-St. Johns county line and sent the driver of the sedan to the hospital.
One of the responders to the crash, Flagler County Sheriff's deputy Sierra Held, was briefly hospitalized at AdventHealth Palm Coast with smoke inhalation. She was then released and, following her normal schedule, isn't due back at work until Wednesday. Held has been with the sheriff's office since July 2018.
According to 911 notes on the crash, a southbound Toyota Camry "ran into concrete wall" then veered back under the semi at about 6:18 p.m. The collision at mile marker 296 sent the vehicle toward the wood line on the west side of the highway. The semi stopped a short distance further south. The vehicle's occupants were able to get out. The vehicle caught fire, and was soon engulfed in flames.
Trauma One, the emergency helicopter, was placed on standby but wasn't used. The patient–the driver of the Camry–was transported by ground to Halifax hospital in Daytona Beach. The Florida Highway Patrol responded and investigated.
Agencies from St. Johns County, Palm Coast Fire Department's Engines 23 and 24, along with Flagler County Fire Rescue, the Flagler Sheriff's Office and the Palm Coast Fire Police, responded. Firefighters had water on the flames at 6:35, and had the fire extinguished 10 minutes later.
By 6:30 p.m. all southbound lanes had been shut down. All lanes were reopened at 7:21 p.m. The identities of those involved have not yet been released.