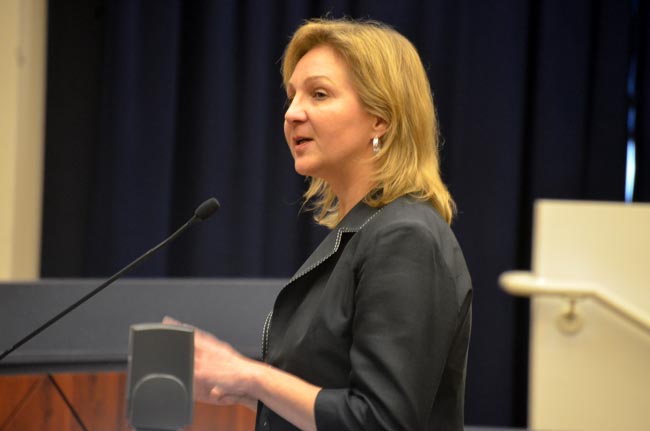 Last Updated: 3:58 p.m.
Helga van Eckert hadn't even made the first cut, when the nine members of Flagler County's jobs council narrowed 63 applicants for the new economic development department's executive job to a shortlist of 16 in November, and then eight for phone interviews the following months.
Then two things happened. A couple of candidates dropped out. And Bob Alex, who had applied to be a member of the council, hadn't been chosen, but attended every meeting, caught the ear of Barbara Revels, the county commissioner who chairs the council. Alex–who's run unsuccessfully for the county commission and the Palm Coast City Council–had been a commissioner of redevelopment and zoning in Perth Amboy, N.J., before his retirement seven years ago. He'd worked with Eckert seven years as Eckert headed the city's redevelopment agency.
"I saw her work firsthand, I spoke with her almost daily, did presentations with her around the state. She was known, she has a very fine, solid background in redevelopment and economic development," Alex said. "Even though I know her and I like her, I would have never made the recommendation if I didn't have deep feelings of her abilities and her fit to this county."
The recommendation was conveyed to the council and landed van Eckert on the phone-interview list. She made it through to the finalist round on Thursday, when she and two other candidates–Chris Clifton and Bruce Register–were interviewed in person.
Earlier this morning, when eight of the nine members of the jobs council convened again to vote on their choice (Paul Manning sat out the proceedings), it wasn't close: Van Eckert was every council member's first choice, with one exception (Joe Marotti picked her second, behind Clifton). Everyone picked Register third.
"I really do appreciate their confidence in bringing me on," van Eckert said this afternoon, after completing a tour of Flagler County government officials organized for the candidates to familiarize them with the county's highlights. The final decision, of course, will depend on whether all sides can agree on the job offer, and on the county commission's ratification of the recommendation. Short of a political end-run, it is unlikely that the commission will override the council's decision, especially because of the council's near unanimity and the commission's pledge to give it wide berth.
"She's a still-waters-run-deep person," Revels said of van Eckert after the council's brief meeting. "She's not all flash on the surface. That's what I was worried about with Mr. Clifton, being a little flash."
Revels added: "If you plugged in all of our needs and all of our areas, whether it'd be pulling the county together into one team one voice—that's way overused—but to all be on the same page, and the fact that she's worked hard with a small staff, she's taken a very difficult community a long way, I just think that in every one of our areas that I think we have needs in, she's excelled in a very steady path. Not a lot of flash, presents herself well, and I just think that she will be the one that wouldn't be diminished in any of the capacities. Not to detract from anybody, but I felt like after Mr. Clifton's contacts, he's got all the knowledge, he can talk the talk, I was worried about what would we have after all of that. You know, was there more substance beneath there."
There was a slight wrinkle in the proceedings.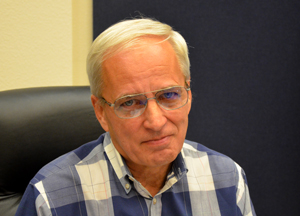 Manning's decision to snub the finalists' interview process, which breaks the cohesion of what until now had been a distinctly collegial and unified effort on the council's part–at least publicly– was surprising. Manning was not happy with the final choices. "Based on the phone interviews, their individual resumes and the research that I have done, there is nothing that would compel me to recommend that any of them be selected for the position," he wrote Joe Mayer, the county's human resources director who coordinated the interviewing process for the council. "I outlined what I was looking for in an applicant and, in my opinion, none of the remaining candidates measures up to those requirements." He was interested in restarting the process and hiring a search firm to screen applicants. "By proceeding in this more confidential manner we might also be able to evaluate not only the qualifications but also the sincerity and commitment of the applicant, while at the same time avoid having Flagler County being used as a 'stalking horse'."
Manning did not respond to email or phone requests for comment. His reason to sit out the meeting was explained to at least some members of the council–but not in an open meeting. His absence was merely noted during the last two days' meetings, but not publicly explained. In other words, Manning's reasoning for sitting out had been conveyed to some of the council members outside the meetings.