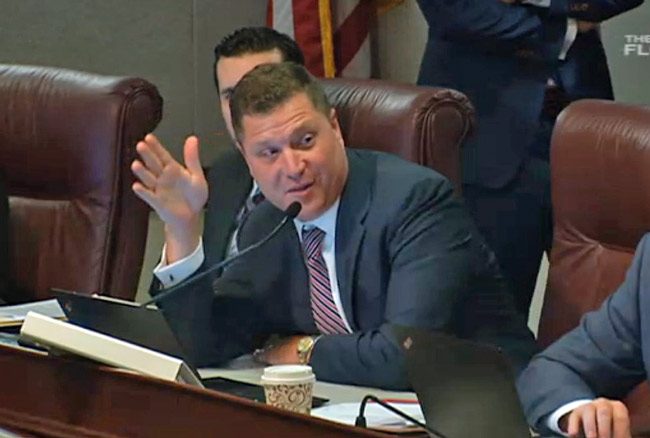 Flagler County's—and the state's—opponents of a vacation-rental bill that would have significantly weakened current, local regulations of the industry won a major victory today as a Florida Senate committee essentially neutralized the bill in question.
The Senate Community Affairs Committee voted 5-3 to actually advance Senate Bill 188, but only after an amendment by Sen. Jeff Brandes that re-configures it almost entirely, and in a way that will leave Flagler County's existing regulations in place, intact.
The vote was not a surprise, but its result is, because in effect the battle over short-term rentals appears to have taken a turn much more favorable for those who want regulations to stay in place, at least on the Senate side.
The House version of the bill is still the more onerous version, as Flagler County sees it, and it has cleared two committees. Should both Senate and House versions pass in their current form, it's possible that the bills in conference will synthesize into something unexpected yet, so neither side can declare victory at the moment. However, the House bill's next stop was to be the Commerce Committee, which meets on Wednesday. Seventeen bills are on the agenda. The vacation-rental bill, HB 425, is not. In other words, it may be dead.
"This was a great day for our legislative objectives, absolutely a great day, on both scores," Flagler County Attorney Al Hadeed, who was in Tallahassee today for the fifth time in four weeks, battling the measure, said. "What the Community Affairs Committee did on the Senate side, and what the Commerce Committee did not do on the House side. However, it's not over until it's over. Strange things have happened before." The bill, in other words, could yet reemerge. "Right now, the present legislative landscape is very favorable to our position. But we cannot be complacent."
Even if the House bill somehow re-emerged, its Senate companion is beyond recognition, looking more like a face-saving measure than actual law.
"I think it's fair to say it's a substantial improvement to the legislation that was objected to by the people that are speaking against it," Committee Chairman Tom lee said as he pointed to the clock and this time, in sharp contrast with the bill's previous hearings, inviting people to the podium to address any lingering concerns about the bill. In the bill's three previous hearings in the House and Senate, more people lined up to speak than could be accommodated, tensions ran high and debaters dueled. Today it was as if an explosive charge had been defused.
"It puts us in a position to be neutral," Eric Pool of the Florida Association of Counties said.
Just to be clear, Hadeed took to the podium.
"My county commissioners would not forgive me if I did not pose a question through the chair," Hadeed told the committee. "My understanding of the amendment, to confirm its intent, those local governments who have enacted ordinances based on the 2014 law, this bill, or this amendment, would not affect those ordinances?"
"That's correct, unless they would like to be less restrictive than their 2011 ordinances," Brandes said.
"Does that change your position on the bill?" Lee asked Hadeed.
"Yes, we would not be opposed to the bill if that were the final language that was adopted," Hadeed said.
"Excellent caveat," Lee said.
The Community Affairs Committee was to hear the bill on April 3, but after passing two minor amendments that don't substantially change the bill as far as Flagler County's regulations are concerned, postponed the hearing when time ran out. The bill sponsor, Sen. Greg Steube, agreed to withdraw these amendments in favor of the Brandes amendment, which represented a near-total surrender by Steube. The surrender saved face through the clause addressing service members. While Branbdes's amendment allows local governments to amend their ordinances only if they intend to make their regulations less restrictive, it also gives preferential treatment to active-duty service members, granting them exemptions from regulations. That latter clause had been one of the Steube amendments. "I want to thank Sen. Brandes for incorporating that in the amendment that he has," Steube said.
"This bill looks nothing like it did when it walked in the door here today," Brandes said. "All this bill does now is say that a city or municipality may be less restrictive, and not lose its grandfathering." He described the previous bill as having been "completely wiped out."
That still left some opponents to the bill, even in its amended form: the Florida Restaurant and Lodging Association, which was echoing its national counterpart's broader attack on the short-term rental industry, and particularly Airbnb, because that industry has been undercutting hotel industry profits by providing consumers effective, attractive and inexpensive alternatives to hotels. The hotel association has been engaged in a "multipronged, national campaign approach at the local, state and federal level," according to recent minutes of the American Hotel and Lodging Association, reported Sunday in The New York Times.
The association crafted a specific strategy targeting short-term rentals. The objective, that strategy states according to an association paper the Times published, is to "Build on the success of 2016 efforts to ensure comprehensive legislation in key markets around the country and create a receptive environment to launch a wave of strong bills at the state level while advancing a national narrative that furthers the focus on reining in commercial operators and the need for commonsense regulation of short-term rentals."
The hotel industry's opposition to the short-term rental bills has little parallel to the opposition rationale previously offered by local governments such as Flagler's, though the industry has co-opted the same language to convey a more palatable image than that of an industry protecting its turf: the industry has been speaking of the harm to neighborhood by pointing to what it calls the unfairness of regulating hotels one way while leaving short-term rentals unregulated. That, the industry says, takes place at the expense of residential communities where those short-term rentals operate.
"While I came in prepared to oppose the bill today, I'm going to support the bill now that it has been, as Sen. Steube put it, gutted," Sen. Jeff Clemens said.
But the bill still leaves questions open. The assistant city attorney for Miami raised one such key point: many local governments don't have existing regulation on short-term rentals, a rapidly emerging industry. They may want to write new regulation. But the bill as now amended, while it would allow existing regulations to stay in place or to make them less restrictive, would not allow new regulations, and would leave lateral amendments in a gray zone.
Hadeed sees it differently. "I am confident that if this bill amendment language became law," he said, "those local governments who do not presently have regulations on the books may regulate short term vacation rentals. However, they must strictly stay within the four corners of what the 2014 legislation allowed. They can't overstep that bound."
Even those who voted no, like Sen. Aaron Bean, said they were doing so "quietly."
The bill heads to the rules committee next, its last stop before the Senate floor.

The Jeff Brandes Amendment to SB188 (2017)