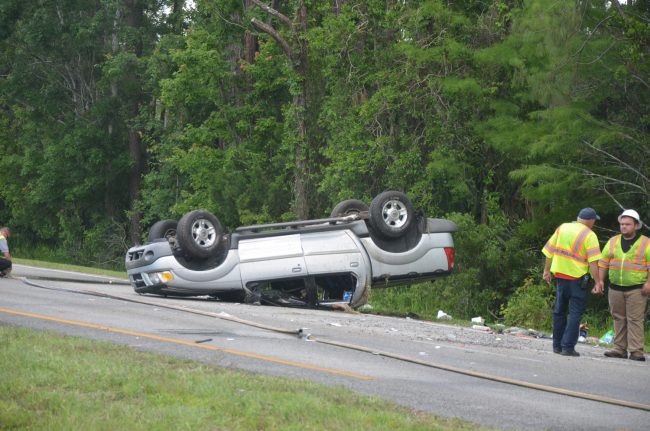 An older man was injured and entrapped shortly before noon today when his vehicle rolled over and ended on its roof on U.S. 1's southbound lanes just south of the White Eagle Lounge and the intersection with Old Dixie Highway.
The man, whose identity has not yet been released, was transported by ground to Halifax hospital in Daytona Beach even though Flagler County Fire Flight, the emergency helicopter, was dispatched to the scene–and landed on U.S. 1.
The man was driving south on U.S. 1, on a long straightaway past the Old Dixie intersection, when he ran off the roadway, ran into some road signs, apparently corrected, or overcorrected, and rolled, according to a Florida Highway Patrol investigator at the scene.
The investigator said it was "possibly a hit and run," but that absent witnesses or other reliable evidence he will work the scene as a single-vehicle crash. There is also a possibility that the crash was prompted by a medical condition.
The initial call, around 11:44 a.m., came in as having taken place at the crash-prone intersection with Old Dixie, prompting Sheriff Rick Staly to rush to the scene with other members of his command staff–among them Chiefs Mark Strobridge and Paul Bovino.
"My deputies were first on the scene, they tell me there was an off-duty paramedic from some agency that was there initially," Staly said at the scene. He said the driver had to be extracted with the Jaws of Life.
Staly explained why he'd rushed to the scene, thought there wasn't necessarily a sense of relief when the crash proved to have taken place a bit further south: it was still a crash.
"Of course as you know I rallied to get that intersection fixed," the sheriff said within sight of the intersection. Staly on several previous incidents had been at the intersection and followed up with entreaties to the state Department of Transportation to install a traffic light there, or conduct some reengineering. The department is planning a roundabout for the intersection, with construction starting later this year.
The Palm Coast Fire Department, Flagler County Fire Rescue and the Palm Coast Fire Police also responded to today's scene, which shut down a brief segment of U.S. 1 southbound.