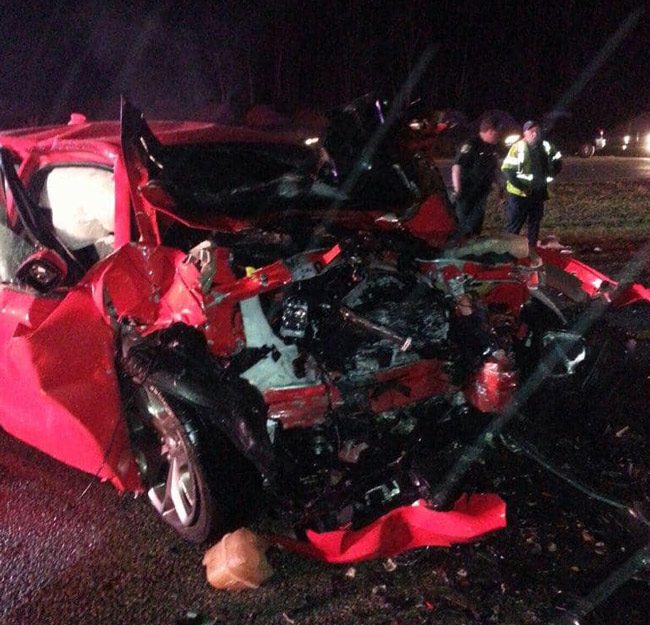 Two vehicles collided head on, igniting a fire, on U.S. 1 at County Road 304  Sunday night, sending two victims to the hospital with severe injuries and closing the highway's southbound lanes.
According to the Flagler County Sheriff's Office's 911 notes, the crash was reported at 9:38 p.m. when one of the vehicles appears to have been going the wrong way, going south in the northbound lanes. The crash involved a red Dodge Charger and a Jeep Cherokee. Laura Marie Gallagher, 38, of Palm Coast, was in the Charger, Paul Leland McKnight, 39, of Ormond Beach, was in the Cherokee. The Cherokee was reported to be in the wrong lane.
The 911 center received several calls about the crash, some of them reporting people on scene trying to help the victims and being unable to pull one of them out of the Charger, as it was on fire. No one had a fire extinguisher at the scene in the immediate aftermath of the crash until a Flagler County Sheriff's deputy arrived at the scene with one.
Paramedics arrived within minutes, and CPR was in progress for one of the victims. Twelve minutes after the crash, the victim who'd been entrapped in one of the vehicles had been pulled out.
Authorities asked to have an emergency helicopter dispatched, but Trauma One out of St. Johns County declined because of fog. Air One, Volusia County's helicopter, went on stand-by, and a landing zone was being prepared on U.S. 1, but Air One eventually announced that it would not fly either because of weather. Flagler County Rescue 62 and 92 transported both patients to Halifax hospital in Daytona Beach.
Southbound lanes on U.S. 1 were closed in the area of the crash, with the Palm Coast Fire Police diverting traffic at Karat Path.
The highway was reopened shortly after midnight.