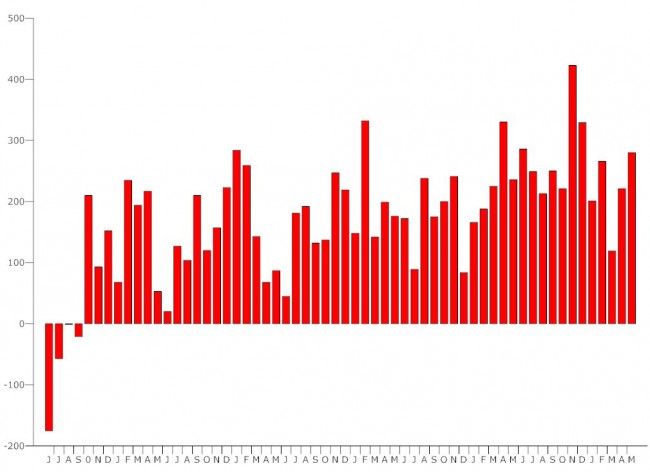 Shedding its one-month March lag and a negative first-quarter growth report for good, the national economy in May added 280,000 jobs and revised figures for the previous two months added 32,000 more (for a total of 340,000 jobs those two months). But the unemployment rate, calculated from a different survey, remained at 5.5 percent. Still, the new jobs bring the total to 12.6 million private-sector jobs created over the last 63 months, one of the better performances of extended growth since World War II.
The economy added 103,000 new entrants to the workforce–people who have never held jobs before. While the labor force rose by 397,000, the labor force participation rate, which fell drastically during the Great Recession, was little changed, at 62.9 percent, and the employment-population ratio, also lower since the recession, was unchanged, at 59.4 percent. Those fallen numbers coincide with the beginning of large-scale retirements among baby boomers. Because of that, the Bureau of Labor Statistics reports "growth in the labor force during 2012–2022 is projected to be smaller than in the previous 10-year period, 2002–2012, when the labor force grew by 10.1 million, a 0.7-percent annual growth rate."
The alternative–and more accurate–measure of employment and unemployment, the BLS's so-called U-6 rate, had also stalled in May, remaining at 10.8 percent. That's the rate that reflects those who are unemployed, those who have dropped out of the labor force altogether, for being discouraged, and the 6.7 million Americans working part time because they could not find full-time work, or because their hours were cut back though they need full time work. The number of those working part-time involuntarily has barely fallen over the year, from 7 million last May. An additional 20 million Americans hold part-time employment because that's what they want to do, up from 19.4 million last May.
Average hourly earnings for all employees on private payrolls rose by a more robust 8 cents, to $24.96. But over the year, average hourly earnings, which have been depressed for several years, have risen by just 2.3 percent. Even though that's the largest year-over-year increase since August 2013, it's not enough to overcome the cost of inflation, and not at all enough to give a majority workers a sense that they are getting ahead or improving their standard of living. Upper-income wages have risen much faster.
In May, the largest job gains gains occurred in professional and business services, leisure and hospitality, and health care. Mining employment continued to decline. Among the major worker groups, the unemployment rates for adult men (5.0 percent), adult women (5.0), teenagers (17.9), whites (4.7 ), blacks (10.2), Asians (4.1), and Hispanics (6.7) showed little or no change in May.
"The recovery continues apace with strong and steady job growth," Labor Secretary Thomas Perez said in a release this morning. "But the wind at our back isn't propelling everyone forward. From education and skills development to minimum wage and paid leave, the Obama administration continues to work every day to extend more opportunity to more people. We hope Congress will join us in our efforts to reward hard work and give everyone the chance to punch their ticket to the middle class."