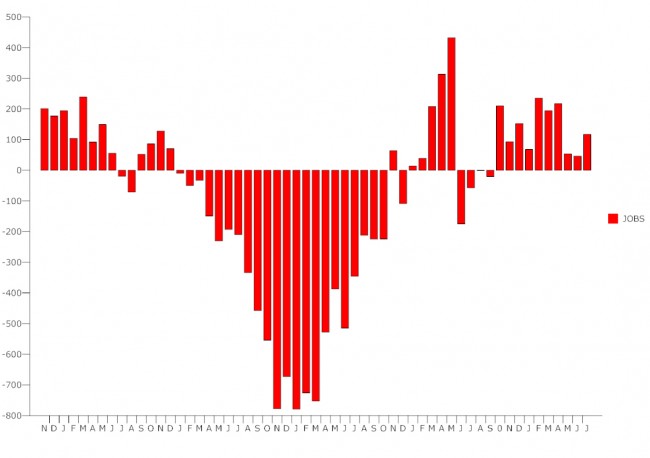 Defying expectations, the national economy added 117,000 jobs in July. Figures for May and June were revised upward to add 56,000 jobs to those two months' totals, and the overall unemployment rate fell back to 9.1 percent, from 9.2. The figures may cool talk of a double-dip recession, at least for now, even as markets around the world have crumbled from a string of bad news, including Europe's growing debt crisis and the popping of China's real estate bubble. [Fact check: The economy by the numbers.]
Private sector employment, which represents about 70 percent of the labor economy, increased by 154,000 in July, but the number was offset by still-significant losses in government employment as federal, state and local governments continue to retrench and government spending declines. Some 37,000 government jobs were lost in July.
Housing and real estate, too, are still depressed, but manufacturing added 24,000 jobs and construction, which also showed a modest gain in Florida in June, added 8,000 jobs nationally.
But consumer spending accounts for 70 percent of the overall economy, and that figure dropped 0.2 percent in June, the first decline since September 2009. There can be no economic recovery without positive consumer spending.
The number of long-term unemployed–those not working for six months or more–is at 6.2 million, representing 44.4 percent of the unemployed. The longer someone is unemployed, the smaller the chances of finding work.
But the figures significantly mask the true number of unemployed or underemployed individuals: the government's official unemployment numbers count only those who are either receiving unemployment checks or seeking employment. Several sets of figures reveal the official mark to be an undercount.
First, there are 8.4 million people working part-time only because their hours were cut back or because they were unable to find full-time work, though that's what they're seeking. Those are the under-employed.
In July, there were also 2.8 million people who were "marginally attached to the labor force," as the Labor Department calls them. They were not counted among the unemployed because they had not searched for work in the preceding four weeks before the unemployment survey, but they had looked for work in the preceding 12 months.
The figures also do not reflect those who have dropped out of the labor force altogether, and whose jobless benefits have run out.
The sum total of the diminished American workforce is evident in a figure that rarely draws attention: the ratio of employment to population. In June 2007, 63 percent of the nation's adults were employed. Two years later, the ratio had dropped to 59.4 percent. It dropped again by June 2011, to 58.2 percent. It dropped again in July, to 58.1 percent.
"These may sound like dry statistics," Paul Krugman writes in The Times today, "but they reflect a truly terrible reality. Not only are vast numbers of Americans unemployed or underemployed, for the first time since the Great Depression many American workers are facing the prospect of very-long-term — maybe permanent — unemployment. Among other things, the rise in long-term unemployment will reduce future government revenues, so we're not even acting sensibly in purely fiscal terms. But, more important, it's a human catastrophe."
Other highlights of the employment report: Retail trade added 26,000 jobs in July, health and personal care added 9,000, mining added 9,000, mostly in support activities for mining, and professional and technical services added 18,000 jobs.
Unemployment by categories:
Adult men: 9 percent
Adult women: 7.9 percent
Teenagers: 25 percent
Whites: 8.1 percent
Blacks: 15.9 percent
Hispanics 11.3 percent
Asians: 7.7 percent
The average workweek for all employees was unchanged over the month, at 34.3 hours. The manufacturing workweek and factory overtime for all employees also were unchanged at 40.3 hours and 3.1 hours. Average hourly earnings for all employees increased by 10 cents, or 0.4 percent, to $23.13, one of the larger increases in the past two years, though over the past 12 months, average hourly earnings have increased by only 2.3 percent.