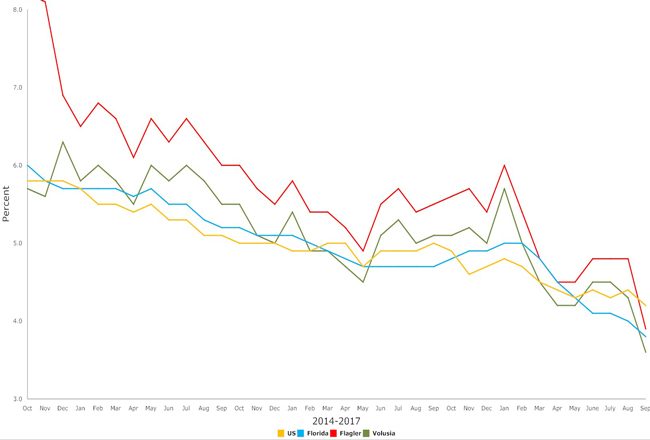 Flagler County's unemployment rate fell to another decade-low in September, dropping almost a full point to 3.9 percent from August's 4.8 percent. The sharp drop is even more remarkable for taking place during a month that saw Hurricane Irma cut across the region, severing power, work schedules and routines for almost 10 days.
Florida, too, vast parts of which were devastated by Irma, saw its unemployment rate fall by two decimal points. But mirroring national figures, the state's job creation fell dramatically, with 127,000 jobs lost over the month, a 1.5 percent decrease that echoes national job figures, which fell during the month for the first time in 84 months, a drop the federal Department of Labor attributed directly to the hurricane. It's not clear why Flagler County's and the state's numbers are contradictory.
In Flagler County, any way you look at it, the numbers point to one of the better months in recent years. Often in the past the unemployment rate has fallen because the local workforce was stagnant or declining. But the workforce has been growing steadily for the past two years, and rose by almost 100 people in September. The number of those employed, however, jumped by more than 500, one of the strongest one-month increases since the recession. Consequently, the number of the unemployed fell sharply, from 2,238 in August to 1,803 in September.
Statewide almost every job sector except government saw big losses, especially in construction, which saw a drop in employment of 4 percent, professional and business services lost 2.4 percent, administrative and waste services lost 4.3 percent, and leisure and hospitality lost 3.4 percent. None of the drops are surprising in light of the storm. The losses are expected to be reversed in October, a much calmer month.
"I am proud that Florida's unemployment rate has reached a more than 10-year low of 3.8 percent," Gov. Rick Scott was quoted as saying in a release issued by the state's labor department. "However, Hurricane Irma was the largest storm we have seen, which affected our entire state and led to the largest evacuation and power restoration effort. Obviously, our jobs numbers were affected because of this. Florida is a resilient state and we are working around the clock to rebuild and recover from this unprecedented storm. Florida's economy remains strong and more than 1.3 million private-sector jobs have been created across our state since December 2010. We will continue to fight for jobs every day."
The job increases in Flagler County don't necessarily reflect job gains geographically based in the county, but individuals who live in Flagler and may hold jobs anywhere in the county or surrounding regions. The Jacksonville metro area, for example, saw its unemployment rate fall to 3.4 percent, while St. Johns County has perennially had among the healthiest employment figures in the state (its current unemployment rate is 2.7 percent, lowest in the state last month), suggesting that many Flagler residents are working north of their home, just as many work in Volusia. The jobs are not necessarily full time, either: only one hour's worth of work is required to pull an individual off the unemployment rolls.
"Although the state as a whole was impacted by this storm, three large metro areas still had strong over-the-year job gains," Cissy Proctor, the executive director of the state's labor department, said, "showing the strength of our economy. As we restore businesses damaged from this natural disaster, it is more important than ever that we focus on getting Floridians back to work so families throughout the state can continue to flourish."

Florida-Flagler Unemployment Report, September 2017