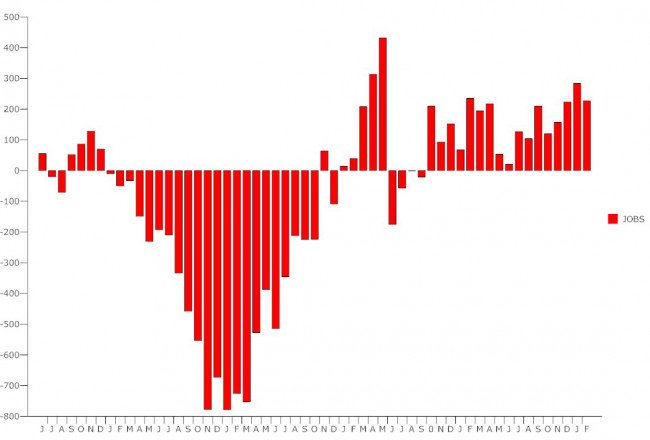 Last Updated: 9:44 a.m.
The U.S. economy is maintaining its job-creation momentum, adding 223,000 jobs in January, and revising upward previous job-creation figures for December and January by 61,000 jobs. Over the past three months, the economy added 730,000 jobs. The unemployment rate remained at percent for the second straight month, though the rate is the lowest since January 2009, when Barack Obama took office.
Politically, the numbers are a boon to Obama, who will be arguing that his economic policies are working. The numbers weaken the central plank of Mitt Romney's campaign–that the nation needs a CEO who can improve its job prospects.
But with eight months until Election Day, plenty can change, and may already be changing: Friday morning brought worrisome data from China, the world's second-largest economy, with factory output and economic growth slowing. Because of its huge market and trading imprint, the Chinese economy now has the power to do to the world economy what the U.S. economy once could in the past–send it into recession. Europe's fiscal crisis hasn't been resolved. It's merely on pause. And oil prices (trading at $107 a barrel Friday) could rise dramatically if the standoff with Iran over its nuclear program explodes into military action.
On the other hand, the consumer confidence index, released Thursday, rose to a four-year high, while household wealth and wages continue to improve. The Friday jobs report shows average wages going up from $23.28 an hour to $23.31 an hour, a 0.1 percent gain. Obama's success in convincing Congress to extend benefits for the long-term uninsured, coupled with the extension of the payroll tax cut for another year (employees will pay half their normal 6 percent Social Security tax) removes what would have been a drag on the economy, absent that agreement. In sum, the management of the domestic economy itself keeps yielding steady gains. Only factors outside of America's control–the Chinese economy, Europe's euro crisis, Iran's nuclear ambitions–could reverse the gains at this point, if current trends continue.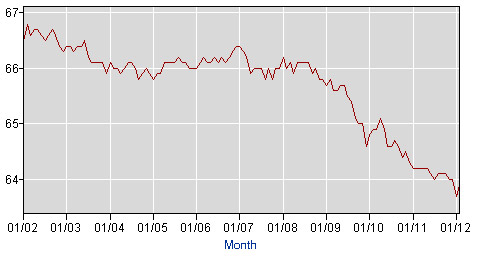 Overall, the number of unemployed people remained around 12.8 million, including 5.4 million long-term unemployed–people who've been out of work for 27 weeks or more. But in a positive reversal of previous trends, the civilian labor force participation rate went up to 63.9 percent, as did the employment-to-population ratio (to 58.6 percent). For comparison's sake, the participation rate was 67.1 percent at the height of the 1990s boom, in 2000.

In another sign of improvement, the alternative measure of the unemployment rate fell to 14.9 percent in February, from 15.1 percent in January and 15.9 percent a year ago. The so-called "U-6" rate (as the Bureau of Labor Statistics terms it) is, in effect, the more accurate rate, because it includes those who have quit looking for work and those who are working part time involuntarily, as their hours have been reduced or they've been unable to find full-time work.
The White House was quick to jump on the jobs report as "further evidence that the economy is continuing to heal from the worst economic downturn since the Great Depression."
Some highlights by the numbers: Professional and business services added 82,000 jobs in February, with half the increase in temp jobs. Health care and social assistance employment rose by 61,000, for a total of 360,000 new jobs in health care over the past 12 months. Leisure and hospitality (i.e. tourism) added 44,000, jobs, with nearly all new jobs in food services and bars. Manufacturing added 31,000 jobs, led by gains in durable goods and fabricated metals. Mining added 7,000 jobs and construction, after two months of gains, was flat. Government employment was essentially unchanged in January and February, following an average monthly job loss of 22,000 in 2011 in that sector.
A few caveats: as the Wall Street Journal reports this morning, the positive jobs numbers may be inflated because seasonal adjustments artificially add jobs that may not actually be there. Looking at January, for example, when the Labor Department announced 243,000 new jobs, real-time income-tax-withholding data for the month showed 181,000 actual new jobs.
The White House was itself cautious about the new numbers: "The monthly employment and unemployment numbers can be volatile," Alan Krueger, who heads the president's Council of Economic Adviser, wrote, "and employment estimates can be subject to substantial revision. Therefore, as the Administration always stresses, it is important not to read too much into any one monthly report; nevertheless, the trend in job market indicators over recent months is an encouraging sign.