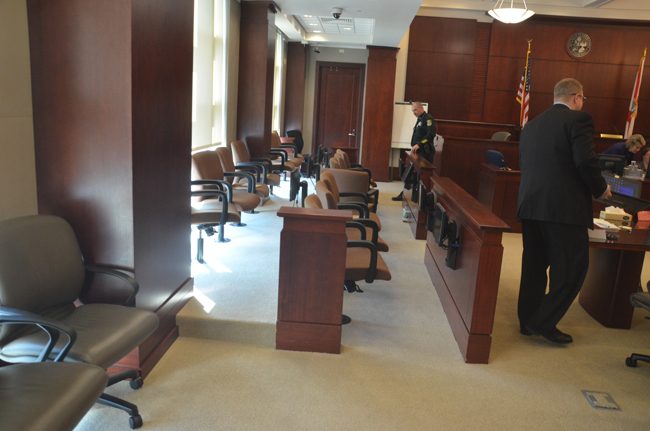 Florida juries would have to unanimously agree that defendants should be condemned to death for the sentence to be imposed, under a proposal given swift and overwhelming approval at its first Senate committee Monday.
But efforts to broaden the legislation to address other issues involved in a series of court rulings that prompted this year's measure appear, at least for now, to be doomed.
Proposals to require unanimous jury recommendations, backed by leaders in the House and Senate, come as Florida's death penalty has been on hold for more than a year as a result of a key U.S. Supreme Court ruling, in a case known as Hurst v. Florida, in January 2016.
The 8-1 decision, based in part on a 2002 ruling in a case known as Ring v. Arizona, struck down as unconstitutional Florida's death penalty sentencing system because it gave too much power to judges, instead of juries.
Florida lawmakers hurriedly rewrote the statute last year, requiring jurors to unanimously find that at least one aggravating factor exists before a defendant can be eligible for a death sentence and requiring at least 10 jurors to recommend death for the sentence to be imposed. The Supreme Court ruling and the subsequent legislation dealt with the sentencing phase of cases, after juries have unanimously found defendants guilty of crimes.
During debate on the sentencing issue last year, defense lawyers repeatedly warned that the 10-2 jury recommendation — pushed by prosecutors — kept the state's death penalty law at risk because it made Florida, one of only three states that then did not require unanimous recommendations, a national "outlier."
The Florida Supreme Court last fall struck down the new statute, finding that part of the new law was unconstitutional because it did not require unanimous recommendations for death sentences.
The Senate Criminal Justice Committee on Monday unanimously approved a measure (SB 280), sponsored by committee Chairman Randolph Bracy, aimed at fixing the flaw in the statute by requiring unanimous jury recommendations.
Bracy, an Orlando Democrat, said he had spoken with people on both sides of the issue about what he acknowledged is a controversial topic.
"The one thing that has been consistent is that people have told me that the death penalty should be a last resort … and the crime should be worthy of death," he said. "I think we're getting a lot closer to that."
But defense lawyers cautioned that, even while they support the unanimity requirement, the state law is still flawed without additional changes.
"Let me stress this is a first step, not a final solution," 10th Judicial Circuit Public Defender Rex Dimmig told the panel Monday.
The proposal fixes the problems regarding the Sixth Amendment right to trial by jury, Dimmig said, but "it does not mean that our procedures will be constitutional in the future."
Florida law requires juries to make recommendations about death sentences after weighing aggravating factors, laid out in statute, and mitigating circumstances. But Florida law identifies at least 16 aggravating factors, including whether a defendant is a member of a gang, that make defendants eligible for the death penalty.
But courts have long determined that the death penalty should be reserved for the "worst of the worst" defendants, and Florida's long list of aggravators means the state law isn't narrow enough, Dimmig and other lawyers — including some members of the Florida Supreme Court — have argued.
Sen. Jeff Clemens warned his colleagues on the panel that the Legislature could once again find itself in the position of having to deal with an unconstitutional death penalty law if the aggravating factors aren't addressed.
Lawmakers "knew what was going to happen" when they failed to require unanimous jury recommendations last year, the Lake Worth Democrat said.
Last year's law requiring at least 10 jurors to recommend death was considered a compromise between House and Senate leaders. The Senate wanted unanimous jury recommendations, while the House backed a proposal pushed by prosecutors that would have required at least nine jurors to recommend death.
"I'm making that prediction right now that we'll be back here again," Clemens said. "We do just enough each year to make us feel good and then we have to come back and redo it again."
Dimmig said he would be "absolutely shocked" if the U.S. Supreme Court "do(es) not find our death penalty overly broad based on the number of aggravators we have."
Lawmakers also appear unwilling to deal with an issue known as "retroactivity," in the wake of a controversial Florida court decision that requiring unanimous jury recommendations would apply to defendants whose cases were finalized after the 2002 decision in the Ring case.
Bracy had sponsored an amendment that would have allowed Death Row inmates whose cases were finalized before 2002 to seek new sentencing hearings.
Not allowing those inmates to have new hearings "will result in a miscarriage of justice," said the amendment, which Bracy withdrew without comment.
"I didn't have the votes to pass it," Bracy told reporters after the meeting. "To save time, to save money, I thought why not just be proactive. It's something I think we should do. It's just a matter of if it's something the rest of the Legislature thinks we should do."
Even without the change proposed by Bracy, more than half of the state's 396 Death Row inmates could be eligible for new sentencing hearings, a cost Dimmig estimated could be in excess of $200 million.
"It's going to literally swamp the courts for years to come," he said.
–Dara Kam, News Service of Florida