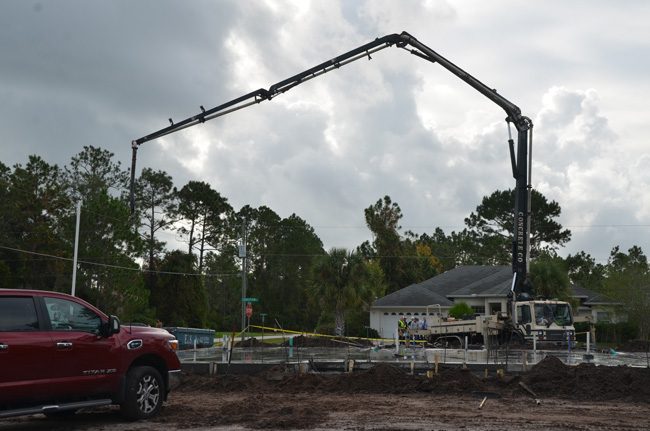 Last Updated: 6:48 p.m. p.m.
Early Monday was the morning from hell, with more than half a dozen traffic crashes, several injuries, one fatality and missing persons that required a helicopter search, all stretching over less than four miles on I-95, between Palm Coast Parkway and Matanzas Woods Parkway.
Then it got worse.
Two construction workers working on a house at 2 Sebastian Court, near the intersection of Selma Trail and Sesame Boulevard in Palm Coast's Seminole Woods, were killed around 9 a.m. when their equipment struck a power line, electrocuting them both. They died instantly.
The Sheriff's Office identified the two men as Richard Hockaday, 37, and Gerald Anderson, 39, both of Palatka, both employed by Nomad LLC. Anderson had started on June 25. It's not clear when Hockaday had.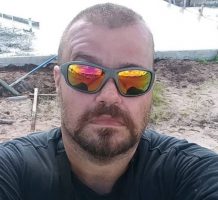 The two men, operating a concrete-pouring truck belonging to Nomad LLC, were just finished pouring the foundation on the house when who was at the scene, the man operating the boom with a remote control unknowingly directed the boom against a power line along Selma.
"The crane struck a power line that carried 13,000 volts," Sheriff Rick Staly, who was at the scene, said after speaking with other officials at the scene, including representatives of Florida Power and Light. "The power went from the power line through the boom, struck the two workers and they died."
Both Hockaday and Anderson were outside the truck. "One was out of the truck and was using that tethered remote control for the boom and the other one was either touching the truck or standing close enough to it that he also received the electricity from the power line."
The incident reportedly took place as young children were waiting for their school bus nearby.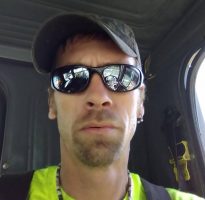 "It was terrifying," Jessica Hancock wrote in a comment to FlaglerLive. "We were all at the bus stop with our kids when the power line was hit, sparked, popped and came down at 8:26 a.m. It was so close to the kids, my 6 year old was terrified. The bus came at the same time and we quickly got them all on! thank God none of the kids saw the men and got on the bus. I normally park on that side of the road, and thankfully I didn't today. Just an absolute miracle that all of our kids weren't hit. So terribly sad for these two men and their families! Praying for them!"
The property is owned by Seagate Homes, which pulled a permit to build the house–a duplex–on Aug. 13. Four subcontractors are listed on the permit: Simmons Electric, Morello Environmental Technologies, Turnkey Construction Planners and Pearson's Plumbing. Nomad is not listed. There were no location identifiers nor a phone number on the Nomad truck at the scene.
The website of the American Concrete Pumping Association lists Nomad Concrete Pumping LLC of Palm Coast in its directory, with Lance Alred of Christopher Court in Palm Coast listed as a main contact.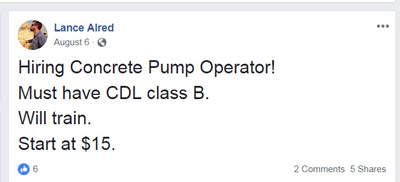 The city, however, has no business tax receipt from Alred. "Nothing registered with City at all," a Palm Coast government spokesperson said. Nor does Alred or Nomad appear to be licensed by Flagler County government, according to the county's licensing database, though "this type of contracting does require a license with Flagler County's Licensing Board," the city's spokesperson said.
He goes by Anthony Alred in Florida's Division of Corporation records, which list his company as Nomad Management Services, incorporated in 2013. The Department of Business and Professional Regulations lists him as a certified residential contractor, whose main address is Phenix City, Ala. DBPR's record does not list a license number or a licensure date. His status is listed as "Eligible for exam."
Alred's Linkedin page describes him as "an Internationally recognized and accomplished construction expert, who understands project development, project implementation and project completion even in the most challenging environments," with two decades' experience in construction. On his Facebook page, he'd posted a call for workers on Aug. 6: "Hiring Concrete Pump Operator! Must have CDL Class B. Will train. Start at $15."
Reached by phone minutes before noon, Alred said, "no comment," and hung up. He did not respond to a subsequent email.
About a dozen construction workers were grouped near the site. The two workers who died appeared to be contractors with Nomad LLC. "There's no indication of any foul play or anything like this, this was a tragic accident, a construction accident," the sheriff said. The scene will nevertheless be processed and investigated to verify that there's no foul play. The bodies will be turned over to the medical examiner. The investigation will then be turned over to the federal Occupational Safety and Health Administration, which will conduct its own investigation.
Sheriff's deputies were interviewing workers at the scene. "I know that there is a language barrier," the sheriff said, though a translator was brought in.
FPL shut down the neighborhood's power, affecting 115 homes. Staly said it was likely the power would be out for the rest of the morning since the scene's processing would need time, and a power line was severed.