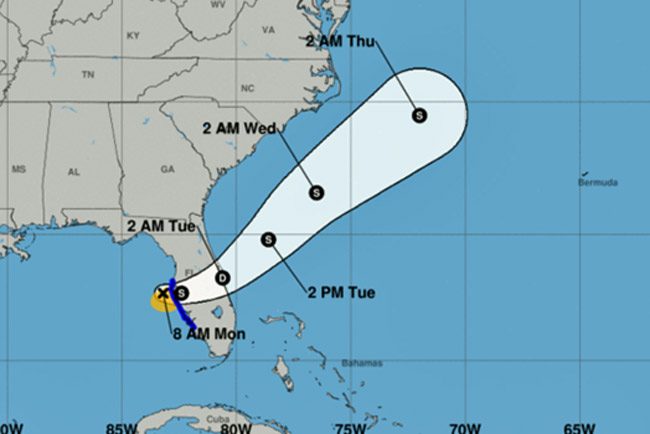 There is more sound than fury around Tropical Storm Emily even as Gov. Rick Scott this morning declared a state of emergency in 31 counties stretching from the state's mid-section to the west and south.
Tropical storm warnings are currently in effect for Pinellas, Hillsborough, Manatee, Sarasota, Charlotte and Lee Counties as the storm approaches, but Emily is not expected to be much more than an irritating soak with maximum winds of 45 mph. Those winds are expected to weaken as the storm crosses the state. It will add to already soggy conditions, but damage is expected to be minimal, as are the storm's effects in Palm Coast and Flagler County.
"While this storm developed quickly overnight and will swiftly move across our state, storms can always develop rapidly and that is why is it so important to be prepared at the start of hurricane season," Scott said in a statement today, appearing to see in the storm more of a live drill than an actual emergency. Declaring states of emergency for minor storms can be a double-edged sword, heightening awareness for a storm that may not warrant it while planting the seed of more apathy ahead, as residents react and adjust to what is essentially a form of disaster inflation.
Emily is not expected to drop more than 2 to 4 inches of rain along its path.
The state of emergency gives the state the flexibility to work with local governments to ensure they have all the resources they may need. In Flagler County, curiously, the county-based state of emergency the County Commission approved in the wake of Hurricane Matthew almost a year ago is still in effect.
Emily's effects locally will translate into little mire than the usual summer storms, if with more frequency. The National Weather Service was predicting "elevated rain chances and the potential for locally heavy rainfall," with thunderstorms expected over the next few days and "a few strong to isolated severe storms possible. Stronger storms will be capable of producing gusty winds, frequent lightning, and locally heavy rainfall." In other words, nothing out of the summer ordinary.
At 11 this morning, the center of Tropical Storm Emily was just about to make landfall in the Tampa Bay area and moving east at 9 mph. It was to turn northeast and speed up as it moved over land this afternoon and tonight, moving offshore by Tuesday morning.