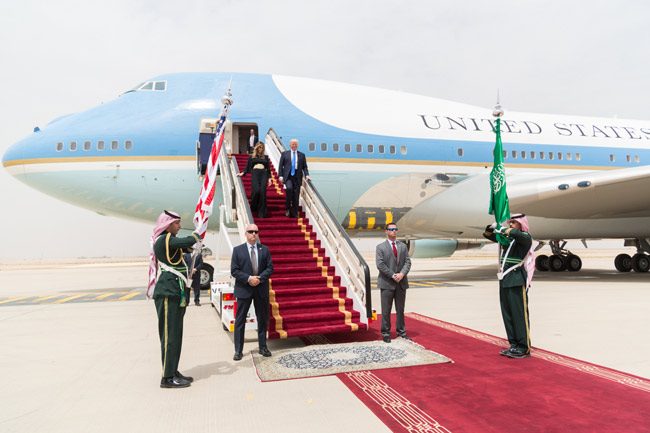 "President Donald Trump on Thursday said he will withdraw the United States from the landmark 2015 global agreement to fight climate change, spurning pleas from U.S. allies and corporate leaders in an action that fulfilled a major campaign pledge," Reuters reported. "Supporters of the accord condemned Trump's move as an abdication of American leadership, an international disgrace and a monumental foreign policy blunder. His predecessor, Barack Obama, expressed regret over the pullout from a deal he was instrumental in brokering."
"We're getting out," Trump said at a ceremony in the White House Rose Garden in which he decried the Paris accord's "draconian" financial and economic burdens. He said American withdrawal "represents a reassertion of American sovereignty."
Reactions were swift. Bill McKibben, the environmentalist and founder of founder of 350.org, wrote under the headline, "Trump's Stupid and Reckless Decision":
"People say, if all you have is a hammer, then every problem looks like a nail. We should be so lucky. President Trump has a hammer, but all he'll use it for is to smash things that others have built, as the world looks on in wonder and in fear.
"The latest, most troubling example is his decision to obliterate the Paris climate accord: After nearly 200 years of scientific inquiry and over 20 years of patient diplomacy that united every nation save Syria and Nicaragua, we had this afternoon's big game-show Rose Garden reveal: Count us out." Read the full column here.
The Times editorializes, under the headline, "Our Disgraceful Exit":
"In huge neon letters, it sends a clear message that this president knows nothing or cares little about the science underlying the stark warnings of environmental disruption. That he knows or cares little about the problems that disruption could bring, especially in poor countries. That he is unmindful that America, historically the world's biggest emitter of carbon dioxide, has a special obligation to help the rest of the world address these issues. That he is impervious to the further damage this will cause to his already tattered relationship with the European allies. That his malfeasance might now prompt other countries that signed the accord to withdraw from the agreement, or rethink their emissions pledges. Perhaps most astonishing of all, a chief executive who touts himself as a shrewd businessman, and who ran on a promise of jobs for the middle class and making America great again, seems utterly oblivious to the damage this will do to America's own economic interests." The full editorial here.
National Review's David French disagrees:
"Despite what you may read on Twitter or elsewhere online, don't believe for a moment that this is an apocalyptic moment. Private-sector innovation continues. American states have a degree of freedom to go their own way (and Americans have the freedom to move to — or away from — states that impose their own climate regulations), and if people truly believe the apocalypse looms, they have the ability to make that case to the America people. In his announcement today, Trump pledged to negotiate a different, better deal for American workers. If and when he does, he should depart from the Obama precedent, remember the Constitution, and submit that agreement for Senate ratification. Then he can perhaps build an enduring consensus. Then he can lead the free world the right way, by following the rule of law and hundreds of years of international legal norms. The calculus is simple. Binding, enduring multinational agreements should exist as treaties, as without a treaty there is no binding, enduring multinational agreement." The full opinion here.