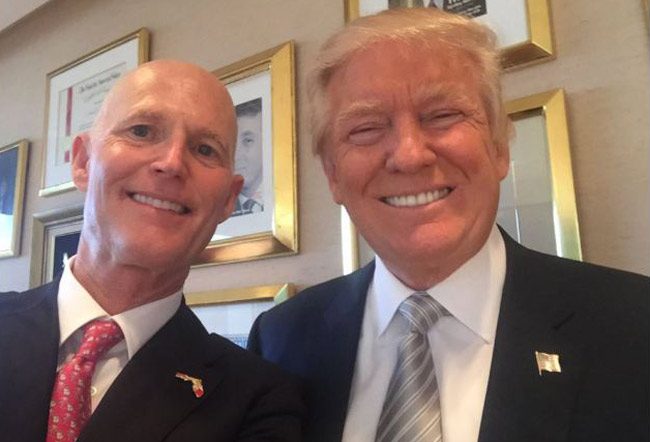 Gov. Rick Scott on Thursday had lunch with President Donald Trump at a New Jersey golf resort, as the president continued to draw criticism for comments about a white nationalist rally in Charlottesville, Va., that led to the death of a counter-protester.
Scott's 1 p.m. lunch with the president at the Trump National Golf Club in Bedminster, N.J., was scheduled at the request of Trump last week, according to the governor's aides.
"Gov. Scott was solely there to promote Florida," John Tupps, a spokesman for Scott, said in a statement. "They discussed a wide range of topics including the president's commitment to partner with Florida on needed repairs to the federally operated Herbert Hoover Dike at Lake Okeechobee."
Tupps said Scott "wants to do all he can to protect Florida's environment and President Trump is very supportive to help."
"Additionally, they discussed the terror attack (Thursday) in Barcelona and the efforts President Trump is taking to keep America safe," Tupps said.
But with Trump embroiled in controversy about the Charlottesville comments, the lunch meeting drew criticism from Democrats.
On Wednesday, Scott, who has been a loyal supporter of the president, condemned the actions by the groups involved in the rally, saying "there is no place in our country for racism, bigotry, the KKK, neo-Nazis (and) white supremacists."
But Scott did not directly criticize Trump who has said "both sides" were to blame for the weekend violence in Virginia.
"You can ask President Trump what he said. I've been clear," Scott told reporters in Tallahassee.
With Scott expected to run next year against U.S. Sen. Bill Nelson, D-Fla., the Democratic Senatorial Campaign Committee used Thursday's lunch to hammer Scott.
"Instead of condemning President Trump's heinous remarks, Rick Scott did what he always does: put his own political ambitions and self-interest ahead of what's right for Florida," said David Bergstein, a spokesman for the Democratic Senatorial Campaign Committee. "Instead of sitting down to eat with President Trump, Scott should have stood up to him."
Hours before the lunch, Trump used Twitter to defend Confederate monuments — further fueling a controversy that has raged in Florida and other states in recent days.
"Sad to see the history and culture of our great country being ripped apart with the removal of our beautiful statues and monuments," Trump wrote. "You can't change history, but you can learn from it. Robert E Lee, Stonewall Jackson — who's next, Washington, Jefferson? So foolish! Also the beauty that is being taken out of our cities, towns and parks will be greatly missed and never able to be comparably replaced!"
That also led to Democrats trying to tie Scott to the Trump controversies.
"This morning President Trump came out against the removal of Confederate monuments like the one that sits in front of Florida's Old State Capitol here in Tallahassee," Democratic gubernatorial candidate Andrew Gillum said in a statement issued before the Scott-Trump lunch. "Once again, he and I disagree strongly. But today, our governor has a chance to stand up to hate and symbols which divide us and tell President Trump why he is wrong."
Scott earlier this week said the fate of monuments should be discussed by the government, local, state or federal, that maintains the structures.
"We need to go through a process where everybody has to come together, we have a legitimate conversation, then we go forward," Scott said.
According to his schedule, Scott also met prior to the lunch with Trump's chief of staff, John Kelly, a retired four-star Marine general who formerly led the United States Southern Command in Miami-Dade County.
–Lloyd Dunkleberger, News Service of Florida