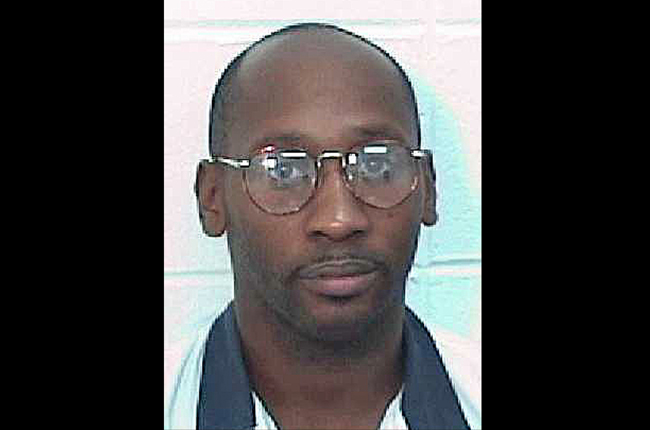 Last Updated: 10:30 p.m.
10:30 p.m. update: US Supreme Court has rejected Davis's final appeal.
9:01 p.m. update: Absolutely disgusting, the Georgia State Police's display of force–100 troopers in riot gear, choppers, more cop cars than in Sugarland Express, eyeballing the crowd. How can that be necessary? How can that not be inflaming? Details from the Journal-Constitution: "A convoy of troopers in at least 15 cars arrived to join their colleagues at the site. Meanwhile, officials from the Atlanta University Center and Savannah State University asked their students at the protest to return to their buses to return to their respective campuses. The departure of at least three busloads of students appeared to reduce the crowd by about a third or more." So the crowd thins. Cops swell up.
8:20 p.m. update: The Supreme Court is taking an unusually long time to make its decision–or to take no decision, though legally speaking, Georgia could go ahead with the execution–and could have done so as of 7 p.m. The delay from the court suggests wither that all nine justices have not had a chance to weigh in, or that some disagreement is in play. Meanwhile, this is what the Journal-Constitution reported a little while ago: "MacPhail's mother Anneliese, surrounded by friends and relatives at her home, was leafing through photos of her son, and in her words "smoking like a steam engine" as she awaited word on whether the execution would proceed tonight." No word on what's going on inside the prison, where the last hour and twenty minutes could not have been anything less than torture for Davis: another illustration of the barbarity of it all. Outside the prison, cops in riot gear lined up as if it were Kent State, circa 2011, though the protesters throughout these days and weeks of protests have never been anything but peaceful. It's the state whose violence is in question, as it is again with this contrived display of force.
6:56 p.m. update: The Atlanta Journal-Constitution is reporting in a headline that the U.S. Supreme Court has rejected Davis's appeal. But no other news organization has that development yet, and the Atlanta paper itself doesn't elaborate past its headline. Nevertheless, because of the last-minute appeal, the execution has been delayed past its scheduled 7 p.m. time.
As it turned out, at 7:05 p.m., the paper corrected its headline, reverting back to its previous headline saying only that the Georgia Supreme Court had rejected the appeal. The U.S. Supreme Court's decision is still pending.
6:02 p.m. update: From the Atlanta Journal-Constitution: "Davis' chance to be spared execution suffered a blow this afternoon as first Superior Court Judge Thomas Wilson declined to issue a stay and then the Georgia Supreme Court unanimously rejected Davis' final bid. Davis' lawyers will now appeal to the the U.S. Supreme Court, his last chance for relief."

At 7 p.m. tonight Troy Davis is scheduled to be executed by lethal injection at the Diagnostic and Classification Prison in Jackson, Ga.
It is the latest death penalty case involving a conviction that does not pass the reasonable doubt test: a mountain of doubt has accumulated since the conviction. Those doubts include revelations of slapdash, intentionally contaminating and manipulative police work, seven of nine witnesses' recanting their testimonies (let's be precise: partially recanted part of their testimonies), the confession to the killing by the man who first accused Davis, and race, never a distant motive in capital-case convictions in the South, again playing a role. The required standard for the death penalty is not merely that the victim is guilty of a capital crime, but that guilt is beyond reasonable doubt. It is beyond doubt that that standard was never met in Davis's case, and that a steady stream of new evidence has only intensified the doubt.
Still, the Georgia Parole Board, which alone can stop the execution at this point, said it will not do so.
Davis will have spent six of his last 10 hours (from 9 a.m. to 3 p.m.) with family. He'll have had his last meal at 4 p.m. Unlike some states, Davis won't get a choice. Georgia death row inmates eat the same meal as the rest of the 2,100 inmates at the Jackson prison. Today's dinner: a cheeseburger, potatoes, baked beans, slaw, cookies and a grape drink.
As always with death row inmates, Davis has been on death watch for several days: in one of the more scabrous of many scabrous features of the death-penalty ritual, prison guards don't want inmates taking their own life. That would be giving them too much freedom. They want the fun reserved for the dirtied solemnity of the state's routine of what amounts to to state-sponsored murder, a more premeditated and indefensible sort than the kind that lands murderers on death row to start with. Today's planned killing heightens the barbarity of the spectacle, and of the government's crime, which in this case very likely exceeds that of Davis.
He wouldn't be the first, nor the hundredth, victim of a wrongful execution. According to the Innocence Project, 273 people facing the death penalty have been exonerated since 1989 through DNA testing in the United States. Not surprisingly, 70 percent of those exonerated were minorities, who are disproportionately represented on death row.
Eyewitness testimonies, alone used to convict Davis, is often unreliable, and certainly was so in Davis's case.
On August 19, 1989, Mark MacPhail, an off-duty cop, was working security at the Greyhound Bus Terminal connected to the Burger King at 601 W. Oglethorpe Avenue in Savannah. At about 1 a.m., MacPhail went to the Burger King parking lot to breakup a fight. McPhail was shot and killed: a bullet to the face, a bullet to the heart. He was married, he had a 2-year-old daughter and a younger son. Four days later, Davis surrendered to police in connection with the events that night, which involved a lot more than that particular shooting and several other people. He pleaded not guilty to the killing.
"This case has attracted worldwide attention, but it is, in essence, no different from other capital cases," The Times writes today. "Across the country, the legal process for the death penalty has shown itself to be discriminatory, unjust and incapable of being fixed. Just last week, the Supreme Court granted a stay of execution for Duane Buck, an African-American, hours before he was to die in Texas because a psychologist testified during his sentencing that Mr. Buck's race increased the chances of future dangerousness. Case after case adds to the many reasons why the death penalty must be abolished."
Davis is facing execution for the fourth time. His killing was scheduled three times before: July 17, 2007, Sep. 23, 2008 and Oct. 27, 2008. It's unlikely to be halted this time, ensuring a miscarriage of justice.
Amazingly, at two minutes to 7 p.m., CNN ran the cheeky story of a woman with a big Afro whose hair was searched by airport security. The story ran all the way to 7 p.m. And we wonder why few people give a flying fling when something like today's killing takes place. The woman with the Afro, incidentally, was flying out of Atlanta.
–Pierre Tristam

Below is a letter from Troy Davis published by News One for Black America, to which I was alerted by Brad Davis at our the FlaglerLive Facebook page. (Thanks Brad).
I want to thank all of you for your efforts and dedication to Human Rights and Human Kindness, in the past year I have experienced such emotion, joy, sadness and never ending faith. It is because of all of you that I am alive today, as I look at my sister Martina I am marveled by the love she has for me and of course I worry about her and her health, but as she tells me she is the eldest and she will not back down from this fight to save my life and prove to the world that I am innocent of this terrible crime.
As I look at my mail from across the globe, from places I have never ever dreamed I would know about and people speaking languages and expressing cultures and religions I could only hope to one day see first hand. I am humbled by the emotion that fills my heart with overwhelming, overflowing Joy. I can't even explain the insurgence of emotion I feel when I try to express the strength I draw from you all, it compounds my faith and it shows me yet again that this is not a case about the death penalty, this is not a case about Troy Davis, this is a case about Justice and the Human Spirit to see Justice prevail.
I cannot answer all of your letters but I do read them all, I cannot see you all but I can imagine your faces, I cannot hear you speak but your letters take me to the far reaches of the world, I cannot touch you physically but I feel your warmth everyday I exist.
So Thank you and remember I am in a place where execution can only destroy your physical form but because of my faith in God, my family and all of you I have been spiritually free for some time and no matter what happens in the days, weeks to come, this Movement to end the death penalty, to seek true justice, to expose a system that fails to protect the innocent must be accelerated. There are so many more Troy Davis'. This fight to end the death penalty is not won or lost through me but through our strength to move forward and save every innocent person in captivity around the globe. We need to dismantle this Unjust system city by city, state by state and country by country.
I can't wait to Stand with you, no matter if that is in physical or spiritual form, I will one day be announcing,
"I AM TROY DAVIS, and I AM FREE!"
Never Stop Fighting for Justice and We will Win!