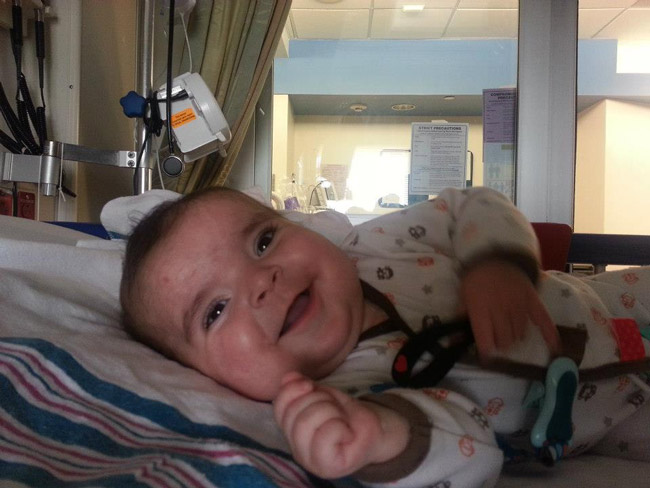 Tristan Brayden Kaphan, the Palm Coast boy born with half a heart a little over a year ago, and who had since developed a world of a following as his parents eloquently documented his struggles and triumphs on Facebook, including a heart transplant when he was three and a half months old, died today.
"Tristan earned his angel wings this morning," his parents wrote in a posting that appeared in early evening Saturday. "Our Rock Star put on his final show and it was breath taking. Tristan may have only been with us for a short time, but in that time he taught us amazing lessons about strength, courage, and the power of a simple smile. Tristan affected people around the world; and if you ask me, only a true Rock Star has the power to do that! Our family would like to thank all of Tristan's fans, around the world, for your continuous and nonstop thoughts, prayers, and comments. We love you Tristan and can't wait to see you again!!!"
Tristan's page had accumulated close to 6,300 fans who followed, day after day, his journey since the transplant, with each posting marking the number of days since it had taken place. He has recently been placed back on the list for a second transplant. He had spent some 90 percent of his 381 days in hospitals, particularly at Shands in Gainesville. The son of Jimmy Kaphan–a Flagler County Sheriff's deputy–and Emily Piekarski, Tristan's stories and images galvanized his followers into prayer brigades, cheerleaders, serenaders and strangers who for various reasons found themselves attached to him. "I don't even know you guys (friend of friend) But I am touched by his life story," one wrote.
"Well, he just continues to trick the docs," Patti Bissonnette wrote earlier this month. "Hopefully they can use what Tristan teaches them to help another little one who does similar things. Happy he had a good day…and I've been telling everyone about Tristan's smiles! It was so wonderful to see..I still smile when I think of the video! Sleep peacefully little man."
Tristan was born on June 14, 2012 (weighing 8 pounds and measuring 21 inches), with with a congenital heart defect called Hypoplastic left heart syndrome, when the left side of the heart is critically underdeveloped, according to a Mayo Clinic description of the condition. "The left side of the heart can't effectively pump blood to the body, so the right side of the heart must pump blood both to the lungs and to the rest of the body," the Mayo Clinic explains. A transplant, which can cost up to half a million dollars, usually follows. Tristan had his first surgery six days after he was born, and would live through four occasions when his heart stopped.
Tristan had been battling through rejection of the transplant he had received and awaiting a second transplant, but doctors had indicated his heart functions had distinctly declined earlier this week, prompting doctors to think of a form of bypass that would enable Tristan to endure the wait until the next transplant.
Condolences began appearing immediately after the announcement Saturday evening.
"Rest in peace, sweet baby boy.you and your family have been so brave and strong," one follower wrote. "May you find peace in heaven and know that you have many people all over the world who are sending their love your way."
"I started following Tristan through mutual friends," another wrote. "I have been reading your daily updates and praying for your amazing little man. I am so sorry for your loss. He HAS affected so many people and has taught everyone amazing lessons. God bless your family.
The Children's Organ Transplant Association, a national charity that steers community fund-raisings for transplant-related expenses hosts a donation page for Tristan here.