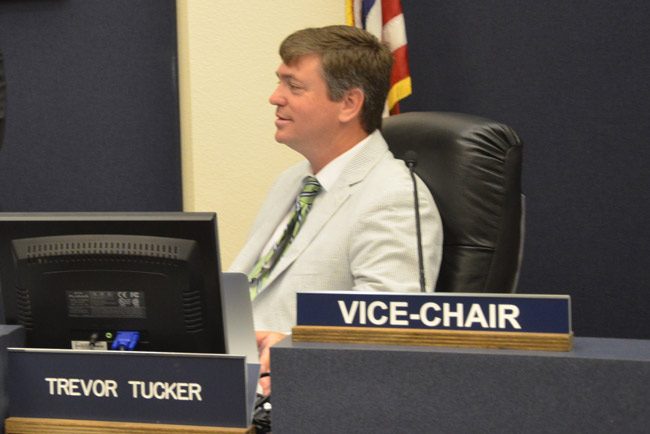 It's been rumored since November, but it's true: Trevor Tucker, currently the chairman of the Flagler County School Board, has his eyes on a possible run for Flagler County Tax Collector in four years. That's assuming the unbeatable Suzanne Johnston retires. She's about to turn 71. She's been in office since 2005. And depending on the day you ask her, this may or may not be her last term.
For Tucker, who confirmed his interest in the tax collector's office today, the decision is not as far off as it seems: his current term on the school board ends in less than two years, and he must decide whether to run again for school board by next January, with the primary election for that post in August 2018: it's coming up fast. If he decides to make a run for tax collector, he won't run again for school board, he says.
"I might not do either, I might just be done, so I'm not 100 percent sure which of these three options might be happening," Tucker said.
He's in his second term on the board. He considers a move to the tax collector's office a better fit. "I've thought about it because being on a board, I'm not very good, and I'm realistic about my faults," Tucker said. "I make a point and I'm done, I'm not an argumentative type person." Tucker is not big on prolonged debates or even the numerous meetings that go with service on a public boards: one of his first actions as chairman was to successfully change the school board's meeting schedule, cutting those in half.
"I probably work better in an environment where," he says, "OK, this is the way this needs to be done. I'm not the greatest at building consensus."
Fellow-School Board member Andy Dance has been Tucker's colleague for six years. He considers him an effective board member, " and I think his business background and his scrutiny of budgetary issues is welcomed," but can see Tucker as tax collector, too. "I think it'd probably be a good fit for Trevor," Dance said. "I would hate to see him go, I know he doesn't have plans—I think he may have had plans for 1 more term, but if the tax collector thing plays into it, that could affect that. But if he decides to go that way I wish him the best, it would be a good fit for him."
Tucker has had conversations with various people about the possible run for tax collector since November, but he hasn't spoken with Johnston about it yet: he hadn't expected to see his plans reported just yet.
"Oh, is he? I have no clue. That's the first I've heard of that," Johnston said today when told of Tucker's thinking. "I eat lunch with Trevor about once a month. Have you really heard that? I haven't." She added: "Usually what we're talking about is whether he'll spray for the bugs we get in different places."
Tucker co-owns a pest-control company, Sun Country Termite and Pest Control, among other concerns. He just sold Pit Stop Pizza on County Road 304, and for several years has been working on an innovative website that would facilitate court-case searches. He and his partner are awaiting a patent on that idea, likely by March.
As for his interest in the tax collector's office: "You're the keeper of the taxpayer s money and I feel like there's a trust—that's the ultimate trust," Tucker said. "It's a huge fiscal and financial responsibility."
The job would also represent a significant raise: school board members are paid about $32,000 a year. The tax collector, like the clerk of court, the supervisor of elections and the property appraiser, earn $117,000 a year. But most of those positions have tended to go to local political royalty who, once they secure them—or work up to them, as in the case of Tom Bexley, who'd been deputy clerk before becoming clerk of court—hold on to them for several terms.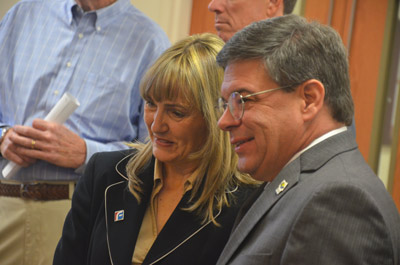 The name of Nate McLaughlin, the chairman of the county commission, has also been floating around for the tax collector's position, and Tucker said he would not run if McLaughlin did: they're friends, and Tucker doesn't want to lose a friendship over politics. But McLaughlin put that possibility to rest today.
"My plan is to run for one more term here," McLaughlin said, his current term ending in 2018, "and see where it goes after that. If I do anything, I'm kind of looking at when Paul Renner times out, maybe going to the Legislature." Rep. Paul Renner, who represents Flagler County, is in his second term. His last term, should he win re-election until then, would end in 2022, coinciding with the end of McLaughlin's assumed last term.
"There's been no constitutional office on my radar," McLaughlin said. "But I'd heard Trevor, it's nice to hear he's confirmed that, he's a capable young man. I would have no trouble supporting him if he wants to do that. "He's unassuming, much like Suzanne is, very confident but unassuming. I'm a little more charismatic, which lends itself more to the things I do in the capacities that I do, so I can see Trevor doing that, sure. But none of that was on my radar."
Both McLaughlin's and Tucker's plans assume a lot, of course, but they also reflect confidence among local Republicans, particularly incumbent Republicans, that they can control their fate in a county where Democratic opposition has vanished, and certain names carry more political currency–if not entitlement, fairly or not–than others.
Ideally, McLaughlin said, constitutional offices such as the tax collector would groom a deputy, much the way Gail Wadsworth groomed Bexley, or the way Kaiti Lenhart was able to seamlessly take over the Supervisor of Elections office when her predecessor resigned. That way the successor is ready to work at full capacity when the time comes. Tucker said that assuming he were to choose to go the route of the tax collector's office, he would consider working there first—again, assuming such an arrangement could be made with Johnston.
"I would love to see him go in as the deputy and learn that over the next two years if his term is up, if he didn't run in '18," McLaughlin said of Tucker. If Johnston retires in four years, "that's going to be very easy for the community to say, this is a difficult position, he's gone in and trained for that." He added: "It's not really an heir apparent but at least the choice you have is somebody who has a clue as to what's going on."