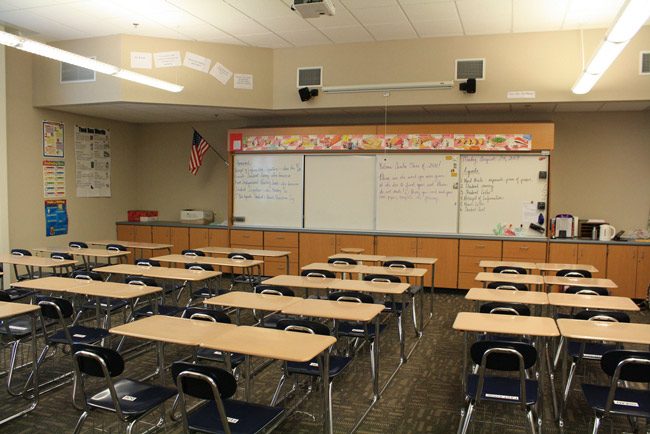 A state administrative law judge Monday said a Southwest Florida high-school teacher should be disciplined — but not fired — for making negative comments about transgender people.
The Lee County School Board last year moved to terminate Angel Villanueva, a Junior ROTC instructor at East Lee County High School. But Administrative Law Judge Linzie Bogan, in a 12-page recommended order Monday, said "just cause" existed for discipline, but not firing.
In part, the case focused on comments Villanueva made to a student, identified only by the initials M.G., who came out as transgender in March 2016, the recommended order said. The student said Villanueva reacted by saying, "Oh, no, you can't do that" and by telling M.G. that he will always be a female.
"Respondent (Villanueva) admits that he wanted to persuade M.G. not to come out as transgender," Bogan wrote in the recommended order. "Respondent also admits that he made comments in the presence of students regarding the sexual preference of individuals, and further that he told students in his class that individuals who do not agree with him are wrong, will regret their lifestyle, and will suffer consequences later on in life. Respondent testified that his concern for M.G. stems from his personal beliefs as a devout Christian, and that if M.G. had informed Respondent that he was bothered by his comments, then he would not have been as aggressive in stating his opinions to M.G. Respondent acknowledges that he overstepped his boundaries and 'should have stayed in his own lane.' During the final hearing, Respondent expressed genuine feelings of concern about M.G.'s well-being."
Under administrative law, the recommended order will go back to the School Board for final action. Bogan did not recommend specific disciplinary steps. Villanueva has worked for the school district since 2002.
The recommended order said an investigation began after a parent notified the school district about a video posted on Instagram that showed Villanueva making comments in class about Caitlyn Jenner, the former Olympic gold medalist who came out as transgender. The student M.G. posted the video on Instagram and was later interviewed as part of the investigation.
The school district filed a petition July 29 to terminate Villanueva, who is covered by a collective-bargaining agreement, according to documents filed in the case. Villanueva requested an administrative hearing Aug. 22.
"Respondent's conduct unreasonably denied students access to diverse points of view, exposed students to unnecessary embarrassment and disparagement, and was unbecoming of a school district employee," the July petition for termination said.
But Bogan said the discipline should stop short of termination.
"Respondent, during the final hearing, expressed genuine feelings of concern about M.G.'s overall well-being," Bogan wrote. "The undersigned (judge) is persuaded that Respondent's concern for M.G. comes not from a place of hate, but from a place of compassion. Accordingly, petitioner (the School Board) has not established that Respondent's conduct was egregious enough to warrant termination, but has established that just cause exists to impose a lesser form of discipline against Respondent. "
–Jim Saunders, News Service of Florida