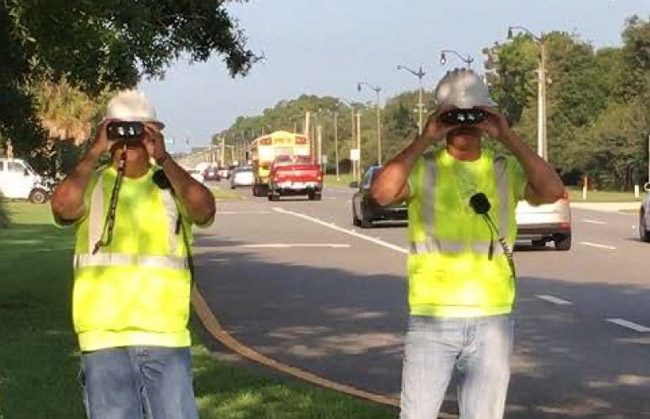 You may see construction workers–or people dressed as construction workers–ogling you with binoculars on Palm Coast and county roads this Labor Day weekend. Don't be fooled: they're cops looking for speedsters and drunk drivers. It's the Flagler County Sheriff's Office's latest undercover strategy to enforce traffic laws.
It's part of the Sheriff's Office's participation in this weekend's "Drive Sober or Get Pulled Over" campaign on the last big weekend of the summer, which tends to be a high-carnage weekend on roads as well, particularly this year: the National Safety Council is estimating with 90 percent confidence that by the time the weekend is over, between 376 and 471 people will have been killed on American roads, and between 43,200 and 54,200 people will have been injured in traffic-related crashes.
Mull over those numbers for a moment: they represent up to six deaths an hour and 690 injuries an hour. Labor Day falls just behind Memorial Day as the deadliest weekend on roads, though not by much. Flagler County is in the midst of one of its deadliest years in terms of traffic-related fatalities, with more than 20 recorded so far.
"The estimated fatality total for 2017 is 11 percent higher than the average actual number of fatalities (378) that occurred during the previous six Labor Day holiday periods for which data are available," the council cautions.
Patrol squads will have increased countywide presence and DUI enforcement with motorcycle, bike, beach and patrol units, the Sheriff's Office said. Marine units will also be patrolling intra-coastal waterways to promote boater safety and safe vessel operation. And message boards will flash messages and drivers' speeds to keep them alert. The department is also activating its sheriff-taxi vehicle, a car painted half as a cop car and half as a taxi, and will be used for drunk-driving enforcement.
As for cops dressed as laborers, the Sheriff's Office said it's "to honor America's blue-collar workers this Labor Day."
The "Drive Sober or Get Pulled Over" is actually one of two alliteration-heavy law enforcement campaigns targeting roads this weekend. The Florida Department of Highway Safety and Motor Vehicles is also leading the so-called Drowsy Driving Prevention Week campaign starting over the weekend.
"Driving drowsy is just as dangerous as driving under the influence," said DHSMV Executive Director Terry L. Rhodes. "Fatigue affects your ability to drive safely and can have deadly consequences. If you are traveling Florida roads, take breaks along the way and switch drivers if you start to feel tired. Ensure you Arrive Alive. Never drive drowsy."