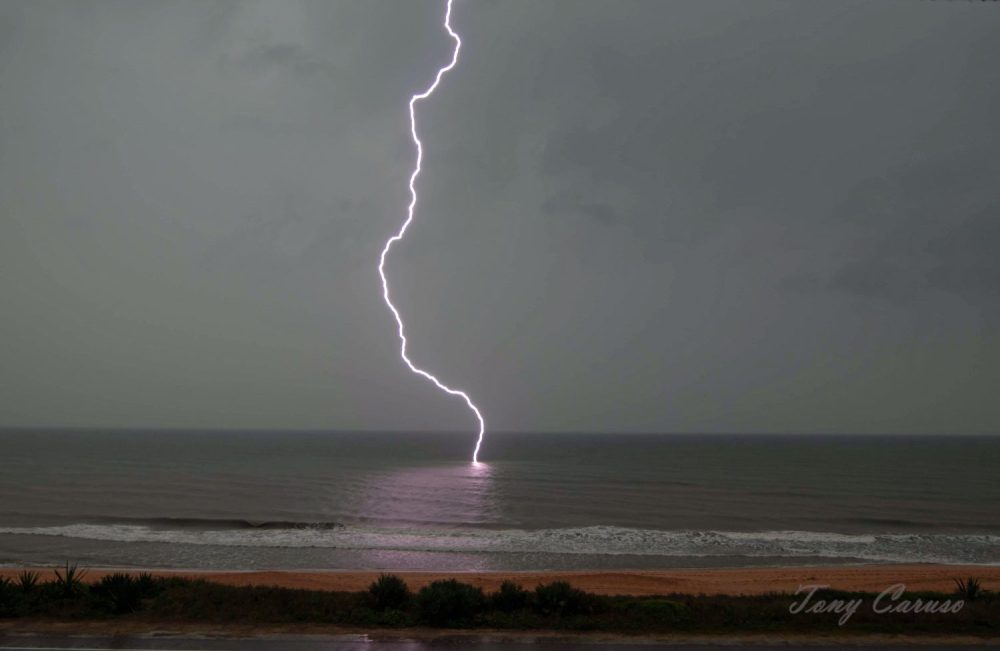 Last Updated: 11:50 a.m.
A funnel cloud was spotted in three locations late this morning as a tornado-warning leaden storm swept through northeast and central Flagler County from the east, but the funnels never touched down and damage was limited to a few, immediately contained brush fires from lightning strikes. "We got off pretty well, lightly," Flagler County Emergency Management Chief Jonathan Lord said.
Flagler County Emergency Management's Bob Pickering, the weather specialist, described reports from volunteer spotters in the field as "a big mass of rotating cloud, not a defined funnel or anything like that."
Lord said the rotating cloud was first spotted in Putnam County, triggering what would be two tornado warnings over the next hour, starting at 9:45 a.m. The storm moved swiftly into Flagler County. The first spotting of the funnel cloud was from a volunteer spotter at the county fairgrounds on Sawgrass Road, then in the Lehigh Acres area in Palm Coast, then in Beverly Beach.
The cloud at no point touched down. But lightning strikes did, and caused some damage. Firefighters responded to four calls during the storm, Palm Coast Fire Department Battalion Chief Kyle Berryhill said, with a brushfire at 128 Ulysses Trail in Seminole Woods. Flagler County Fire Rescue's Engine 92 responded to that one and took it out. Berryhill said during such storm events, the response is generally limited to one engine, since the rain is heavy enough to suppress fires without an outsized response from firefighters. That was the case for another call on State Road 11: by the time firefighters got there, the brush fire was out.




A transformer blew at 13 Boston Lane in Palm Coast because of storm debris, and a fire alarm went off, without apparent fire, on Canopy Walk.
As of 11:30 a.m., there were "no damage reports at all," Lord said, assessing the situation countywide, and no flooding reports despite saturated grounds. But he cautioned that more heavy rain was expected in the afternoon as the same weather system continues to move through the area.
"The warning system worked," Lord said, crediting the county's trained volunteers–and using the occasion to remind residents of an upcoming free training class for weather spotters on May 20 at 6 p.m., at the Emergency Operations Center. Participants can become volunteer storm spotters and assist Emergency Management and the National Weather Service by reporting potentially hazardous weather events like today's. The spotting is not limited to tornadoes. While warnings for thunderstorms are only issued for hail and high winds, lightning is part of all storms and is the cause of more deaths in the United States than tornadoes and hurricanes, according to the National Weather Service. (Registration for the Community Emergency Response Team (CERT) class is accessible here.)
The National Weather Service originally issued a severe thunderstorm and tornado warning for Palm Coast and Northeast Flagler County at 9:45 a.m. Thursday, initially expiring after 10:15 a.m., later extended to 10:45 a.m.
At 9:42 a.m., a severe thunderstorm capable of producing a tornado was located over Fruitland, or near Pomona Park, moving east at 45 mph. Radar indicated rotation, according to the weather service in Jacksonville.
"It may not end up being a tornado but those in the warning area need to heed the warning and seek shelter," Lord, Flagler County's emergency management director, said at 9:55 a.m.
"We are watching it live" he said of the emergency management crew, referring to the tornadic activity, which at 9:56 a.m. was still on the Putnam County side. "No touchdowns yet," he said. "We're hoping the rotation they see stops before it crosses into Flagler." But, he said, "We are watching it because there was definite rotation in the storm cell."




A tornado warning means that tornadic activity has been spotted and that it may touch down. It does not necessarily mean that a tornado has actually touched down. The current storm was causing 60 mph wind gusts and nickel size hail, with damage to roofs, siding, and trees expected.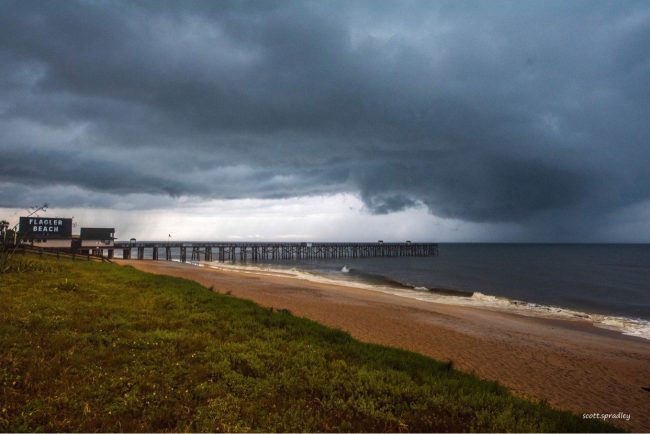 For your protection move to an interior room on the lowest floor of a building. Schools were evacuating classrooms and following normal tornado-warning protocols by gathering students in designated safe spaces. The district was asking parents not to go to school to pick up children, as the campuses will not be allowing people to be checked in or out. "Students are in safe places while we await the expiration of this tornado warning," a school spokesman said in a call disseminated to all households with children in schools.
Lord cautioned that whether a tornado touches down or not, the line of severe storms was headed toward Flagler and Palm Coast, where severe-storm activity would follow with gusts of wind, heavy rain and dangerous lightning.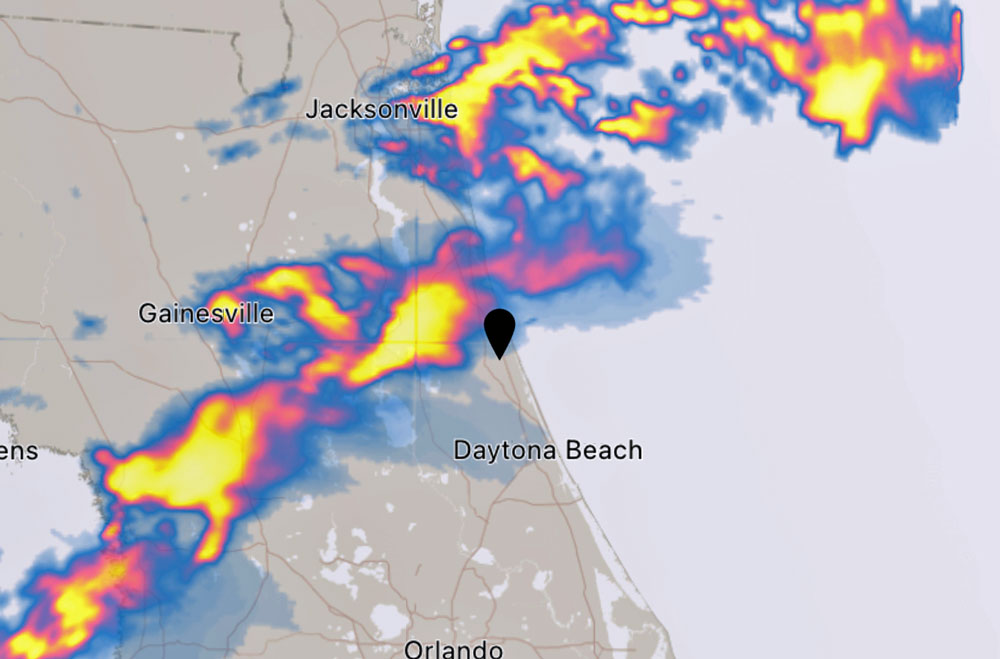 Reader Interactions