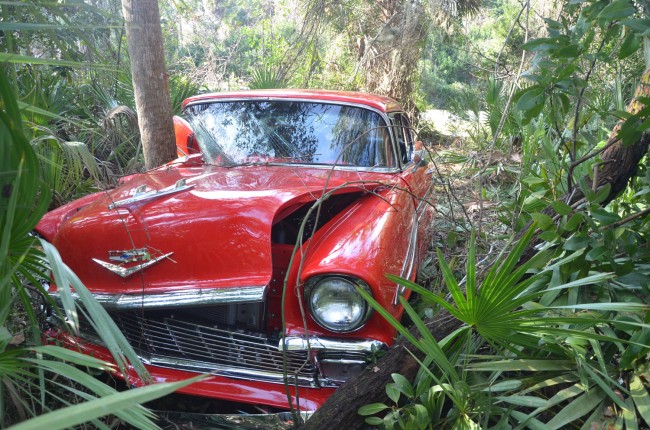 Jan. 8 update: Tony Hugueley died on Jan. 7 of injuries from the wreck the previous day.

After the wreck on A1A around noon, and after Tony Hugueley, 64, of Palm Coast and Poolesville, Md., had been taken to a local hospital in very critical condition, someone had placed a photo album on the trunk of the 1956 Chevy Bel-Air that sat, its right front crumpled and shattered against tree trunks and brush. It was a thick album filled with glossy 4-by-6 photographs, themelves almost antiques in the age of digital photography, meticulously documenting the reconstruction of the car from what looked like a rusty wreck into the shiny, red, impeccably maintained 6-speed collectibe it had become.
"Tony has put several hundred hours of work into this beauty and you can eat off of the frame, it's that nice," an admirer wrote in a 2007 blog entry rich in nostalgia, and revealing of one of Hugueley's nicknames: "Cadillac King."
Around noon Sunday, Hugueley was driving his Bel-Air down State Road A1A, south, in the Hammock section of Palm Coast. He was less than 200 yards from the intersection with the road that leads to the Hammock Dunes Bridge when, according to a witness, he suddenly veered left and seemed to accelerate–across the foot and bike path and into the woods. "So I think it's a medical condition," a homicide investigator with the Florida Highway Patrol said, after analyzing the scene. There were no brake marks on the pavement, just a visible arc tracing the sharp curve of the vehicle, and its trajectory through the woods.
The Chevy was virtually intact on the driver's side, but smashed beyond recognition on the passenger side, which finally hit a tree. Hugueley was not wearing a seat belt. He was not required to, according to an FHP investigator, because the car is an antique and registered as such in Maryland. Hugueley divides his time between his home on Upshire Path in Palm Coast and on Edwards Ferry Road on Poolesville, Mad. He was severely injured, and had apparently slumped on the passenger side, where blood had pooled on the floorboard, around a large wrench still in its packaging.
His head injuries were too severe even to sustain a flight by helicopter, as is usually the practice with trauma alerts, to Halifax hospital's trauma unit, an investigator said. He was taken to Florida Hospital Flagler, briefly stabilized, then taken to Halifax by ground, where he arrived shortly before 2 p.m.
No other vehicle was involved in the Bel-Air crash on A1A, and no one was on that much-trafficked section of the bike and footpath when the car cut over. The vehicle, removed by Saxon's, the Bunnell wrecker, leaked gasoline profusely even as it was towed across the bridge and onto Palm Coast Parkway.
The Palm Coast Fire Department, Flagler County Fire Rescue, the Palm Coast Fire Police and Flagler County sheriff's deputies responded to the scene, in addition to FHP. The scene was cleared by 2 p.m.
Dick Hewett, president of Wheels in Motion, the Flagler chapter of Antique Automobile Club of America, said discussions over seat belts in antique cars have recurred over time, but that in the end it remains the car owner's choice whether to install seat belts or not. "By AACA rules, that doesn't take points off a car if it's being judged," Hewett said.
Car manufacturers began providing seat belts as an option in the mid-1950s (starting with Ford), but seat belts came into common usage only in the 1960s, after they became a standard feature. It wasn't until the mid-1980s that wearing seat belts in the front seat of cars became mandatory in the United States.
"Most of us–most of the people that I know of," Hewett said of the local auto club, "do have seat belts in our cars." Hewett himself has 1955 and 1949 model cars, in which he installed seat belts, otherwise his wife, he said, would refuse to ride along.