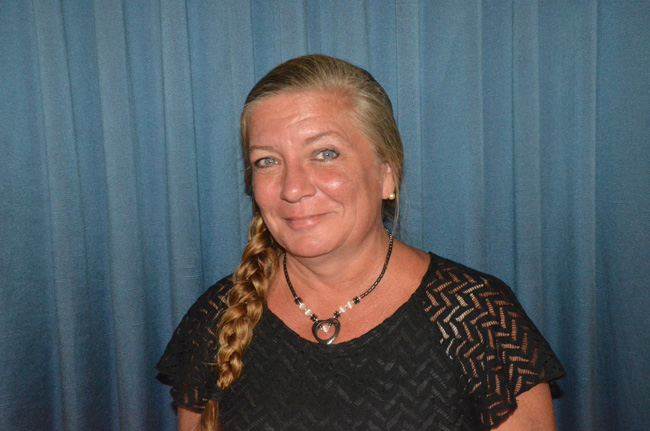 Toni Baker, a candidate for Flagler County School Board in the Aug. 26 primary election, is one of four candidates in District 2, the most contested of the three school board races. 
The three school board elections–for District 1, 2 and 4–are non-partisan races: all registered voters in Flagler County are eligible to cast a ballot in all three races–whether registered Democratic, Republican, Independent or from a minor party.
You may cast a vote in both races regardless of the district, the town or the subdivision you live in. The election on Aug. 26 will decide the winner in District 1 and District 4, because each of those races have just two candidates (incumbent Andy Dance and Maria Barbosa in District 1, incumbent Trevor Tucker and Michael McElroy in District 4).  So this is it for those two races, but not necessarily for the race for District 2, which features four candidates–incumbent John Fischer, Toni Baker, Lynnette Callender and Janet McDonald. The race in this case would be decided only if a candidate wins better than 50 percent of the vote. Short of that, the top two vote-getters will go on to a run-off, to be decided in the general election on Nov. 4. 
FlaglerLive submitted 15 identical questions to the school board candidates, who replied in writing, with the understanding that some follow-up questions may be asked, and that all exchanges would be on the record. Questions appear in bold, follow-up questions, when necessary, appear in bold and italics, and may be awaiting answers. When a candidate fails to answer a question, that's noted in red. The questions and follow-ups attempt to elicit precise answers, but the candidates don't always comply.
School board members serve four-year terms and are paid $31,640 a year.

The Questions in Summary: Quick Links

Place and Date of Birth:  Columbus, Ohio, May 8, 1964. 
Current job: B3Assistants LLC, a contractor, home-based customer service company through Arise, the outsourcing company.
Net worth: $16,800.Click here for financial disclosure form.
Political affiliation (keeping in mind that school board races are non-partisan): Democrat.
Websites: Facebook.
1.     Why are you running for school board, or running for re-election, and what makes you the best person for this public service job? What is your vision for public education in Flagler County?
First I am not a politician, my only concern is for the children, parents and taxpayers of this county. That being said, I'm on a steep learning curve to become one. I have children in the district who have been here from 1st grade to now 8th. I cannot wait any longer to get involved and make a difference, as I know I can. I have the ability to understand and work with the mandates given by the State, the sunshine laws and budgets/contracts. I also have the ability to recognize waste, and can and will reallocate resources where they are truly needed. A large percentage of our children are not even testing out to the state minimum: 40 and 50 percent, depending on the grade/test/End of Course exam. I am still waiting on the Annual Measurable Objectives report to be released by the state. This 40 percent number has been tossed around quite a bit. That being said, in some areas it's higher and in others it is a fantastic number. The 9th and 10thgraders seem to have suffered the most in the adjustment of the T-scores.
You are diagnosing a problem but not giving us solutions, though questions address that later. The question is: what should compel voters not only to pick you, but to pick you and unseat an incumbent–John Fischer–with four years' experience?
I strongly believe you should be a parent or have had recent first-hand experience.  We all know as parents, things are changing year to year and sometimes day to day.  In my opinion, Mr. Fischer is a "go a long to get a long" board member.  I do not mean to be disrespectful, but my feelings are:  Yes, he knows everyone, however, it should be what you know, not who you know.  It is my understanding he has initiated two policy changes during his four-year term.  One was great, the emergency fund program for the teachers; and the other one, I despise, as do my children:  Our new dress code.  However, it has recently benefited one of our community members in as much as it started a new business for school uniforms due to the difficulty of finding anything of quality and low cost.  It also has created the "clothes police" division of our schools.  I am willing to work full time to research issues and make informed decisions, not rubber stamp everything that is brought up for a vote.

2.     Tell us who you are as a person—what human qualities and shortcomings you'll bring to the board, what your temperament is like: what would your enemies say is your best quality, and what would your friends say is your worst fault? Give is real-life examples to illustrate your answer.
I have been described as a woman of integrity by some of my staunchest adversaries, thus earning their respect, even if not winning the debate. My friends would say I'm too kind and I allow people to take advantage of me, I care about everyone. Personally, our family motto is "Say what you mean and mean what you say!" I can get fired up if I feel I am being patronized and I will always make sure my point is made, no matter what it takes. Ultimately, we need to come together as a community, be able to reasonably debate issues and make the best choice for everyone. That requires research and responsibility, not giving pats on the head and hiding behind statements such as "It's State Mandated." I will dedicate myself to making our schools the best they can possibly be and bringing everyone to the table to find a resolution to any issue presented to me.

3.     Describe the scope of your job as school board member as you understand it: what's your primary responsibility? What's in your power to influence on a day-to-day basis? What is not in your power to do?
The School Board is in place to set policy, hire the superintendent, deal with certain matters as they are due regarding contracts and discipline and of course approve or decide on the budget given us from the state. Be responsible to the taxpayer and verify we are getting what Flagler County deserves. Be creative in finding funding, reaching out to the public and creating an atmosphere of community. However, I feel the school board should be at least aware, if not somewhat involved, through the proper channels, that the policies made are being put in place and successful. We need to get into a micro-management phase until we get everything working as a well-oiled machine. That takes full-time dedication, which I promise to give.
"We need to get into a micro-management phase until we get everything working as a well-oiled machine." We imagine that any administrator reading that line, the superintendent in particular, would have smoke coming out of his or her ears, as school board members are by law prohibited from managing, let alone micromanaging, employees, who answer only to the superintendent. Can you explain that you mean?
The Superintendent, Mr. Oliva, seems to be going department by department,  from my observations, and doing just that, to my great satisfaction.  I have personally spoken to him regarding some of these issues.  My concern is that as a school board member I cannot get in there, get my hands dirty and help him.  What I can do is support him in his efforts and as I have suggested to him, encourage him to find an assistant(s) so he doesn't burn out.  Colleen Conklin addressed this very same issue at a recent board meeting.  The culture starts with the board and trickles down.  I believe you mischaracterize our administrators, I believe they are all team players.  They do care, and they will have the leadership that builds morale in our staff, teachers and students.  

4. What are the education gaps or weaknesses in the districts—in other words, where and who the district is failing most? What are the brightest successes?
We still have an inordinate amount of our children not reaching the minimum standards set by the state. This must change. On a bright note, we are one of the top counties of the State of Florida and our AP, IB and Dual Enrollment. Teachers, students and parents are to be commended. You can't pull up the weak by pushing down the strong. We need to find avenues to help those students and parents who are struggling to get to the minimums at the very least. The mentoring program consists of once a month, one-hour meeting and that just isn't going to get the job done. I suggest we utilize our county's vast knowledge base with all our seniors, volunteers, civic organizations and parent volunteers. Study halls in middle school for struggling students, who aren't doing their homework at home. Having resources to teach children how to take notes, how to study, how to organize to become the best student they can be. Let's get those computers in their hands; 1—1, especially since the State has mandated 50 percent of teaching material be digital. We need to do what it takes to make that happen. Priorities.
Is the district not already well on the way to having a computer or a tablet in every student's hand, and already does so in high schools, precisely because that has been a priority?
Unfortunately, the computers are still being shared and at times not enough for every classroom; the middle schoolers do not have their own as of this writing.   We are  required to be 50 percent digital this year.  Thankfully, Flagler County is one of the few counties that have already started getting ready for this.  We need each child to have one now, not later.   I believe we have put the cart before the horse, not every parent has a computer or internet access. I have been told that the middle schoolers will indeed have their devices, for take home, at the end of this month.  I'm very hopeful.

5.      Common Core has caused a good deal of controversy, much of it invented out of thin air, most if not all of it irrelevant to Flagler County. Define common core as you understand it. Explain your position regarding common core. And understanding that the Florida Standards have rendered it a non-issue for Flagler, tell us whether you are campaigning for or against common core, and if so, why. 
Since Common Core is no more, so to speak, I don't feel I need to explain it. However, to satisfy the question, it was an effort by Governors throughout the United States to overcome the issue of military and transient children to have the same level of teaching from one area of the country to another. It was a very noble goal in the beginning. I do believe it was usurped by the Federal Government with the Race To the Top, which is ending. I do have grave concerns regarding the FSA's and AIR; I suggest every teacher, parent and student take the practice assessments. It's somewhat, frightening to me, personally. Here's the link.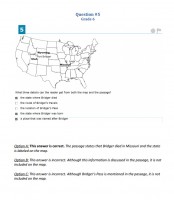 The Florida Standards and American Institutes for Research's statewide, standardized exams you refer to are the Florida version of Common Core. If those now-established and enforced standards "frighten" you and give you "grave concerns," we would very much like to know how and why, and what you would do as a board member: oppose them? 
As a board member we are in place to make sure they are carried out.  It doesn't mean I have to approve of them.  We have to support our teachers and administrators with these never ending changes so they can educate our children.   The goal of  "analytically" challenging our children in some of the questions are equivalent to "trick" questions.  ( I have attached just one example; the passage says he was born in Virginia)

6. School taxes: Do you consider them high, low or just right? How much do you, as a school board member, control the setting of school taxes, and if you've been campaigning against high taxes, explain your position, and how relevant it is given your very limited powers as a school board member in that regard. 
Roughly, 50 percent of property taxes are used for Florida's public education costs. This makes it imperative that we build as a community. We also have the ½ penny sales tax that was sold as technology, and I'm still asking where are the middle school personal computers? This ½ penny needs to be used for what it was "sold" do to our taxpayers, not used as a slush or general fund.  We also receive money from the federal government for Title I.  
Are you suggesting that the sales tax revenue is not being used for technology? The district has laid out a clear, five-year plan on how to use the money. How is it not abiding by that plan?
I am suggesting that it can be used for other things and we need to make sure it isn't.  The best way to do that is to get the devices as quickly as possible.  It's frustrating as a parent, student and teacher  when children only have "classroom" text books, have to hand write PowerPoints because it can't be downloaded on a device, use notebooks to cut and paste and make their "own" books, when it could easily be put on a device for study purposes.  Ask any 7th or 8th grader or their teachers.  It is frustrating.  Again, It is my recent understanding that by the end of the first month of school the middle grades will indeed have their own.
Note: it would be illegal for the district to spend revenue from the sales tax supplement on anything but the surtax's purpose, as stated in the referendum language: technology, construction, renovation and repairs. 

7.      Name your three specific priorities you intend to achieve as a school board members within the scope of the doable—not pie-in-the-sky stuff, not generalities. That is, three priorities you'll be able to say, four years down the line, that you've achieved.
I want sports back in our middle schools! Academically, this would inspire some children, economically we could partner with the Sheriff's office through PAL to get started. St. John's County is starting to bring back sports to the middle school level and in time we may actually be able to have a vibrant feeder for some sports for our kids in middle school again. It is my understanding that the Florida High School Association does regulate the middle schools. I spoke with the Compliance Department, and I was told that section 1006.20 addresses that we can indeed start a program and there is no need to "be in" and that we can "opt out." She references Alachua and many other counties that have middle school sports that are not part of FHSAA.
Please get rid of this feckless dress code. It provides no type of help academically and only creates more work for the teachers, administration and staff. Teaching self respect, modesty and proper decorum in a public setting is all that should be necessary.
Most importantly, I believe we need an information officer. This would be someone that parents/guardians, students and staff can go to with any issue and get a straight answer without fear of reprisals or double speak. A one-stop-shop for the facts, if you will.

8.      The IB program at FPC is the district's most academically rigorous and accomplished program, serving a small but high-performing class of students beginning with the pre-IB program in 9th grade. What is your opinion of the program, how committed are you to its continuation, and would you support its expansion, or an expansion of a similarly themed feeder program, at Buddy Taylor Middle School, as is being considered currently?
The IB program is something the community should be proud of. However, it does come with expenses that are not easily met. The teachers must be trained appropriately and the students/parents need to be informed of alternative routes. I believe, in the middle school setting we should have more availability for high school credits in preparation for the brightest to choose their path, especially in the core subjects.
Can you cite those annual expenses specifically, and how they are being met currently?
We were talking about the IB program being introduced to Buddy Taylor Middle School, according to Mr. Hinson's office and all their due diligence, the costs would be the fees and testing.  To date I have been unable to reach Mr. Hinson, who is diligently working on this.  It is back to school.  I may be able to update the annual expenses, specifically, once I can reach him.  I doubt a candidate's question is high on the priority list right now.

The question was about the district's spending on IB, not Buddy Taylor's.
9.      Evaluate Superintendent Jacob Oliva, based on what you know, specifying how supportive—or not—you are of his administrative approach. 
Since Mr. Oliva just became our official superintendent a little over a month ago, I hesitate to judge him. What I do know of him, I give my cautious but wholehearted support, because that is what we all need to do, wish our teachers, staff and students the utmost success. I have met with him and spoken to him on several occasions. He is open, honest and unafraid. As much as I thought we should have had a professional company do an exhaustive search, we did have a search committee, and posted the opportunity on "Education Weekly" and American Association of School Administrators" to search for this extremely important position. Since I wasn't privy to the interviews and backgrounds I cannot say if he was the best choice or the easiest choice. He and I agree on one of my main issue in this race, communication. He and I both believe, with enthusiasm, we need a centralized person who can be the voice of the parent to the administration and give accurate and complete information in a timely manner.

10.      Who on the board currently is the board member most closely aligned with your idea of a school board member and why?
Andy Dance was my first contact with the school board, way back when my twins were little. He was hands on, listened and acted. We have sometimes had contentious discussions, but have always remained united, with the best interests of all children in mind. Colleen Conklin, although I have never met her, is one of the board members that I align myself with, in as much as I can tell she delves into issues and asks questions and may not always go along with the majority. She seems to me to have the courage of her convictions, she doesn't follow and she isn't afraid to to disagree.

11.  If you had a choice of running the school district with a teacher union or without one, what would that choice be, and why?
I believe teachers should have a choice as to whether they want to join a union or opt out. Unions can have a great benefit for our school system and conversely, cripple a district. From the knowledge base I have with the district's two unions I see a high level of cooperation and many reasonable and motivated people. I would just want to ensure that the parents are always considered in any negotiations and the children are always put before anything else.

12. Charter schools have had a very checkered history in Flagler, with pronounced failures—Heritage, Outreach Academy—several rejected applications, and sharply contrasting growth and success for Imagine School at Town Center, and this year's remarkable turn-around, from F to A, for Palm Harbor Academy. How do you see charter schools fitting in public-school equation, and what are the most important criteria by which you'd approve (or reject) a charter school application? Also, what's your position on vouchers in public education. 
I feel charter schools have a place in society at large. When there is "competition" such as it is, I believe it makes us all work harder. Aside from church based charter schools, I believe our public schools should be so great, that no parent would want their children in any other learning environment. The statistics for Palm Harbor Academy while appearing to be a huge turn around is not exactly what it seems. While we should applaud the effort being put forward, the grading system the state uses sometimes will include district averages if the number of students taking a test do not reach a threshold for grading the school individually.
As we understand it, Charter school grading is based exclusively on the number of students taking the test at that school, or else the school does not qualify for a grade, so Palm Harbor's success this year was in fact its own. But you did not answer the question regarding the criteria you would apply to new charter school applicants, and your answer raised another question: if church-based charter schools are fine in your way of thinking, what would be wrong with secular charter schools of equal quality?
There are two components where a school uses a district average; if  the school  has less than 10 testers for science and writing FCAT's and End Of Course Exams, but has other reported tests, the state will then substitute the average of the school district in the box that is marked with a dash. Statute requirements depend on the grade level; for just elementary it is the results of the  FCAT .  Palm Harbor did not receive a grade at all in 2013; and in 2012 they received a grade of F.   The scale of 800 is used as the elementary school scale for that year; 2012-13 No score was given because not enough children tested in the elementary that particular year.  Also in that year you needed 30 students to test.  Palm Harbor has made great strides and we should be proud of all the students, teachers and administrators, however, due to the changing nature of charter schools and their reporting requirements (i.e., grade levels and testing EOC's FCAT's) it can be somewhat confusing.  It's my understanding without the use of the Districts Average they would have been a B.  Which in and of itself is OUTSTANDING.  If anyone has enough memory, please feel free to wade through

the state site
.
The Charter School application process is basically a state issue, if we deny an application, it is appealed and usually allowed.  The reasons we might need a charter school, is location, Imagine School is in a very needy location and a good example of that scenario.  Another reason is a need based program.
In my original answer, I have no problem with charter schools, such as they are.  I am just truly sorry that we need them at all.  We want to be the best education option that any parent can have and any child can experience.  I do worry a little about big business coming in and profiting off of our children and the taxpayers.  But if it isn't working it needs to be fixed.  Flagler schools are working.  We need to capture the best in each child and each school.  The State is very much in favor of charter schools, even if we may or may not want them.  As a district, we don't have a lot of sway in that arena.  Sometimes to the District's detriment. 

13.  Explain zero tolerance discipline as you understand it. Explain whether it is effective, whether the approach should be reformed, and how. 
The Florida Board of Education established the zero tolerance policy. All school boards are required to handle the most egregious offenses with severe consequences. The zero tolerance policy will not and should not be used for minor disciplinary issues. However, under level IV Offenses, we have tobacco possession and lewd sexual gestures right beside Homicide and Kidnapping? I definitely believe we are not following the spirit of the the state board when we lump these all together. I believe these should be separated out in a level V.

14.   Do you find the Flagler County School Board accountable to the public on student achievement and school performance over time? If not, how should it become so? And how should the district address underperforming schools?
Of course the School Board is and should always be accountable to the public. Low performance must be addressed on a daily, weekly monthly and annual basis. We can't wait until it's too late. Micro-management is needed at the school and the specific grade level that is not at least performing at grade level as well as the previous grade level. However, there is a change in the grading from one year to the next, and that always needs to be taken into consideration. We were a few points away from getting an A this year as a district, we all know how that feels. I am tired of the state using all Florida children as guinea pigs. Would they have passed the test?
Again, what do you mean by micromanagement, and what, specifically, can the board do about under-performing schools that it isn't doing now?
I already answered the "micromanagement" question #3 above, however it may not have been the best choice of word!  It is imperative we go through the data and evaluate all the issues at the same time.  I have, as well as the district, been waiting on what we call the Annual Measurable Objectives which will show some gaps that may be effecting a particular school's or grade's performance.  After speaking with the Florida Department of Education, they are still working on it (one person is) and hope to have it out before school starts.  I have to say I was a little astounded, but not really.     Every child is a genius, and it's our job to find that genius as a district, administration, staff, teachers and most importantly parents and the students.

15. Have you ever been charged with a felony or a misdemeanor anywhere in Flagler, Florida or the United States (other than a speeding ticket), or faced a civil action other than a divorce, but including bankruptcies? If so, please explain, including cases where charges did not lead to conviction.
I am crime free! However, when I chose life for my twins at 36 and single, I was unlawfully laid off as a District Manager, and I subsequently was ordered on bed rest for the remaining seven months of my pregnancy; their father, a multimillionaire lawyer, kept me in court until I was, unfortunately, forced into a bankruptcy.

None.