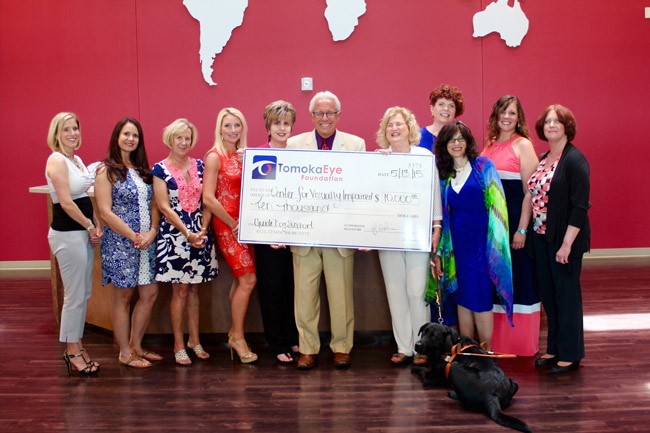 The Tomoka Eye Foundation, founded by Tomoka Eye Associates, donated $10,000 to the Center for the Visually Impaired, the foundation announced today.
"We are delighted to be able to support CVI's efforts, they are an amazing organization," said Bill Watson, Tomoka Eye Foundation President. "As the largest ophthalmology group in the area, we feel it's important to give back to our community in a big way."
The donation is a result of the foundation's first annual Tea and Biscuits fundraiser held last month. Funds from the event also went to guide dog support for the visually impaired. The check was presented to the Center for the Visually Impaired at CVI's Legacy of Light luncheon on May 13.
Tomoka Eye Foundation is non-profit foundation created to help support local vision-impaired services. This includes helping education for visually impaired youth and raising funds to support our local seeing eye dogs. The foundation has supported many worthwhile charities and their events over the years including the Flagler Free Clinic, Conklin Center for the Blind Walk, The Children's Advocacy Center, and more.
The Center for the Visually Impaired, Inc. was launched in 1988, and is also a non-profit organization. Its goal is to enhance the lives and opportunities of clients through job training and employment, independent living, technology training, children's services, as well as a multitude of community services. The center strives to ensure that blind and visually impaired individuals lead successful lives in their workplace, at home, and in their community.
Tomoka Eye Associates has been providing eye care for the greater Daytona Beach area since 1972. The company has locations in Ormond Beach, Port Orange, and at 21 Hospital Drive, Suite 160 in Palm Coast. It offers full exam lanes, retinal photography, optical coherence topography, and the ability to detect and treat glaucoma, diabetic, and all ocular medical conditions.