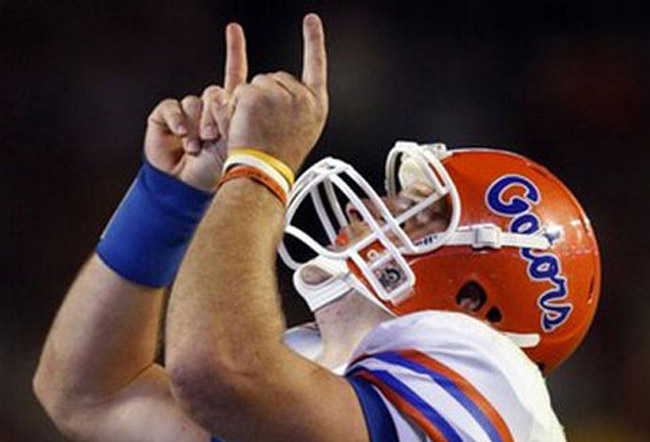 By Aaron Rushing
For the eyes of the lord run to and fro throughout the whole earth to show himself strong on behalf of those whose heart is loyal to him. (2 Chronicles 16:9)

Is God empowering the Denver Broncos for Tim Tebow's sake? According to Pastor Wayne Hanson, he is.
Hanson is the Senior Pastor of Summit Church in Castle Rock, Colo., where Tebow's father often speaks. In an interview with TMG last month, Hanson made headlines by saying God is the reason the Broncos are winning. (Hanson has subsequently disputed the TMZ account.)
Hanson told TMZ that God is actively intervening in the Denver Broncos football games … and aiding Tim on the field because of his strong faith. "It's not luck. Luck isn't winning six games in a row. It's favor. God's favor." Hanson adds, "God has blessed his hard work." TMZ asked Hanson if Tebow would be winning games if he wasn't such a strong believer. The pastor replied, "No, of course not."
Hmmm?
For those who may not know, Tim Tebow is the quarterback for the Denver Broncos. His simple acts of kneeling in prayer has grabbed the attention of the nation. His public prayers, confession of faith, and sometimes miraculous accomplishments on the field have led some to believe he has been touched by God.
Tebow stunned fans last weekend by leading the Broncos in an overtime win against the Pittsburgh Steelers. The crowning moment of the game came with a 15 yard pass to Demaryius Thomas who ran the ball another 65 yards for a touchdown, ending the shortest overtime in NFL playoff history. (The Broncos won 29-23.)
Adding to his humble prayers and abilities on the field are the seemingly supernatural reference to John 3:16 in his passing stats. Painting John 3:16 over his eyeblack was one of Tebow's trademarks until he joined the NFL, where the practice is banned. Despite the ban, Tim managed once again to point people to this passage without painting it or saying a word. Tebow threw for a season-high 316 yards and set an NFL record with 31.6 yards per completion. Coincidence or divine intervention?
So what is going on here? A six-game winning streak, mysterious stats, amazing plays, and unprecedented fame all seem to add up to God's favor. Why would Tebow be so special?
The lord (God) was with Joseph, and he was a successful man; and he was in the house of his master the Egyptian. And his master saw that the lord was with him and that the lord made all he did to prosper in his hand. Genesis 39:2-3

One can't watch Tebow's life without recognizing that God is with him. Like Joseph of old, he appears to be prospering under God's favor. By extension those who are a part of his endeavors may prosper as well. However, to say Tebow is the only reason this team is winning. Well, that's more than anyone should say. Quite frankly, Hanson did Tebow a disservice. In his zeal to glorify God he turned Tebow into a good luck charm.
Hanson wasn't all wrong. God is real and active in the lives of his people. Yet he does not favor one person over another (Acts 10:34). Perhaps a better message would have been: God is simply using Tebow as a tool to inspire this nation.
God's purpose is not about the Broncos winning or losing. God desires his people to honor him in everything they do. Every time we see Tebow kneel in prayer, we are witnessing a man who refuses to take credit for himself. How often have you seen a victory dance after a touchdown? Men prancing around, strutting their stuff, as if they were some kind of wonderful. Tim Tebow's simple prayer of thanks reminds this nation that God is real, active, and deserves all the glory. It is a beautiful thing.
If God is supernaturally aiding the Broncos, his purpose may be to show this nation humility, gratefulness, and genuine Christian faith. God speaks to America every time Tebow kneels in prayer. Evidently he has quite a bit to say, for Tebow seems to get lots of opportunities to kneel.

For the eyes of the lord are on the righteous, and his ears are open to their prayers; but the face of the lord is against those who do evil. (1 Peter 3:12)

Aaron Rushing is a self employed handy man and writer living in Bunnell. He is currently enrolled at Daytona State College where he is focusing on English and literature. Reach him by email here.