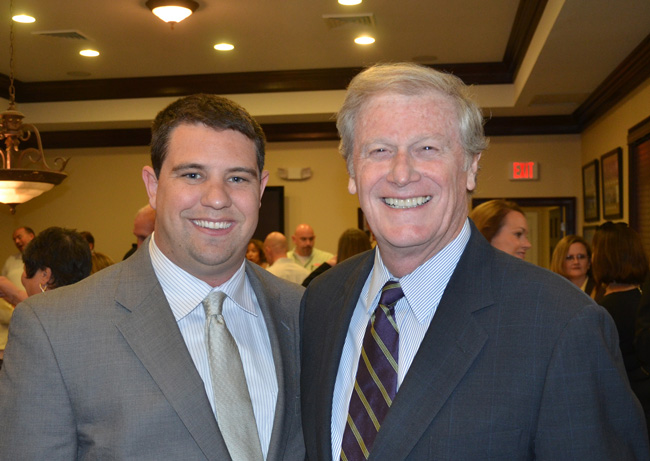 Late this afternoon, the Florida State University Board of Trustees voted 11-2 to name Sen. John Thrasher the school's next president. Thrasher had been on a short list of four candidates at the end of a fractious process that saw university faculty and students mount sustained and voical opposition to Thrasher's candidacy.
For Thrasher, 70, Tuesday's decision was vindication and a long-sought move away from the Legislature, where he'd risen to be one of its most powerful legislator. He is also chairman of Gov. Rick Scott's reelection campaign.
For Flagler County, Thrasher's move is the second major blow to the county's political pull: Flagler lost U.S. Rep. John Mica to redistricting two years ago, losing Mica's seniority and chairmanship of a powerful committee in the House of Representatives. Thrasher's departure replicates the loss at the state Legislature, where Thrasher had just this year successfully steer through a bill initiated by the Flagler County Commission, to return to counties the power to regulate short-term rentals.
"I'm thrilled and happy for Sen. Thrasher announcing to be President Thrasher," Rep. Travis Hutson, until now the junior member of Flagler's legislative delegation and a freshman member of the House, said this evening. "As for Flagler County, obviously it's a big deal for us because we have lost one of the great ones. His legislative record I'd say is pretty unmatched, when you talk about state stuff he's done, and because of that whoever is going to replaced him, it's going to be a step down form him. Nobody is going to be John Thrasher. We're obviously going to take a loss. The question is how far a step it's going to be."
Thrasher issued the following statement shortly after the board's decision: ""I am honored that the FSU Board of Trustees has selected me to be the next President of Florida State University. However, this is just one more step in a long process which, under Florida law, must end with the approval of the Board of Governors (BOG). While I am hopeful that the BOG will accept the trustees' decision, that final decision will not be known until November. In the meantime, I intend to continue to campaign for re-election to the Senate and will continue to carry out my commitment to the people of my district. If I am ultimately selected to lead FSU, this will allow the voters to select who will be the next Senator from the 6th district."
If Thrasher's appointment is ratified before the election, the Republican Executive Committee will name his successor for the balance of his term, and the Nov. 4 election will decide who fills the Senate seat next. If Thrasher's appointment is ratified after the election, then the governor will call for a special election. The governor does not appoint a replacement.
Hutson said he is considering a run to replace Thrasher.
"What I'd probably do is talk to a lot of the people in our community, a lot of our business community and a lot of our elected officials, and see if it makes sense for me to run for that seat," Hutson said. "It is a possibility if it were a special election, yes."
Hutson defeated former County Commissioner Milissa Holland in a close election for the House seat two years ago. Holland this evening said she'd anticipated Thrasher getting the university presidency and Hutson making a run for the higher office, "but as far as where I'm at," Holland said about a possible run for the House seat, "I haven't sat down to think about that."
Meanwhile, Thrasher's move is likely to trigger various forms of local fallout, much of it more apprehensive than celebratory as Flagler continues to reel from the afterburn of the Great Recession and had relied on seniority in the legislature to win some advantage.
"John Thrasher is the kind of guy that's hard to replace in the Legislature, and somebody we'll deeply miss in our legislative delegation," Craig Coffey, the county administrator, said. "Of course we wish him all the best as Florida State president. I don't think there's an easy answer to that question," Coffey said, addressing the local consequences of Thrasher's departure. "You just hope you get the best replacement you can for him which probably will be big shoes to fill."
In the coming session, the county was again going to draw on its legislative delegation's influence to try to address a perennial problem in the Hammock–the drainage problems around Malacompra Road. The county was hoping to secure $2.5 million in state aid for that, an issue Commissioner Frank Meeker–who is running for reelection–has vowed to bring to completion. Thrasher and Rep. Travis Hutson, had also secured a grant for the county's Agricultural Museum. The county was seeking another such grant this year.
"We'll find out how much it matters pretty quickly here," Coffey said, though he put the loss in perspective: when the county lost its last senator with big pull in Tallahassee, Jim King, Thrasher was the eventual replacement. "Sen. Thrasher focused in on us a lot more, it seemed like, especially since his district was shrunk to include us," Coffey said. "Maybe there's somebody else out there that we don't know that's going to run that's going to have some influence that's not on pour radar screen at this time."
Palm Coast Mayor Jon Netts, just finished with the city's second tax rate hearing, reacted similarly. "My goodness gracious," Netts said. "It's gong to be a tremendous loss to Palm Coast and to Flagler County. He was a great friend of ours, very effective as a legislator. He will be missed. What can you say? On the other hand I guess he takes a tremendous skill set to the university and we wish him well and wish the university well."
Netts said Palm Coast was not in live for any major legislative aide this year, though last year the city received a grant to help pay for upgrades to its water plant. Netts said he was not looking forward to whatever "scramble" may take place to replace either Thrasher's seat or, should Hutson choose to run for it, Hutson's seat, as Netts prefers those elections to involve more thought-out processes.