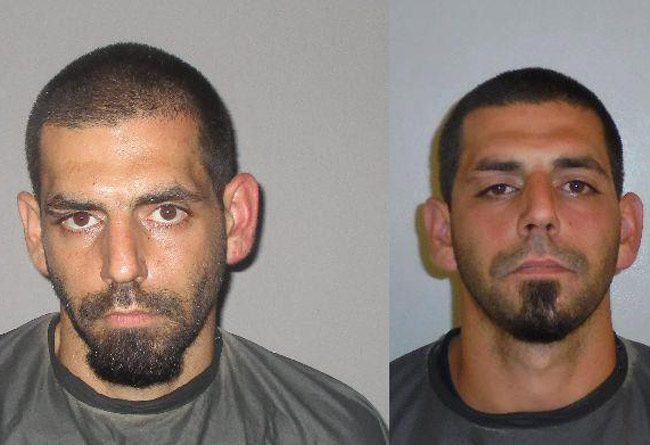 Thomas Francis Rando, the 31-year-old Palm Coast man who was at the wheel of a pick-up that rolled over on I-95 Friday evening, killing 10-year-old Hannah Beard, was arrested Sunday on several drug charges, including possession of meth and narcotic pills.
He has a history of recent arrests on drug and traffic charges, including a long history of repeatedly driving on a suspended license, with three citations or arrests for lack of a license in just the last six months, the last one just nine days before the fatal crash. He was driving on a suspended license Friday.
Rando, last of 68 Zaun Trail, was at the wheel of a Ford F-150 Friday evening when he was merging onto I-95 from the Palm Coast Parkway on-ramp and, according to what he told a Florida Highway Patrol investigator, he may have struck an object. The Ford veered all the way to the center guard rail, struck it and overturned.
Hannah Beard, a student at Bunnell Elementary, was found dead within moments of the 6:27 p.m. crash. Her 11-year-old brother Masen was seriously injured, and her mother Nichole Michelle Beard was critically injured. They were transported to Halifax hospital in Daytona Beach, as was Rando, who was initially listed as also having been seriously injured.
But he was out of the hospital by Sunday and allegedly rushing to get drug syringes, drugs and other related paraphernalia out of the Zaun Trail house, stashing the lot in three backpacks and leaving the scene on a BMX-style bicycle while himself high on drugs, according to his arrest report.
Nichole Beard and Rando had previously dated. According to the arrest report, Nichole Beard and her father on Sunday asked a friend, Michelle Visciglia, a 38-year-old resident of Bunnell, to ask Rando to leave the Zaun Trail house. Visciglia had arrived at the house at 4:30 p.m. and told him that he'd been asked to leave, adding—in what she described as a "scare tactic"—that police would be visiting him within the hour, even though at that moment she had not planned to call law enforcement. But Rando then quickly "cleaned drawers and bins, which contained needles, spoons and baggies into a green in color garbage can" according to his arrest report, "which he then placed into a backpack."
After he left, Visciglia called police and reported that he'd left the house with three backpacks and was very "high."
A Flagler County Sheriff's sergeant initiated a stop on Rando just after 5 p.m. as he rode his bicycle in the middle of Zaun Trail, telling him that there'd been an allegation he was carrying drug paraphernalia. Rando allegedly conceded that he was carrying "rigs," a slang term for syringes.
The search revealed four used syringes, four spoons with residue and burnt bottoms, several empty bags containing unknown residue, crystalline substances later determined to be crystal meth, pot, two glass pipes, a bag containing prescription drugs marked Teva, a manufacturer of generic narcotic drugs. The Sheriff's Office identified the tablets as diazepam, a narcotic antianxiety medication commonly known as valium. (The drug is blamed for at least 183 deaths from misuse last year in Florida, according to the latest medical examiner report on drug-related deaths).
Rando was booked at the Flagler County jail on charges of possession of a controlled substance and possession of methamphetamines, each a felony, and on misdemeanor charges of possession of drug paraphernalia and pot. Charges are pending in the traffic crash case. If Rando's drug use is tied to the crash, he may face a DUI manslaughter charge. (His blood would presumably have been drawn and sent for testing after the crash,)
Rando is no stranger to local law enforcement or traffic court.

He was cited just last month while driving the same Ford F-150 that he crashed Friday, for lack of taillights (an infraction that, if it had not been addressed by the time of the crash, could come in play in the traffic-homicide investigation since Rando was merging onto interstate traffic at night: lack of taillights may have been a contributing factor if, for example, the dark Ford had been lightly struck from behind, causing it to lose control).
Worse, he was driving on a suspended license, and was cited for that as well. He claimed he was not aware that the license had been suspended, which strains credibility: on June 6, he'd been found guilty of driving on a driver's license that had been expired longer than six months. He was booked at the county jail, pleaded guilty and was sentenced to pay a $500 fine. It's not clear why he was not charged with the more serious charge of driving on a suspended license with knowledge.
On Sept. 11, in the middle of the county's emergency during Hurricane Irma, he was again stopped and charged with driving without a valid driver's license in what was part of a more serious arrest on criminal charges: his Ford was found to have syringes, a concealed knife, and meth belonging to one of his passengers, Adrian Gillihand, who was found in violation of his probation. (Michelle Beard was also in the vehicle, the only person in the vehicle to have a valid driver's license or no active warrants.) Rando was booked at the jail.
Nine days before the crash that killed Hannah, Rando was cited again for driving on a suspended license. That time he could not claimed ignorance, though he was not jailed. He was scheduled for a pre-trial in the case after Thanksgiving, on Nov. 30. The pre-trial is to cover his charges from the September arrest as well.
In 2015, same story: he was twice cited for driving on a license expired longer than six months, in May and September, eventually booked at the county jail, pleaded guilty (no contest), but adjudication was withheld. When he failed to pay a $331 fine, his license was again suspended.
He also has another criminal case open relating to a charge in August this year of tattooing a 15-year-old boy without parental permission, a second-degree misdemeanor. In May, he was arrested on a petit theft charge and found guilty and sentenced to a brief stay in jail (which he'd served by the time of the sentence) and a fine. In 2008 he was arrested on minor drug and disorderly intoxication charges—and having more than one valid driver's license, a second degree misdemeanor. That charge was dropped. Adjudication was withheld on the other charges.