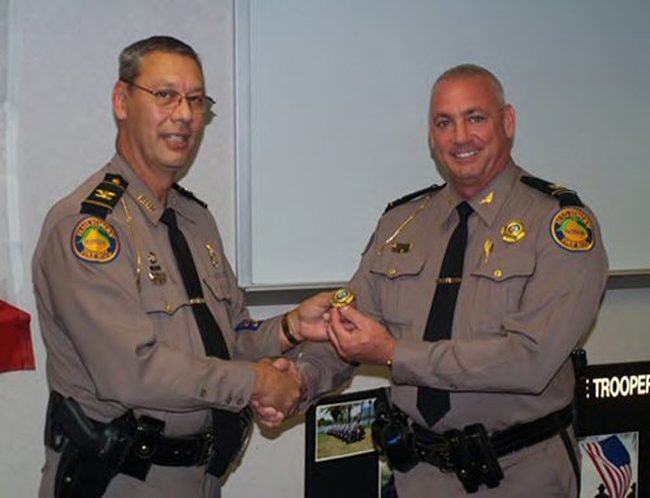 The second-highest ranking officer in the Florida Highway Patrol is stepping down after acknowledging he wrote an email in May encouraging troopers to write at least two tickets per hour.
In the latest fallout from an ongoing investigation into whether troopers were told to meet a traffic-ticket quota, Lt. Col. Michael Thomas, a 30-year veteran and deputy director for the FHP, submitted a letter of resignation on Monday, indicating his last work day will be Friday.
In reviewing emails, Thomas said he found a May 31 email referring to a special program, known as the Statewide Overtime Action Response, aimed at curbing speeders. The email said, in part, "so we can encourage our members to maintain our 2.0 citations per hour ratio, as we attempt to provide a safer driving environment for Floridians."
"In hindsight, I can see how this memo sent to the chiefs (regional commanders) could have been interpreted as an order for their supervisors to ask for 2.0 citations per hour," Thomas said in his resignation letter. "This was a grave error on my behalf and should not be considered a negative reflection on the chiefs or other members of command that may have sent similar emails."
"I made this mistake and take responsibility for my actions," he added.
Thomas' resignation came after Maj. Mark Welch, a troop commander who oversees eight counties near Tallahassee, announced his resignation earlier this month, after acknowledging he sent a July 28 memo to troopers that they interpreted as a mandate for a ticket quota, which is illegal under state law.
"The patrol wants to see two citations each hour," Welch wrote. "This is not a quota; it is what we are asking you to do to support this important initiative."
After Welch's memo was brought to the attention of Terry Rhodes, executive director of the Florida Department of Highway Safety and Motor Vehicles, which oversees the FHP, she directed the agency's staff to review whether there had been any other directives that could be viewed as a quota.
"You have my commitment here today that no quotas will be tolerated within the Florida Highway Patrol," Rhodes told Gov. Rick Scott and Cabinet members, who oversee her agency, during an Aug. 16 meeting.
The subsequent review turned up Thomas' May 31 email, which was sent without the authorization of Col. Gene Spaulding, director of the FHP.
"Although Lt. Col. Thomas' emails were sent with the intention of ensuring accountability of our members and providing enhanced public safety, it was inappropriate to request a specific number of citations from our members," Spaulding said in a statement.
"FHP does not set quotas as part of its mission, therefore I have accepted Lt. Col. Thomas' request for early retirement," he said.
Spaulding noted Thomas' "dedication and commitment" to FHP during his 30-year career, saying it "will not be forgotten."
The FHP's review of directives that could involve ticket quotas is continuing, with agency officials saying any further personnel decisions will be made on a "case by case" basis.
–Lloyd Dunkleberger, News Service of Florida