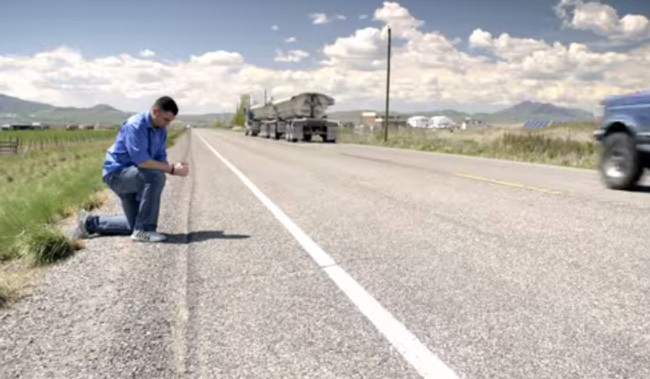 In one scene, Reggie Shaw kneels by the side of the road where, in a moment of distraction several years ago, he used his phone to text, lost sight of the road for a moment, and ended up killing two people.
"It was early in the morning. It was still fairly dark outside," Shaw says in the 35-minute documentary (see below). "It was raining pretty bad. On my way to work I'm texting and messaging. I go across the center line and I hit another car. I don't remember what I was texting. I don't remember what the message said. That's how important it was."
He sideswiped a car, then spent it spinning in the middle of the road, in the path of an oncoming truck. The truck catapulted the car into the ditch. Two men going to work were in that car. They were both killed. The car was unrecognizable.
"I look at that picture," Shaw says, struggling to get the words out as he cries, "is all I can think about is those families, those two men. While I was driving I decided that texting and driving was more important to me than those two men were to their families. And I was selfish to make that decision, to text and drive." He pauses. "Knowing every day that you killed two people is one of the hardest things that you can live with."
Shaw's is one of several testimonies by victims and perpetrators of the carnage texting while driving takes on American roads each year, with about 100,000 crashes caused by such distractions. They speak in a documentary produced by the great director, Werner Herzog, two years ago, which emerged from a series of public service announcements he'd agreed to make for AT&T's "It Can Wait" campaign. You can see it in full below.
This month marks Distracted Driving Awareness Month, and for the occasion, the Flagler County Sheriff's Office and Flagler Sheriff's Police Athletic League are promoting awareness about distracted driving, with a focus on Florida's Move Over Law, designed to protect law enforcement, firefighters, other public safety agencies and utility companies whose personnel often operate at the side of roads. Local police will be on the lookout for motorists driving while distracted, the sheriff's office said in a news release.
"The Flagler County Sheriff's Office responded to over 200 crashes countywide during the month of April, 2014," Sheriff Jim Manfre said. "Our goal is to educate the public including young drivers about the dangers of distracted driving."
Distracted driving includes any mental or physical activity that takes the driver's focus off driving. This can include the use of electronic communication devices such as cellular phones, navigation devices, DVD players or other distraction inside and outside the vehicle. Florida law prohibits texting while driving in the State of Florida, though the law is relatively weak: it may not be a cause for being pulled over. As a "secondary" offense, like not wearing a seat belt, an officer may only cite a driver for texting and driving in the context of another, primary violation. The penalty is also mild: it's considered a non-moving violation. A bill that would make texting and driving a primary offense is before lawmakers at the Florida Leglsiature.
The Move Over Law requires drivers to change lanes when approaching emergency vehicles, sanitation vehicles and utility service vehicles. Specifically, if driving on an interstate or roadway with multiple lanes of travel in the same direction and you approach an emergency or law enforcement vehicle parked along the roadway, you must vacate the lane closest to that vehicle as soon as it is safe to do so. If you are not able to safely move over, you must slow down to a speed of 20 MPH below the posted speed limit unless directed otherwise by a law enforcement officer.
In 2013, distraction.gov, the government website, reports, 3,154 people were killed in motor vehicle crashes involv­ing distracted drivers, a 6.7 percent decrease in the number of fatalities recorded in 2012. But 424,000 people were injured, which is an increase from the 421,000 people who were injured in 2012. Those numbers reflect casualties from all sorts of distracted driving, not just texting while driving.