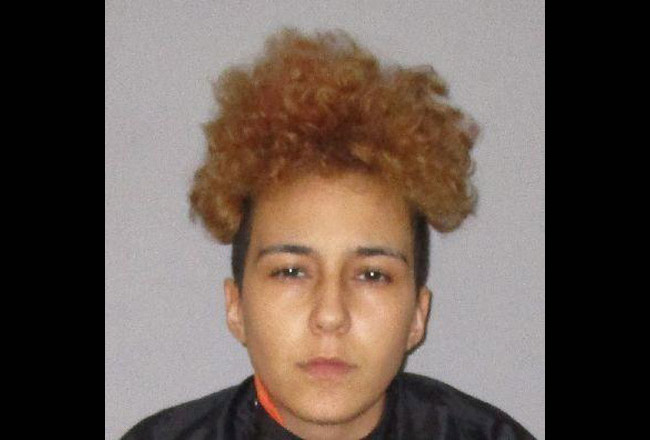 Soon after the shooting death of 18-year-old Curtis Gray last Saturday, the Flagler County Sheriff's Office sought the public's help in locating Teresa Salgado, better known as Alex among friends, as a person of interest. Alex was still being sought after deputies arrested Marion Gavins Jr. and charged him in the killing.
Alex is believed to know critical information, for having been in the SUV with Gavisn when Gavins allegedly pulled out a 9mm gun and shot Gray in the parking lot of a shopping strip at the intersection of Palm Coast Parkway and Belle Terre Parkway. Who pulled the trigger is not what detectives are trying to find out from Alex.
"The detective have been looking for Teresa/Alex because they wanted to get information from her, not because she was facing charges, but because they believe she is an intricate part of understanding the events that have unfolded," a sheriff's spokesperson said today. "But no, all the detectives and the sheriff have stated that they are 100 percent confident that Gavins pulled the trigger."
Today, detectives finally made contact with Alex by re-arresting her. How they found her is not clear. Alex did not speak with detectives about the Gavins case after the arrest. But the re-arrest that may get the attention of her attorneys for reasons beyond the usual: it was the result of a charge tacked on to two previous charges for which she's already been booked, and over which she was out on $700 bond. It appears the sheriff's office was intent on locking her up, and found a way.
The release the sheriff's office issued about the arrest today does not mention the complete sequence of events, referring to Alex's first arrest in January as "a traffic stop," not an actual arrest. Nor does it mention that she had already been charged with two third-degree felonies at the time, had been booked, and had bonded out. The release notes that another substances was found on her at the time of the traffic stop, was sent to a crime lab, and returned positive for LSD, prompting the additional charge.
The January contact with Alex was the result of a traffic stop at Old Kings Road and Kingswood Drive, where a deputy spotted a gold Buick driving south with a headlight out. Hannah Harrison, 19, of Palm Coast's B Section, was driving. Alex was with her. Harrison was charged with drug possession and possession of drug paraphernalia, both misdemeanors, and today the charges were dropped. There is no explanation as to why. The coincidental dropping of the charges today with detectives' contact with Alex, and her re-arrest, suggest the possibility of cooperation from Harrison in locating Alex.
At the time of the January traffic stop, Alex had no ID and did not identify herself to deputies, so she was initially recorded as Jane Doe and the alias Teresa Salgado. But she did speak with deputies after being read her rights. She said marijuana detectives found was hers, and she said a pipe that deputies tested and allegedly found to contain hashish was also hers. She was charged with possession of hashish and possession of more than 20 grams of marijuana (25 grams were weighed), both felonies.
But the arrest report notes she was also in possession of "multi-colored square paper" located in a bag. That was sent to the Florida Department of Law Enforcement crime lab, and returned on Feb. 7 showing it had tested positive for LSD. Sje was not arrested then. Alex's January 15 arrest affidavit was updated and signed only today, and with the help of Flagler Beach police, she was re-arrested. She has a $5,000 bond. It is not a violation of her pre-trial release from January because she was re-arrested on charges emanating from the same incident. Nevertheless the re-arrest is unusual and appears related to the sheriff's office's attempts to get at Salgado's information.
Harrison during the January traffic stop told deputies that "the aluminum foil with the multi-colored paper that was found in her wallet should be 'LSD,'" according to her arrest report at the time. "She explained that she thought it was 'LSD' when she bought [it] but was unsure if she wanted to take it." She was not charged for that LSD, nor does a warrant appear to have been issued for her re-arrest, as it was for Alex, as a result of the testing, since the state attorney today dropped all charges against Harrison related to that January stop and closed the case.
Harrison is not mentioned in the sheriff's release, nor is the difference in her treatment over the apparent presence of LSD during the January stop as opposed to that of Salgado explained, though Harrison was never a "person of interest."