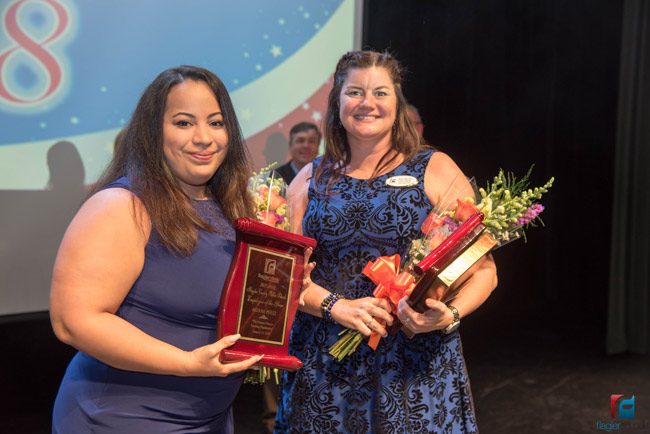 Rymfire Elementary School Teacher Kate Sturman was named Flagler County Schools' Teacher of the Year Thursday evening, and Ariana Perez, who works in the Office of Student and Community Engagement and representing the Government Services Building, was named District Employee of the Year. They will now both go on to represent Flagler Schools in statewide competitions.
Each of the district's nine schools nominated a Teacher of the Year and a service Employee of the Year (such as bus drivers, custodians, office support staff, kitchen personnel and so on). The district's two charter schools–Imagine at Town Center and Palm Harbor, which are publicly funded–did not participate. The winners were named Thursday evening in the annual gala celebration at the Flagler Auditorium.
Sturman has been a teacher with Flagler Schools since 2005. She began at Wadsworth Elementary, moving to Rymfire Elementary in 2006, when that school first opened. She currently teaches 5th grade English Language Arts and Social Studies. She is also a coach with the school's Future Problem Solvers and Community Problem Solvers.
"Kate is a cheerleader for Rymfire and for her students," Barbara Sauvelpahkick, principal at Rymfire said. "Her dedication to the teaching profession is unquestioned. You'll find her at practically every after-school activity." Sturman has been known to do a cartwheel during faculty meetings every now and again.
Sturman reacted this way: "It means so much. You put in so much work, you work with the kids…it's everything. Teaching is everything. It means so much.."
Perez is a 2009 graduate of Flagler Palm Coast High School. She began working for Flagler Schools in 2013. She supports a variety of areas in the district's Office of Student and Community Engagement. Perez has gone back to school, working on obtaining her Bachelor's Degree in Psychology. It's that dedication which Lynette Shott, Executive Director of Student and Community Engagement–and a former principal and assistant principal at FPC–says is what makes Perez one of the district's top employees. "Ari is always focused on how she can help people get to where they need to get things accomplished, and she does it in a way that they feel they are being supported the entire time," Shott said.
Perez was shocked when her name was called out. "This makes me want to grow more. Engage more, support more, mentor…everything."
"Both Kate and Ariana are wonderful representatives of Flagler Schools," Superintendent James Tager said. "They have found their purpose in life, and fortunately for Flagler Schools and our entire community, that purpose involves helping our students and families succeed."
The State Department of Education will name the State Support Employee and Teacher of the year later this spring.