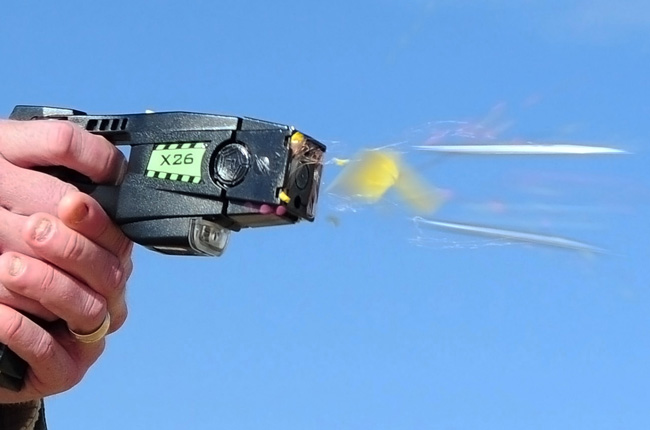 Last Updated: 4:13 p.m.
Note: a video of the incident appears below.
A Flagler County Sheriff's deputy on Thursday used his Taser stun gun against an 80-year-old man suffering from dementia as the man refused to put down a butcher knife as he sat in his back porch. The man was later involuntarily incarcerated at Halifax hospital's psychiatric ward under the Baker Act, which gives police the authority to carry out such confinements. Deputies have had to invoke the Baker Act with increasing frequency, including against very young children and the elderly.
The incident involving the 80 year old took place Thursday at a house on Brice Lane. Deputy Joseph Barile had been dispatched there at 6:40 p.m. because of a domestic violence complaint involving Lionel Maloney, the older man, and his 78-year-old wife Dolores. Initially Dolores could not open the front door for the deputy because it was locked. The deputy walked to the back porch area, where Lionel was sitting.
"Lionel was sitting in a chair with a large butcher knife in his right hand," the deputy reports. The porch he was in was completely enclosed by either windows or a glass slider. The sheriff's dispatch center was on the phone with other occupants in the home and requested they lock the door and stay in their room. The older couple's daughter was present and had also been threatened by Lionel, according to an incident report. The daughter's own child was also in the house. The Maloneys have been the homeowners for 17 years. Barile asked Dolores to go outside the house. Before she did so, she told Lionel "that law enforcement was going to shoot him if he didn't stop."
"I assured Lionel that I was not there to shoot him and instructed Dolores to exit the residence," Barile reported. Another deputy made contact with Dolores outside the residence. Barile continued to speak with Lionel. "Lionel continuously refused to drop the knife and speak with me. He made multiple threats to include killing his family," the deputy reports. As he spoke with Lionel, he was able to find an unlocked slider door "that had a couch in front of it making an obstacle for Lionel to have to travel across to get to me."
The deputy estimated he was about 15 feet from Lionel at that point. "I maintained verbal contact with Lionel and assured him that I was not there to hurt him. He refused to drop the knife and said that law enforcement would shoot him as soon as he did." Lionel several times told the deputy that he would have to "fill him with lead," speaking of a death wish that his wife would later confirm. Lionel, Dolores would later tell deputies, had not been taking his medication. "At one point Lionel stated he would stab me and when I asked if he had threatened me, he said no and removed the knife from his chest area. He then began stabbing the pillows next to him. At that time it was apparent that without immediate action the situation could escalate quickly if appropriate action wasn't taken."
Individuals suffering from dementia reach a stage when they often go through periods of delusions, act paranoid, become accusatory of those around them and, at times, act violently, even–and sometimes especially–against those closest to them. It is not uncommon for dementia patients to accuse their spouse of wanting to hurt them, kill them, put them out in the street or otherwise harm them. Such patients are not usually aware, as they would have been when in control of their faculties, that they are acting aggressively. Nor are they able to gauge the potential physical strength they may be wielding, or the threat they are posing. When the episode is over, they usually have no recollection of having acted that way. Nevertheless, during such episodes dementia patients can be unpredictable and on some occasions a danger to others and themselves.
Most law enforcement officers are not trained to contend with dementia patient beyond basic instruction on dealing with the mentally ill–which cops have to do routinely. But cops find themselves in such confrontational situations, with limited or no resources to call on and a crisis to diffuse. Disproportionate use of force can result.
A 21-minute video of the incident, captured on Barile's lapel camera–now issued to road deputies–shows Barile displaying patience and courtesy, again and again asking Lionel to put down the knife and reassuring him that he intends no harm. The tone immediately changes when Lionel begins stabbing a nearby pillow. The deputy then fires the Taser without warning.
"With Lionel having the knife pointing away from him and him sitting down, it appeared the environment was safe for a Taser deployment to gain compliance," Barile, the deputy, reported. "Once Lionel's attention was diverted from me and the knife was pointed away from his body, I withdrew my Taser X26 and deployed it on Lionel. After a five second cycle, I advised Lionel to drop the knife which he did not do immediately. Just prior to me initiating another cycle, Lionel dropped the knife. Once I observed he had dropped the knife, I immediately stopped the second cycle and gave him verbal commands to not move."
A five-second jolt typically delivers 50,000 volts at 26 watts. "This cycle ensures that the nervous system of the target does not recover instantly to allow him to remove the probes," an informational page about the weapon states.
Once deployed, the deputy approaches Lionel, ordering him not to move, then to get up. Another deputy called in an ambulance for Lionel as Barile walked toward him, pushing the knife away with his foot. Lionel was then instructed to walk toward the front door with his hands on his head as the deputy searched him to ensure he had no other weapons. The deputy resumes his previous tone of voice, guiding rather than ordering Lionel outside and showing no malice at any point, and explaining to Lionel–and, later, Delores–what was taking place.
Only then were the Taser cartridge lines cut. The lines extend from the gun to the hooks or "probes" as they latch on to a person's skin. "Once outside I removed one probe from his right pant leg and one from his left chest area," the deputy reported.
Flagler County Fire Rescue's Unit 21 took Lionel to Florida Hospital Flagler.
Dolores later explained to deputies that Lionel became upset over his living arrangements: again, a common reaction for dementia patients, even those who may have lived in the same place for many years. At one point, Dolores said, he grabbed the knife and threatened to kill the other family members in the house. Dolores said "his dementia has been getting worse and he has become more violent."

---
21-Minute Video of the Incident Recorded on Deputy's Taser Camera[media id=376 width=500 height=400]