We're becoming trained in rituals following mass killings: brief saturation coverage, social media sympathies, blame theories, thoughts and prayers, new gun regulations (if abroad), looser gun rights (if in the United States), and now that new one: not naming the killer, not showing his face on screens or front pages. Fad more than ritual, it's even weaker than thoughts and prayers, which at least express a sense that the spiritual could make a difference in the face of the senseless. But not naming somebody is an affectation, a pose, like veiling one's Facebook profile in the national colors of the latest victims of a mass attack.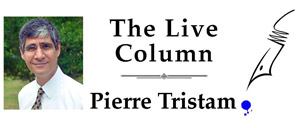 If it were limited to Facebook it wouldn't be so ridiculous. But network anchors like CNN's Anderson Cooper and news editors have taken to doing it, giving ammunition to accusers of fake news, because you cannot call yourself a reporter by hiding one of the essential facts of the story you're reporting. Now national leaders like Jacinda Ardern, New Zealand's prime minister, are putting on the pose, supposedly because speaking the killer's name grants him the fame he was seeking. But hasn't that ship sailed? You can't undo atrocity by unimagining the man behind the trigger.
The negation of the name and the face end up itself being a strange honor, a perverse twist on the tomb of the unnamed soldier, which always ends up getting more attention than the named ones anyway, as will Brenton Tarrant–ah, yes, that's the name of the killer in New Zealand, if I may. He did not have the benefit of getting shot and killed, of being the martyred soldier he thought he'd be, but even in life he's granted the honor of being the unnamed one everyone is talking about.
The negation is self-defeating. You don't profess to do everything possible to prevent a recurrence by blacking out the killer's history and keeping his written words from circulating, the way Tarrant's manifesto ("The Great Replacement") is being restricted out of social media and search engines. It's like the new dogma of silencing extremism on campus in hopes of diminishing it. It makes the silencers look tyrannical and blind to what they could be learning from.
The negation is deceptive. It's is a way of denying the killer's connection to the rest of us, the way we so eagerly try to find something, anything, that separates the killer's psychology or identity from civilized society. It's a way of exonerating us of our basest prejudices. We can rest easy in the certainty that none of us has a hand in these killings. But no mass killer acts in a vacuum, unaided by an ideology, an arsenal, a set of beliefs learned and reinforced by its own heredity. Tarrant after all is the begotten son of Robert Gregory Bowers, the Pittsburgh Synagogue killer who was begotten of Charlottesville, itself the begotten gang of Dylan Roof of the AME church massacre in South Carolina, to name a few home-grown right-wing terrorists as we look back to Timothy McVeigh, the Turner Diaries, the cross-burners and the rest of that heritage of supremacy.
In those parts of the machinery that make a mass killer, we do have a hand, whether it's in support of gun-crazed cultures that allow murderers to be platoons unto themselves or in support of ideologies that normalize hate and, in Brenton Tarrant's case, white supremacy, an ideology abetted by our own president, among a few other apologists of supremacy gaining power at the helm of their countries or in its legislatures (Viktor Orban in Hungary, Matteo Salvini in Italy, Jair Bolsonaro in Brazil, the Party of Freedom in the Netherlands, the National Front in France). They're the unapologetic nationalists that allow others' murderous acts to ferment. They're the virus.
The negation is cowardly. We can choose not to speak a mass killer's name all we want. It's just another way to hide from ourselves the deeper sickness pervading our societies, that now perfect-storm combination of white self-pity and anti-immigration vigilantism that turn ordinary losers into weaponized ambassadors of xenophobia.
It's not just faces and names that are being scrubbed but language, too. The words "white supremacist" are being sanitized to "white nationalist"—check your local paper—like a rebranding to make something toxic seem less so. "White supremacist" evokes burning crosses and lynchings, the mass killings that once stretched over weeks, months and years and that, thanks to assault weapons, have evolved into minutes-long YouTubable episodes. Substitute the word "nationalist" and you evoke instead 19th century nationalism or something retro that to its heil-raising fans is indistinguishable from culture-preserving patriotism. The distance from there to "MAGA" is closer than you think. Like the distance from Christchurch to any of its America-first massacres.

Pierre Tristam is FlaglerLive's editor. Reach him by email here or follow him @PierreTristam. A version of this piece aired on WNZF.