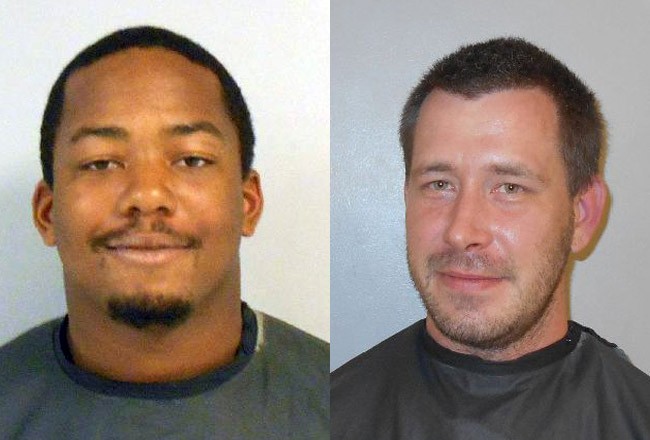 Charles Meyers, a 28-year-old resident of Pine Lakes Parkway in Palm Coast, was arrested on an aggravated assault-domestic violence charge early Sunday morning after allegedly wielding a 4.5-foot-blade sword over his girlfriend, causing her to barricade herself in a room until police arrived.
A witness told police that she, Meyers and his girlfriend had all been out at the Black Cloud Saloon earlier that night, and that Meyers had gotten drunk and started to become aggressive. The alleged victim asked the witness, a 30-year-old woman, to go home with her and Meyers in case there was an issue, so she did so, driving the couple home. During the drive, Meyers was yelling at his girlfriend and hitting the car seat she was in. Once the trio got home, he went to a room and allegedly retrieved the long sword, wielding it above his head as he started to walk toward his girlfriend, speaking "aggressively," according to his arrest report.
The witness stepped in front of him. Meyers, she told police, rested the dull edge of the blade on her shoulder. She urged him to put the sword away and calm down. Meyers, she said then struck the banister with the weapon, "with enough force as to leave a noticeable gouge." He then returned to his room, giving the two women a chance to go into the girlfriend's bedroom and lock the door. Meyers then, according to the woman, started leaning against the door. They threatened to call 911. He disconnected the land-line. The girlfriend locked herself in the master bedroom, which is connected to the other room, and called 911 on a cell phone. By then, Meyers had managed to get into the other room. The victim told the 911 operator she was afraid to come out, and didn't know what was being said in the other room.
She stayed there until deputies arrived, at which time the witness told them that Meyers had made verbal threats of wanting to kill his girlfriend, but that she'd calmed him down by talking about his children. She also managed to take possession of the weapon.
Meyers, who was arrested last October on a count of battery–the charge was dropped–posted bail on $2,500 bond and faces a felony arraignment on April 27.

Providing A Quote Turns Violent
Beth Leto and Michael Miller were going to provide an estimate for some bathroom work. Instead, the Palm Coast residents claim, they were assaulted at the house where they were seeking the estimate.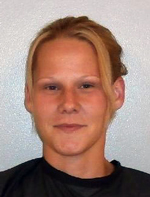 It's a strange story made less tractable by the redaction of an incident report: the alleged assailants are blacked out, as is the location of the alleged incident, because, the Flagler County Sheriff's Office says, it's still an open case. The incident report does list one location: 40 Regency Drive in Palm Coast.
Based on the alleged victims' account, the pair–Leto is 31, Miller is 28–had gone to the house Friday evening to give the estimate. Once inside the house, Leto claims she and Miller were standing near the kitchen area when they were cornered by by two people, one of them insistently accusing them of being "snitches." Leto says Miller was then struck in the face and was temporarily knocked out. Leto says she was trying to pull off of one of the alleged assailants away from Miller but was "grabbed by her hair by and thrown against the wall," according to the incident report. She says while she was held against the wall, one of the assailants stomped on Miller's leg. Other people in the house, Leto said, attempted to break up the fight, which allowed her and Miller enough time to get out of the house.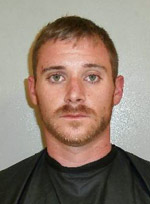 Leto told police she and Miller went to the hospital, but oinly the next morning, and got treatment for their injuries. Leto told police she received X-rays "of her right arm, neck, and left knee" and was "discharged with pain and inflammation medications and was advised to wear a sling." Later that day, she and Miller decided to file charges.
As Miller explained it, he described also being allegedly cornered, then being told by one of the people at the house to "get the fuck out of my house." As Miller turned to leave, he looked back, he says, and was allegedly punched in the left eye, causing him to fall and lose consciousness.
Both Leto and Miller have extensive arrest records in Flagler: Miller on charges of grand theft, dealing in stolen property and shoplifting, Leto on charges of shoplifting, drug possession, contempt of court, cocaine possession, obstructing justice, felony driving on a suspended license, reckless driving, and numerous counts of failure to appear and probation violation.

A Disturbance At the Windsor
Jamal Bell, a troubled 25-year-old resident of Empire Lane in Palm Coast who two months ago was arrested on a drunk driving charge, was arrested again late Friday after briefly entering the Windsor, the assisted and senior living facility ion Town Center, causing a brief disturbance there, then entering one vehicle and trying to enter another. He was arrested on charges of attempted burglary and prowling.
One witness–a Windsor employee–said Bell had gone into the dining room, walked around and made statements about Israel. The employee said she did not believe he had relatives at the facility. He then went toward the front door and forced it open violently enough to force it off its tracks, though the door wasn't damaged. He then got into a car belonging to one of the residents at the Windsor. After a while he got out and allegedly looked into two other vehicles.
One of the vehicle owners told police that he saw Bell trying to get into his pick-up truck even as he was driving in a church parking lot, pulling on the door handle and telling the witness–who had his children in the vehicle–to get out of the truck "in Jesus's name."
Several unites responded to the scene and at one point two deputies, including a commander, had Bell on the ground, "giving him verbal commands to stop resisting and to roll over."
Bell on Monday remained at the Flagler County jail on $2,500 bond.

More Car Breaks at Fitness Centers
The last week of December several cars were broken into near Anytime Fitness and in areas across the street–Boulder Rock Drive. Friday and Sunday, it was in the parking lots of Thriv Fitness Center on Commerce Boulevard and of Planet Fitness on Old Kings Road that cars were targeted.
Christine Orta, the owner of Thriv Fitness Center, told deputies that she was at the front desk when one of her employees saw a newer model, white Dodge-Chrysler minivan driving suspiciously through the parking lot. The van had moved to where Orta's business partner's vehicle was located, and an individual was looking inside of it. Orta ran outside yelling at the driver of the van as it drove off very quickly through the grass, heading towards U.S.1. Checking the vehicles in the parking lot, Orta then found that a Silver Honda Pilot that belongs to a gym member had been broken into, from the rear passenger window. A beige purse, $30 in cash, credit cards and jewelry were stolen.
The employee who'd relayed the incident to the owner told police that he saw the van in question parking in several different parking spots, and that he saw an unknown black male wearing a black hoodie get out of the van and circle his own vehicle.
Sunday afternoon, a black Nissan Altima parked in front of Planet Fitness at 7 Old Kings Road had its front passenger window smashed in and a purse stolen. But there were no witnesses to suspicious activity in the parking lot, and a surveillance camera there did not point in the direction of the lot.
Law enforcement agencies repeatedly advise motorists never to leave purses or other valuable bags in a vehicle, even for short errands. A sizable portion of Palm Coast car break-ins are the result of such items being left in full view, or of vehicles being left unlocked.