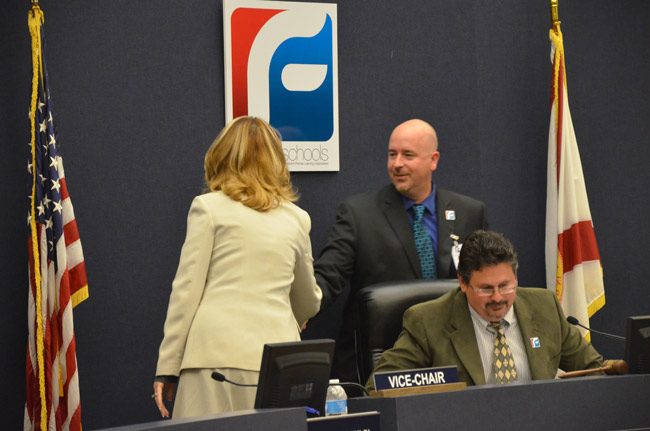 The Flagler County School Board plans to name a new superintendent on May 2, following an accelerated schedule that will include several meetings of a national-search advisory committee, weekly meetings of the school board, and the $25,000 contractual involvement of the Florida School Board Association as a facilitator in the search. The board adopted that timeline in a special meeting this morning.
Andrea Messina of the Florida School Board Association explained why the association's involvement would be important. "Your staff even with an outside group is going to have increased work," she said. "There's too much to do, there's too much to keep up with, it's a lot. Especially if you want to do it right." The association's search team would include Messina, Bill Vogel, a former superintendent, and John Reicher, a former director of human resources.
The board is looking to replace Jacob Oliva who, after three years on the job in Flagler, is taking a job in June at the state Department of Education. Last week the board in an informal 3-2 split ruled against dispensing with a search and hiring from within, opting instead for a national search, with board members Coleen Conklin, Janet McDonald and Maria Barbosa going with that option. That split was formalized in a vote today after John Fischer, a former school board member, made a plea to hire from within, as did board member Andy Dance. "We're faced with compromising our position based on the expedited timeline," Dance said.
Fischer named Vernon Orndorff and Lynette Shott among two current top administrators who are part of a "succession" plan that could be enacted. Shott later today said she did not plan to apply. That leaves the internal field clear for Orndorff.
Dance referred to "a supremely qualified candidate to carry on," if only on an interim basis. He did not name the candidate. But he remained at the losing end of a series of votes, being the lone dissenter against two related votes for hiring the school board association, saying the district has better ways to spend the money. He kept up his dissent through the vote on the wording of the advertising.
McDonald acknowledged the "wonderful people in our district," and referred to St. Johns County recently going through a national search (with the school board association) only to hire from within. But McDonald said the search process sets standards against which internal candidates can be gauged, too. (McDonald defeated Fischer in the election two and a half years ago.)
St. Johns in November hired Tim Forson, who'd retired from the district as a deputy superintendent for operations, after 36 years in the district. But St. Johns had plenty of time to make its choice, knowing its former superintendent, Joseph Joyner, was retiring. St. Johns began its replacement discussion in February 2016, 11 months before Joyner's retirement.
The Flagler board in contrast is replicating the hurried search timeline it implemented more than three years ago before appointing Oliva—an appointment that had a sense of inevitability all along. The timeline means by necessity abbreviated debate. (See the timeline here.)
"If we're going to hit this timeline, we have got to walk out of here on the same page, period," Oliva said.
Conklin at the end of the meeting, which just spilled past the two-hour mark, addressed the matter of the succession plan, acknowledging that there are "four, five" talented individuals in the organization, but no single individual picked to "carry on," so there is no formal succession plan. "Our structure is very different than it was the last time around, and the truth is we don't have a succession plan in place." But she is encouraging internal applicants to apply and engage in the interview process. "By no means is my support ion doing a search is that saying I don't believe in the capabilities" of the existing top team.
Prefatory debates and votes completed, this morning's meeting then focused on the job-search advertising that would publish on Monday (Feb. 13) and run for five weeks, as well as the job description. That means the advisory committee will have a substantive say on neither. And since the school board association will be vetting and selecting a short list from applicants, the advisory committee will have little say in that, as well. That committee will not meet for the first time until March 9, and will do so for a total of three times, possibly four if needed. The membership of the committee has not been picked yet, but the candidates have been submitted, and will be chosen out of that list, which you can see here. Some of those candidates were in the audience this morning.
School Board Association shepherded the board members on the details (and arcana) of both documents, with those used three years ago as a basis, with a few changes along the way.
The salary range they set is $125,000 to $149,000 based on experience. The current salary is $125,000, an amount Reichert described, unsurprisingly, as "very low": the school board association primarily advocates for school boards and superintendents, not taxpayers.
The association proposed advertising in mediums that include a Latino educators' association (for $150), a black educators' association (for $250), Education Week, and the Florida School Board Association (for $300). The more diverse approach would be in contrast with previous advertising approaches, which had been narrower.
"That would be a way to extend this opportunity to everybody," Barbosa said. The board agreed: the ad would be published in all those mediums.
The school board will meet in a workshop on Feb. 15 to discuss interview schedules, a community survey, which the association will craft, and other items.
Despite his dissents, Dance stressed at the end of the meeting that the votes are not reflective of his participation or his support of the board. "Under this plan I have supreme confidence in what has been established," he said, reflecting what has been a recurring strength of this board: an unwillingness, on the part of its members, to turn disagreements into grudges, but rather to embrace consensus once disagreements have been voiced, recorded and dealt with. (Dance later clarified that his confidence is in a process that will still lead back to an internal appointment.) This remains the collegial, move-on board it's been through the tenures of various board members for the past decade.