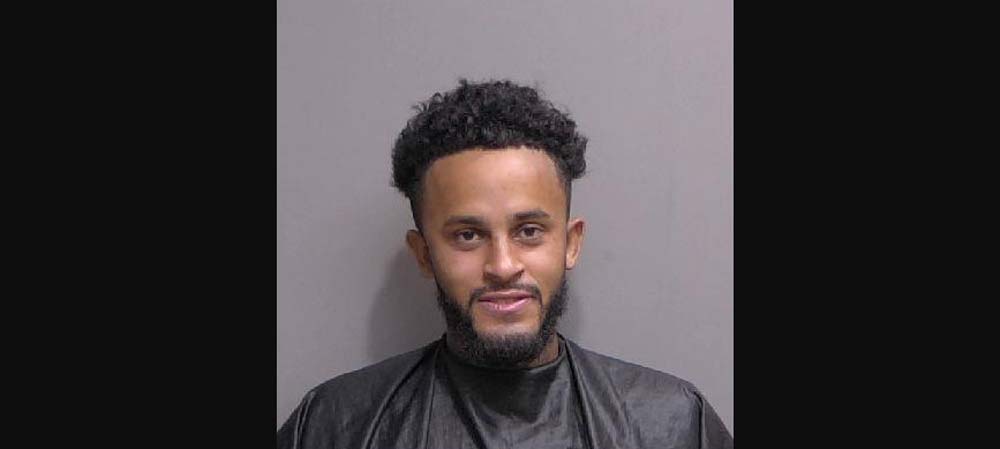 Esaiah Zamir Glenn, a 24-year-old resident of 85 Bronson Lane in Palm Coast, faces a felony aggravated assault charge after allegedly pointing a gun at the head of a Lyft driver and pulling the trigger. The gun did not go off. Glenn claims he was trying to frighten the driver into shooting him, as he had been having suicidal thoughts.
It is at least the third time in five years that a local Lyft or Uber driver is the victim of a violent crime while on the job. The tally including delivery drivers is higher.




The driver had been called to Providence Lane, for a fare to 43 Bronson Lane in Palm Coast a few minutes after 8 p.m. Sunday. Glenn, who went by the Lyft screen name of Carlton B, got in and immediately seemed off, speaking of random things. Once at the given arrival, Glenn asked the driver to keep driving. Glenn wanted to relieve himself somewhere. He then told the driver a story about his girlfriend cheating on him and his girlfriend and another guy getting jumped by a random attacker, and on and on.
Glenn gave the driver conflicting directions–go back to the address, keep driving, go back. The driver then felt an object strike the back of his head, then heard the click of what sounded like a firearm. He turned and grabbed what appeared to be a gun out of Glenn's hand. Glenn just laughed it off, saying the gun wasn't loaded before his demeanor changed and he asked the driver to shoot him. The driver ordered him out of the car. It took Glenn an entire minute to comply. The whole time he was asking the driver to shoot him. The driver told him he'd give him the gun back if he got out.
Glenn finally stepped out. The driver threw the gun out the window and sped off.




Flagler County Sheriff's deputies went to the Providence Lane address that had originated the Carlton B order. A resident there identified by that name told deputies that he'd ordered the Lyft ride for Glenn–and that Glenn had been making suicidal statements. At Glenn's home, his grandfather proved uncooperative and unwilling to let deputies check Glenn's bedroom. Meanwhile in a photo lineup, the driver picked out the wrong individual–or at least not Glenn.
Knowing of Glenn's suicidal thoughts, deputies pinged his phone, but with no results. The phone appeared to have been turned off–until close to 2 a.m. this morning, when the phone pinged to the McDonald's on Old Kings Road, near the Red Roof Inn. There, deputies spotted Glenn in his car–hiding. Deputies unholstered their firearms and approached, ordering Glenn out of the car. He complied.
"I tried to kill myself," he told the deputies, describing how he'd allegedly driven to Palatka to buy a firearm, describing his Uber ride, and his attempt to have himself killed by the Uber driver. He said he pulled the trigger against the driver in hopes of provoking the driver to kill him. He claims to have tossed the gun in the woods, but when he took deputies back to that location, the search turned up his shoes and backpack, but not the gun.
The driver positively identified Glenn in an in-person "show-up."




In 2022, Travis Smith, then an R-Section resident in Palm Coast, was found guilty of battery against a Lyft driver after attacking him in a 2020 incident, while Smith was drunk, on Royal Palms Parkway. He was acquitted of a more serious felony charge. Smith was sentenced to three months in jail. The Lyft driver's life was shattered by the incident. He stopped working with the company.
In 2018, Betty Jo Halter was arrested on a carjacking charge after she pulled a handgun on an Uber driver and ordered her to drive to Halter's home in Palm Coast's E Section. Halter pleaded in 2019 and was sentenced to five years in prison, though her first degree felony carried  a 30-year maximum, and she faced another felony. She is serving her sentence at a Gainesville prison and isn't due for release until March 2027.
Glenn is currently being held on no bond.
"This situation could have ended a lot worse, but I'm proud of the quick and sweeping actions our team to make sure our community was safe, and that the suspect was apprehended before he could hurt someone or himself. If you know of someone who is having a mental health episode, you should always call us to intervene before it escalates as it did in this case."

The following resources are available for individuals in crisis:
In Flagler: The Crisis Triage and Treatment Unit (CTTU) is a crisis assessment and referral service for Flagler County residents experiencing behavioral health crisis. It is located at 301 Justice Lane in the Brown & Brown Outpatient building at the Vince Carter Sanctuary in Bunnell. This program is limited to individuals escorted to the program by law enforcement between the hours of noon and midnight daily. Law enforcement is able to transport individuals to SMA to assess and determine the appropriate clinical disposition. When required and appropriate, SMA then transports the individual to a receiving facility in Volusia County.
In Daytona Beach: Stewart-Marchman Act Corporation Crisis Center
1220 Willis Avenue
Daytona Beach, FL 32114
Crisis Line: (800) 539 – 4228
Available 24 hours.
National Suicide Prevention Lifeline, 800/273-8255 (TALK), or use the online Lifeline Crisis Chat, both available 24 hours a day, seven days a week.
Veterans Crisis Line: 1-800-273-8255.
People 60 and older can call the Institute on Aging's 24-hour, toll-free Friendship Line at 800-971-0016. IOA also makes ongoing outreach calls to lonely older adults.
If you are concerned for someone else, read about warning signs here. For additional resources, see the Speaking of Suicide website.